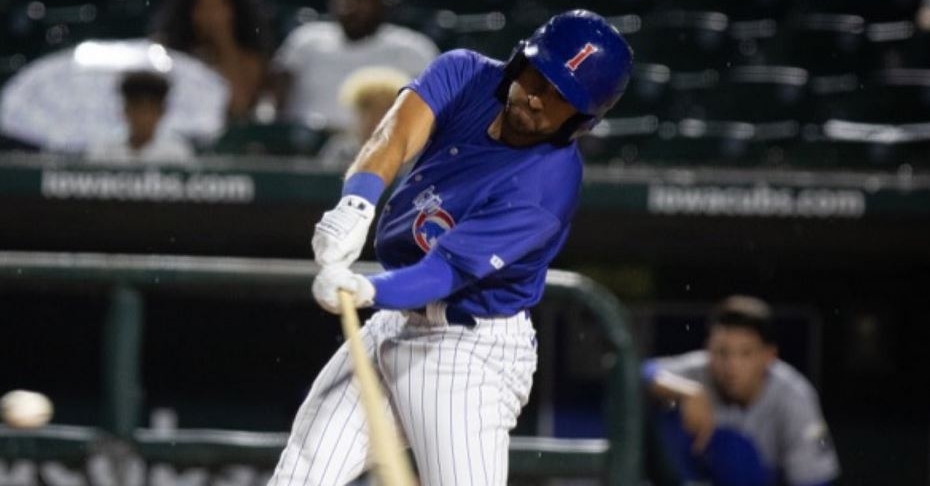 | | |
| --- | --- |
| Cubs Minor League News: Rivas with game-winning double, Mervis homers, Pina with winning h | |
---
| | | |
| --- | --- | --- |
| Sunday, August 1, 2021, 12:00 PM | | |
Winning can be contagious, and that is precisely what happened in the Cubs system yesterday. While the Cubs were busy taking down the Washington Nationals, all seven minor league teams were in action last night, with both DSL teams facing off against each other.
Taking away the resumption of a suspended game that didn't go in the Cubs favor, the system put together a 4-1 record for the night as they continue to play much better baseball to end the week. Those wins came from a mixture of strong pitching and timely hitting, as fans will get familiar with a lot of these new faces soon.
IOWA CUBS 2 – LOUISVILLE BATS 1 (8 innings)
After dropping their suspended contest 4-2 earlier, the Cubs and Bats returned to the diamond for a seven-inning game that went into extras. Not only that, but the game was scoreless until the eighth when Louisville scored first only to see the Cubs respond to walk them off 2-1.
In his return to Iowa, Keegan Thompson started as he is getting stretched out to be a starter once again. Thompson was impressive as he not only held Louisville hitless, but walked one and struck out four. He handed things off to Ryan Kellogg, who lasted the next four innings before Ben Leeper came in to secure the win lowering his ERA to 1.45.
With no runs coming across to score through seven innings, Louisville broke through first in the top of the eighth when Alejo Lopez picked up a sacrifice fly. Not only did the Cubs answer in the bottom half, but they did so by walking them off as Alfonso Rivas picked up a two-RBI double to secure the 2-1 win. The Cubs had just four hits in the win as Nick Martini was responsible for two while Matt Burch and Rivas had the other two.
Walk-off winners! pic.twitter.com/ledUNluRnN

— Iowa Cubs (@IowaCubs) August 1, 2021
TENNESSEE SMOKIES 6 – CHATTANOOGA LOOKOUTS 3
The Smokies continue to improve over in July as they doubled up the Lookouts 6-3. Not only did Javier Assad pick up a rare win, but he did so in strong fashion giving the Smokies six innings of work and allowing just two runs. He was backed by some early offense that played long ball to provide him with the lead, with Carlos Sepulveda going deep for his first homer in the second for a quick 1-0 lead.
After the Lorenzo Cedrola single tied things up 1-1 in the third, Levi Jordan put the Smokies in front for good as his fourth-inning homer had them in front 3-1. A Matt Lloyd homer closed the gap to 3-2, only to see Tyler Payne go deep in the fifth for his fourth of the season, extending the lead to 4-2. Christopher Morel followed that up with an RBI single before the Zach Davis groundout in the sixth had Tennessee up 6-2.
Chattanooga was able to pull within 6-3 in the seventh when Quincy McAfee homered off Erich Uelmen, but that would be it as the Smokies win again. Of the eight hits, only Payne had multiple hits as he led the way with two hits. Six other players on the roster had one hit, but not Brennen Davis, who went hitless.
QUAD CITIES RIVER BANDITS 5 – SOUTH BEND CUBS 3
Despite another strong effort, wins are becoming hard to come by for South Bend as they dropped another contest 5-3. Facing one of the best teams in the league, Chris Clarke was back on the hill as he continues to impress. In just his second start for South Bend, Clarke went 4 1/3 innings surrendering two runs but striking out five. He kept his team in the game only to see Quad Cities win late.
The South Bend offense had things rolling as they not only took a 1-0 lead off the Yonathan Perlaza double in the first, but extended that lead in the third off the Nelson Velazquez single. Quad Cities not only responded with the Eric Cole homer in the fourth, but drew even in the fifth as a William Hancock double had the game tied 2-2.
Looking for more offense, Harrison Wenson provided that as his sixth inning as his RBI single gave South Bend a 3-2 lead as the game was now in the hands of the bullpen. Unfortunately, the bullpen continues to be an issue for South Bend, with John Rave tying things up with a homer in the seventh before Seuly Matias gave Quad Cities the lead in the eighth with a homer of his own. The River Bandits added an insurance run off a bases-loaded walk, and the Cubs couldn't recover.
Jake Slaughter has been on a nice stretch lately and led the offense once again with a pair of hits. Perlaza, Velazquez, D.J. Artis, Ryan Reynolds, and Wenson all had hits in the loss, with Dean Nevarez going hitless. Bryce Ball had the night off.
South Bend falls for the second straight night after a two-run eighth caps off three unanswered runs by Quad Cities. pic.twitter.com/MFF4R9Sqe1

— South Bend Cubs (@SBCubs) August 1, 2021
MYRTLE BEACH PELICANS 6 – AUGUSTA GREENJACKETS 5
Despite allowing four runs in the ninth inning on Saturday, the Pelicans built a big enough lead to hold off Augusta 6-5. A big reason for that was the performance of DavidJohn Herz on the mound as he earned his second win of the season. In his five innings of work, Herz not only allowed just one run on two hits, but struck out nine without giving up a walk.
His lone run allowed came in the bottom of the first as Vaugh Grissom took him deep for his fifth homer of the season. That homer came after Jonathan Sierra put Myrtle Beach in front for good with a two-run double in the first. Still holding that 2-1 lead in the sixth, the Pelicans offense started to pick up some much-needed insurance runs for Herz, with Ed Howard picking up an RBI groundout ahead of the Kevin Made RBI triple.
Two innings later saw Matt Mervis connect for his eighth homer of the season as the Pelicans led 6-1. At the time, everyone thought that would be plenty of runs, but little did Mervis know his homer would provide the game-winning run. Trailing by five, the Greenjackets made a late surge in the ninth, with Bryson Horne getting things started with an RBI single. That was followed by the big blow off the bat of Landon Stephens as his ninth homer had things within 6-5.
Fortunately, that would be as close as things would get as Jaret Wright was able to close the door and save the win. The Pelicans had a quartet of players collecting multiple hits, with Yohendrick Pinango, Sierra, Mervis, and Made having good days. Jordan Nwogu and Pablo Aliendo wrapped up the hits for the Pelicans while Howard went hitless with three strikeouts.
Fly that W! pic.twitter.com/XuN8pEomoG

— Myrtle Beach Pelicans (@Pelicanbaseball) August 1, 2021
ACL CUBS 7 – ACL ATHLETICS 6 (8 innings)
One of the weird things about rookie ball this season is that most games are seven innings. Unless teams need extra innings to decide the outcome, which happened in the Cubs 7-6 extra-inning win. Offensively, the Cubs got off to a slow start, with Yovanny Cuevas reaching base on a third-inning error to get the Cubs on the board.
That was all they could do early as a Jose Mujica double and wild pitch in the fourth had the Cubs trailing 3-1. In the fifth, the Cubs offense started to find their stride as they not only drew even, but took the lead. That was courtesy of Miguel Fabrizio as his bases-loaded double cleared the bases to give the Cubs a 4-3 lead. One inning later saw the Cubs build on that lead as the Oswaldo Pina groundout followed by a wild pitch had the Cubs in front 6-3.
Unfortunately, the Athletics wouldn't go away quietly as they used a big seventh inning to force extras. Jorge Gordon picked up an RBI single to make things 6-4 before the Pedro Pineda triple brought things back to even 6-6. Pina came through once again in the extra frame, delivering the game-winning single as the Cubs held on 7-6.
Pina had a great day on offense, collecting two hits to go with his two RBIs, as did Fabrizio to go with his three. Bryce Windham began his rehab assignment with ACL and picked up a hit while Owen Caissie continues to swing a hot bat with two more hits. Kevin Alcantara made his Cubs debut and earned one hit in the win.
DSL CUBS BLUE 4 – DSL CUBS RED 3 (10 innings)
The best part of when two Cubs teams play each other is that fans can't get upset with a loss. Instead, they get to see a slew of young prospects as the DSL Blue picked up their third win of the season 4-3. Following a Samuel Duarte single that gave Red a 1-0 lead in the second, Blue was able to pull even off a wild pitch only to see Moises Ballesteros put Red back in front in the third.
With the bases loaded in the fifth, Jose Herrera kept the line moving as his walk had Red in front 3-1. In danger of dropping another contest, Blue began to rally in the eighth as another wild pitch had them within 3-2 before Cristian Hernandez came up clutch with an RBI single to tie things up 3-3. With nine innings not being enough, both teams went to the tenth, where it was Blue walking off Red with the Raul Guzman single 4-3.
Hits were hard to come by for Red as they accumulated just five hits, with Pedro Ramirez responsible for two. Duarte, Ballesteros, and Jose Herrera added the rest. On the other hand, Blue had a much better day as they totaled eight hits, with Guzman, Cristian Hernandez, and Frank Hernandez grabbing two hits. Ezequiel Alvarez and Joanfran Rojas capped off the hits.

Tags: Cubs Baseball
,
Keegan Thompson
,
Ryan Kellogg
,
Alfonso Rivas
,
Javier Assad
,
Carlos Sepulveda
,
Levi Jordan
,
Christopher Morel
,
Zach Davis
,
Erich Uelmen
,
Brennen Davis
,
Yonathan Perlaza
,
Nelson Velazquez
,
Ryan Reynolds
,
Jonathan Sierra
,
Yovanny Cuevas