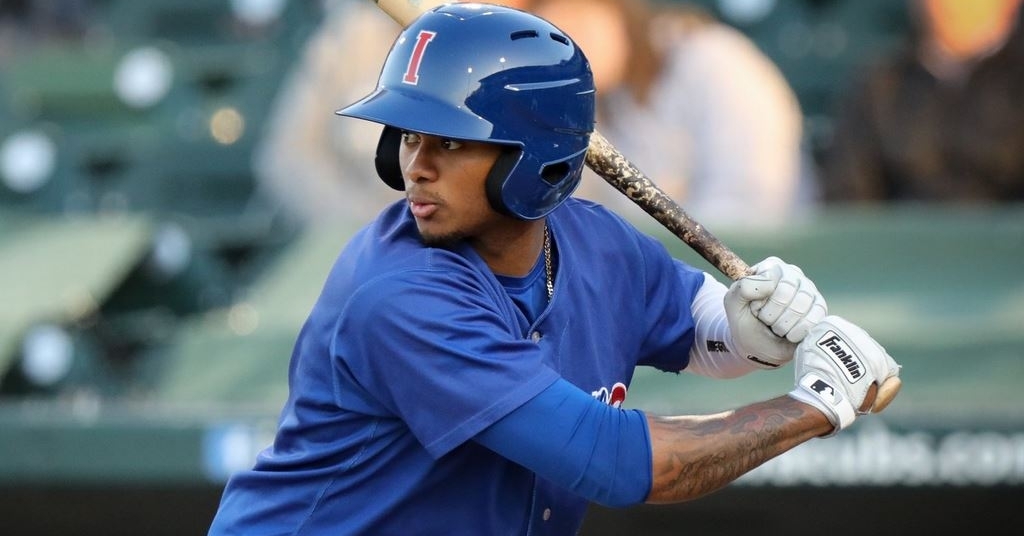 | | |
| --- | --- |
| Cubs Minor League News: Sergio Alcantara impressive in I-Cubs win, Rowan Wick dominates, m | |
---
| | | |
| --- | --- | --- |
| Saturday, July 24, 2021, 1:00 PM | | |
For the second night in a row, wins were hard to come by on the farm as the Cubs went 1-4 across the organization with one game suspended and one game canceled. That comes on the heels of a 2-5 night as the weekend didn't start how the Cubs had hoped it would.
Still, despite the lack of positive results, there was plenty of positive's performances that continue to bode well for the future of this organization. Some of those top performers could find their way to the MLB roster this season, while others are a few years away. Either way, it has been fun to keep tabs on these players this season.
IOWA CUBS 9 – COLUMBUS CLIPPERS 4
The Iowa Cubs collected the lone win on the Diamond Friday night as they downed Columbus 9-4. Even though he wasn't credited with a win, Justin Steele continues to stretch out as the Cubs are preparing him to make some September starts. The lefty tossed four innings, allowing two runs on two hits, and continues to pitch well, posting a 1.56 ERA in AAA thus far.
Trayce Thompson backed Steele with some early run support connecting for his 10th homer of the season to make things 2-0 in the second.
Trayce Thompson gives us the 2-0 lead with this home run in the second inning! pic.twitter.com/HUPManYCm1

— Iowa Cubs (@IowaCubs) July 23, 2021
One inning later saw Columbus return the favor as Andres Gimenez got into a Steele pitch and deposited it over the fence to knot things up 2-2. Those would be the only runs Steele would allow as the Cubs offense made sure he had nothing to worry about.
In the fourth, the Iowa offense began to heat up, pushing across four runs to take a 6-2 lead. Those runs came on a trio of RBI doubles with Sergio Alcantara, Andrew Romine, and David Bote picking up the RBI hits.
In his first game back from Chicago, @sergioalcant10 is now just a triple shy of the cycle.

Its the SIXTH inning ?? pic.twitter.com/sisTmbqF58

— Iowa Cubs (@IowaCubs) July 24, 2021
With Scott Effross now on in relief in the fifth, Columbus cut the deficit in half as Jordan Luplow went deep for his second homer of the season to make things 6-4.
That would be as close as Columbus would get as both Alcantara and Alfonso Rivas added solo homers later in the game coupled with a wild pitch to win 9-4. The top of the Iowa order set the table for the offense as Romine led the way with four hits while Alcantara added three hits to go with his three RBIs. Bote picked up his first two hits of his rehab assignment while Thompson and Rivas rounded out the hits. Tommy Nance continues to pitch well, tossing 1 2/3 shutout innings of work to lower his ERA to 2.70.
We tied the series at two with two games left against the Clippers! pic.twitter.com/xrsELdztxw

— Iowa Cubs (@IowaCubs) July 24, 2021
ROCKET CITY TRASH PANDAS 5 – TENNESSEE SMOKIES 3
Once again, the Smokies are having a tough time with Rocket City despite playing them tough in every game. Luis Lugo was the tough-luck loser in this one, getting the start and only lasting 1 2/3 innings. After Nelson Maldonado put Tennessee in front early with a first-inning solo homer, Rocket City took a 2-1 lead in the second off homers by Izzy Wilson and Mitch Nay and never looked back.
That 2-1 lead grew to 4-1 in the fourth when Ibandel Isabel continued the homer party with his 12th homer of the season. Michael Cruz added an RBI single later in the inning as that was the lone Rocket City run that didn't come via the homer. In desperate need of offense, Brennen Davis came through with an RBI double in the fifth to pull the Smokies within 4-2.
That would be as close as they would get as Ibandel added a second homer later in the game to push the lead back to 5-2. Maldonado capped off the scoring with an RBI fielder's choice in the seventh, but it wasn't enough in the 5-3 defeat. Maldonado has been hitting the ball well lately, leading the offense with two more hits to go with two RBIs. Darius Hill, Davis, Christopher Morel, Tyler Payne, and Zach Davies all added hits for Tennessee.
It's almost time to do it again! #SmokiesBaseball #GoSmokies
??? https://t.co/flt7nnZNNr pic.twitter.com/pjI56l1fYa

— Tennessee Smokies (@smokiesbaseball) July 24, 2021
WISCONSIN TIMBER RATTLERS 14 - SOUTH BEND CUBS 9
The back-and-forth momentum swing of this series continues as the Rattlers continue to split with the Cubs following a 14-9 win. After the first few games were dictated by pitching, the offense reigned supreme here, where both teams were on top of their game.
While pitching may not have been a strong point, Dalton Stambaugh pitched well, giving South Bend four shutout innings of work to go with five punchouts. Rowen Wick also continued his rehab with another scoreless frame while the rest of the pitching was less than ideal. Jose Albertos got the start, and not only did he allow three runs in the first, but three in the second as he was charged with six earned runs in just an inning of work.
Je'Von Ward picked up an RBI groundout to open the scoring before Joe Gray JR homered for the second time in the series to make things 3-0. After Dean Nevarez homered for the second straight game to make things 3-2, Wisconsin answered on homers by Yeison Cruz and Korry Howell to build their lead to 6-2 after two.
Three innings later saw the Cubs take their first lead of the game as Josue Huma picked up an RBI single ahead of a wild pitch, and the Cubs held a 7-6 lead. South Bend refused to go away quietly, pushing across three more runs in the third courtesy of the Nelson Velazquez double and Ryan Reynolds sacrifice fly to keep things close 6-5. Yonathan Perlaza went deep for his seventh homer of the season in the seventh, and just like that, the Cubs were in front 9-6.
With just six outs to work with, Wisconsin came storming back in the bottom of the eighth as Samuel Reyes and company struggled to get anything done. A bases-loaded walk to Chad McClanahan certainly didn't help, and neither did a three-run throwing error that allowed Wisconsin to take a 10-9 lead. Add in singles by David Hamilton and Howell mixed with a Carlos Rodriguez double, and Wisconsin pushed across eight runs in the eighth to claim the 14-9 victory.
Perlaza seems to be heating up this series, picking up three more hits to go with his two RBIs. Huma added two hits from the bottom of the order while Velazquez, Reynolds, Delvin Zinn, D.J. Artis, and Nevarez all had one hit. Bryce Ball suffered a hitless day to go with a pair of punchouts.
Wick dominates again but Cubs' comeback falls short in Wisconsin after a big eighth inning. pic.twitter.com/zFLseG1kPu

— South Bend Cubs (@SBCubs) July 24, 2021
CHARLESTON RIVERDOGS 6 – MYRTLE BEACH PELICANS 4
Following their beatdown from Thursday night, the Riverdogs responded in a big way topping the Pelicans 6-4 to even up the series. Tyler Schlaffer earned the start and gave Buddy Bailey 4 1/3 innings of work while allowing three runs. Jeremiah Estrada followed that up with 3 1/3 innings of relief, allowing three runs of his own despite his ERA sitting at 1.57.
Once again, another early homer gave the Riverdogs an early lead, with Garrett Hiott going deep in the second for the 1-0 advantage. In the fifth inning, Diego Infante delivered the game-winning run, as his grand slam handed the Riverdogs a 5-0 lead and something they wouldn't give up.
From that point forward, it was all Myrtle Beach as their comeback attempt began in the sixth inning. An RBI single from Yohendrick Pinango got the Pelicans on the board before Jordan Nwogu, and Fabian Pertuz added RBI singles of their own to pull within 5-3. An Ezequiel Pagan double in the seventh brought things even closer as Myrtle Beach was within 5-4 after seven. Unfortunately, the Pelicans couldn't come up with the clutch they needed down the stretch as Heriberto Hernandez added an eighth-inning homer to seal the deal in a 6-4 Riverdogs win.
Now continues his recent hot stretch at the plate, collecting two more hits to join Jacob Wetzel and Ethan Hearn in that category. Luis Verdugo, Pinango, Pertuz, Pagan, and Matt Mervis all had hits for Myrtle Beach, while Kevin Made suffered a hitless day.
We lost. Here's Slider. #MBPelicans pic.twitter.com/cLQie5BHEe

— Myrtle Beach Pelicans (@Pelicanbaseball) July 24, 2021
ACL CUBS vs. ACL GIANTS (Postponed makeup - July 29)
DSL CUBS BLUE 4 – DSL DODGERS 4 (SUSPENDED in sixth)
DSL BREWERS 6 – DSL CUBS RED 0
Runs were hard to come by for DSL Red as they were shut out by the Brewers 6-0. Despite that, it was one rough inning that did the Cubs in as Yohan Crispin was charged with five earned runs in 2 2/3 innings, four of those runs coming in the third.
Alberto Ciprian not only gave the Brewers a 1-0 lead in the first, but provided the game-winning run as the Cubs offense was held to just two hits. They then busted the game open in the third, using a bases-loaded balk, two bases-loaded walks, and a Ciprian RBI force out to take a commanding 5-0 lead. The Brewers added their sixth and final run in the fourth off a Luis Castillo single as the Cubs couldn't get much going offensively.
Cristian More and Samuel Duarte recorded the lone hits for the Cubs as they fell to 4-5 with the loss. Pedro Ramirez suffered a rare hitless night, but is still hitting a .355.

Tags: Cubs Baseball
,
Justin Steele
,
David Bote
,
Scott Effross
,
Alfonso Rivas
,
Luis Lugo
,
Nelson Maldonado
,
Brennen Davis
,
Darius Hill
,
Christopher Morel
,
Zach Davies
,
Jose Albertos
,
Josue Huma
,
Nelson Velazquez
,
Ryan Reynolds
,
Yonathan Perlaza
,
Samuel Reyes
,
Delvin Zinn
,
Jeremiah Estrada