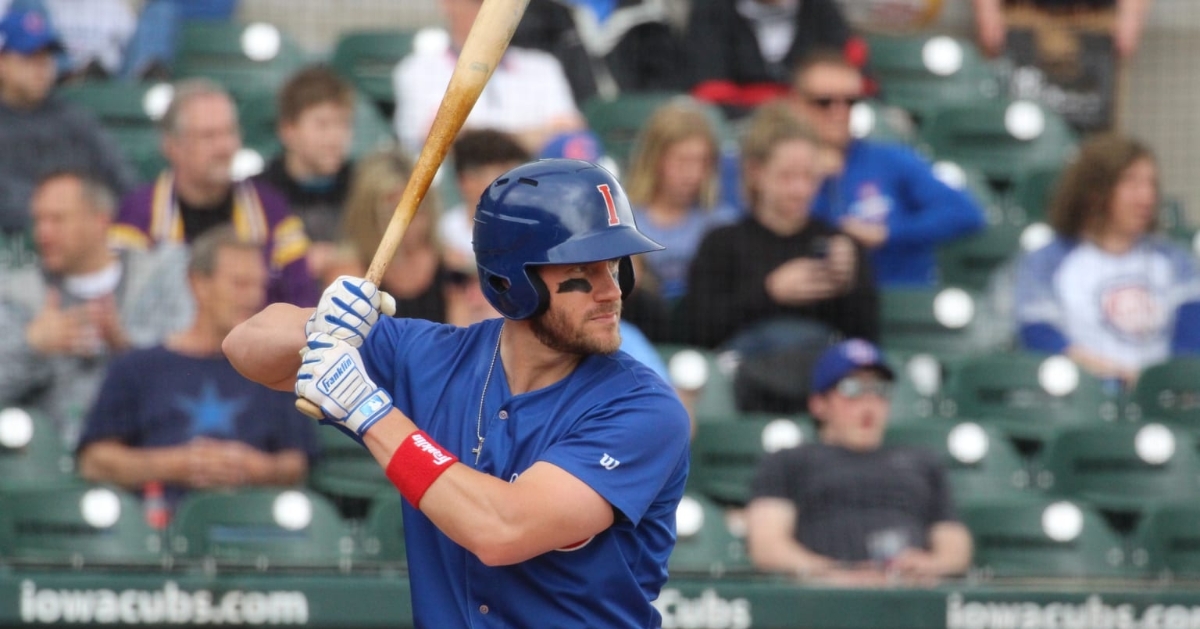 | | |
| --- | --- |
| Cubs Minor League News: Wisdom with two homers, Ortega with his fourth dinger, Hertz impre | |
---
| | | |
| --- | --- | --- |
| Friday, May 21, 2021, 12:47 PM | | |
One day after going unbeaten on the evening, the Cubs struggled to get anything going offensively, dropping three of the four contests last night. However, that wasn't the case for the lone winner, as Iowa provided enough offense to divide out through the rest of the organization.
They not only won their game 16-1, but they scored more runs than the rest of the system combined. Iowa will undoubtedly be a team to watch over the next several days as more Cubs continue to get hurt, leading to call-ups from that team.
IOWA 16 – OMAHA STORM CHASERS 1
Where do we begin to discuss this game? We could start with the starting pitcher Kohl Stewart who delivered six strong innings to lower his ERA to 3.38 on the season. Stewart allowed that run in the second inning as he finished the night with five hits, one walk, and five strikeouts to his name. Robert Stock, Jake Jewell, and Kyle Ryan closed the final three innings by pitching hitless baseball as Ryan has yet to allow an ER with Iowa this season.
Offensively, Patrick Wisdom had a monster evening as he led the way for Iowa with five RBI's, including two in the first inning with his homer. That homer ultimately goes down as the game-winner as Omaha totaled one run. The Ryan McBroom homer in the second was the lone blemish on Stewart's line as Iowa finished the game with 14 unanswered runs.
Eight of those runs came across the next three innings, with Andrew Romine picking up an RBI single in the second before a pair of big innings followed suit. Jose Lobaton made his first homer of the season count in the third by launching a grand slam to extend the lead to 7-1. Wisdom would then go deep for a second time in the fourth to make things 10-1 Iowa.
With two home runs today, your ?@EMCInsurance? Player of the Game is Patrick Wisdom! pic.twitter.com/DO6xXPA4ij

— Iowa Cubs (@IowaCubs) May 20, 2021
A Taylor Gushue RBI single in the sixth extended the lead to 11-1 before the Iowa offense came to life for five more runs in the seventh. All five of those runs came off a pair of homers, with Rafael Ortega going deep for the fourth time with a three-run shot before Gushue launched his second homer of the season to cap off a 16-1 win. Iowa pounded out 15 hits on the night, with Ian Miller the lone Cub not to record a hit.
Romine collected three hits to lead the team, while Sergio Alcantara. Abiatal Avelino, Wisdom, Gushue, and Lobaton each had two. Trayce Thompson and Ortega finished the game with one hit each in the impressive offensive showing.
BILOXI SHUCKERS 7 – TENNESSEE SMOKIES 2
Unlike Iowa, the Smokies offense couldn't generate much offense, but that final score doesn't do the game just. Take away the four-run second inning from Biloxi, and this was a very competitive game but one the Smokies couldn't take. Javier Assad got the start and deserved better luck despite allowing six runs in 3 1/3 inning. However, his defense didn't make it easy on him, as he was only charged with three earned runs. Wyatt Short, Ben Leeper, Bryan Hudson, and Ethan Roberts followed a similar pattern as they were charged with just an unearned run in 5 2/3 innings of one-hit ball.
The Smokies were able to keep things close early on as they fell behind 1-0 in the first courtesy of a Jamie Westbrook single. After a Darius Hill lead-off double and Christian Donahue single had the Smokies offense cooking in the bottom of the first, Miguel Amaya was able to tie things up with an RBI grounder. Unfortunately, that was the only run the Smokies scratched across, wasting a golden opportunity. The second inning is where things went bad as a lack of command by Assad mixed with careless defense opened the flood gates for the Shuckers.
While RBI hits by Mitch Longo and Brice Turang were charged to Assad, errors on those plays allowed runners to move up when they shouldn't have. Add in a wild pitch and bases-loaded walk, and you suddenly have a 5-1 deficit to climb out of. A fourth-inning Chad Spanbauer double and sixth inning fielder's choice gave Biloxi a commanding 7-1 lead as they cruised from there.
Hill picked up a ninth-inning fielders choice RBI, but that was nowhere near good enough in a 7-2 loss for Tennessee. Even with just two runs, the Smokies are starting to hit the ball better, connecting for eight hits with Donahue credited for two. Hill, Amaya, Christopher Morel, and Nelson Maldonado were a few others to record hits in the loss, with Hill and Amaya credited with the RBIs.
DAYTON DRAGONS 5 – SOUTH BEND CUBS 2
Big innings was the theme of the night for the Cubs system, and that was once again the case in High-A South Bend. The Scoreboard may say 5-2 in favor of Dayton, but a big reason for that was a four-run first to put the Cubs behind big. Derek Casey continues to take his bumps this season as his ERA is now sitting at 5.68. Despite walking just two and striking out eight in 4 2/3, he was charged with all four of those early runs while yielding eight hits.
All four of those first-inning runs for Dayton came on bases loaded situations as Casey labored in the first. Two-RBI singles from Bren Spillane and Miguel Hernandez did the damage as Dayton took the 4-0 lead before South Bend came to bat. South Bend was able to get one of those runs back in the bottom of the first when Delvin Zinn worked a one-out walk before stealing second. Then, with two outs, Chase Strumpf delivered the Cubs first run with an RBI single to make things 4-1.
The rest of the game was all about pitching as only two more runs crossed home the final eight innings. The first of those runs came in the bottom fourth when the red-hot Nelson Velazquez brought the Cubs within two with another RBI single. South Bend was unable to push anything else across, with Spillane adding a seventh-inning single to seal the 5-2 Dayton win.
Velazquez might be the hottest hitter on the planet, right now, as he collected three more of South Bend's nine hits to raise his average to 550 this season. Jake Slaughter, Jake Washer, Zinn, D.J. Artis, Strumpf, and Yonathan Perlaza added one hit. Cole Roederer returned to the lineup as a pinch hitter and went 0-1 as he needs to get into a groove soon.
Comeback effort falls short tonight. pic.twitter.com/VD4h3tOc57

— South Bend Cubs (@SBCubs) May 21, 2021
LYNCHBURG HILLCATS 3 – MYRTLE BEACH PELICANS 1
Despite sitting at 7-8 following their 3-1 loss last night, Manager Buddy Bailey has to love what he has seen from his team, especially from a pitching side of things. Top 30 prospect DavidJohn Herz got the start and continued to pitch well. In his four innings, Herz allowed just one run on two hits while striking out eight. He also didn't walk a hitter as his ERA is 1.08, which has been a great start to his professional career.
The lone run tagged to Herz came in the bottom of the first when Micah Pries picked up an RBI groundout. That also happened to be one of the two baserunners Herz allowed in the game as he was brilliant.
A new SEASON-HIGH for the Pelicans!

DJ Herz with 8 K's through four innings, the most by a Birds' pitcher this season.

Pelicans 1, Hillcats 1 as we start the fifth. #MBPelicans pic.twitter.com/8O9c3Nqjaq

— Myrtle Beach Pelicans (@Pelicanbaseball) May 20, 2021
In the top of the second, Myrtle Beach drew even 1-1 when Yohendrick Pinango went deep for the first time in his professional career after not homering in 2019 during his Dominican Summer League season. Unfortunately, his homer was all the offense Myrtle Beach could generate in what was a quiet showing.
With Jose Albertos in relief of Herz, Lynchburg touched him up for a pair of runs in three innings, with Angel Martinez recording both RBI's. That 3-1 lead seemed like a 10-0 lead as the Pelicans managed just two hits in the game, falling 3-1. Outside of the Pinango homer, Ed Howard was credited with the other hit going 1-3 in the game. Yeison Santana, Ethan Hearn, and Matt Mervis were just some players who went hitless as the Pelicans drew zero walks and struck out 10 times in the loss.
Final from Lynchburg.

We'll have more baseball tomorrow. pic.twitter.com/au6A7fsHDg

— Myrtle Beach Pelicans (@Pelicanbaseball) May 21, 2021

Tags: Cubs Baseball
,
Kohl Stewart
,
Robert Stock
,
Jake Jewell
,
Kyle Ryan
,
Patrick Wisdom
,
Taylor Gushue
,
Rafael Ortega
,
Ian Miller
,
Abiatal Avelino
,
Javier Assad
,
Wyatt Short
,
Bryan Hudson
,
Ethan Roberts
,
Darius Hill
,
Christian Donahue
,
Miguel Amaya
,
Christopher Morel
,
Nelson Maldonado
,
Derek Casey
,
Delvin Zinn
,
Chase Strumpf
,
Nelson Velazquez
,
Yonathan Perlaza
,
Cole Roederer
,
Jose Albertos