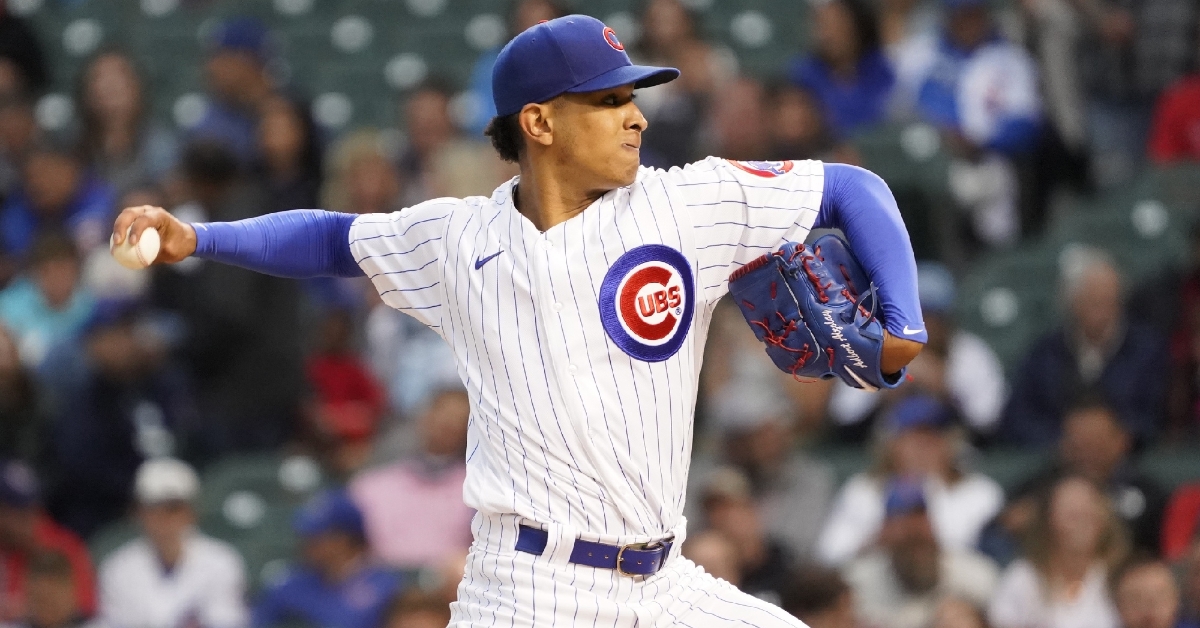 | | |
| --- | --- |
| Cubs News: 2021 Season Report Cards: Adbert Alzolay, Alec Mills, Trevor Williams | |
---
Yesterday, we continued our season report card series by diving into the team's biggest weakness this past season. That was the starting pitching as the Cubs had a dreadful time trying to compete when it came to pitching. Given that this team used double-digit starters, with 10 of those pitchers making at least four starts, we have chosen to break up the starting pitcher grades into three parts.
While most of the rotation didn't impress, the back end of the rotation more than held their own with two guys proving they have a future with this team in some aspect. The third name on this list was traded to New York at the trade deadline, but before that, he was doing next to nothing to help his cause.
One of the biggest question marks heading into 2022 is what to do with Alzolay. The former top 10 prospect and top pitching prospect at one point, Alzolay, has bounced between starter and reliever in the majors, having mixed results across the board.
Heading into the 2021 season, Alzolay made 10 appearances with six of then starts posting a 2-2 mark with a high ERA. 2020 saw Alzolay burst on the scene as a new slider grip helped him post a 2.95 ERA in the final month of the season. The Cubs took note of that and allowed him to earn the No. 5 spot out of spring which is exactly what he did.
Expecting to go through some growing pains throughout the year, Alzolay had a nine-start stretch from May into June, where he was the best pitcher in this rotation. Not only was he not walking hitters, but he was not allowing runs as this was the version of Alzolay the Cubs were hoping for. Outside of that run, things were a struggle for him as he finished the season 5-13 with a 4.58 ERA.
Season grade C: I am generous to Alzolay on this one mainly because the stuff and potential are there. Record aside as that is not a good mark, Alzolay was given the fewest amount of run support in the majors, which made things harder for him. He continued to make adjustments as the season went on, which is all you can ask for as a starter.
After returning from an injury late in the season, the Cubs moved him to the bullpen to monitor his innings. Once there, Alzolay looked better than he did at any point in the season. That brings the question heading into 2022 as to where he fits better. Do you leave him in the pen where he looked great towards the end of the season, or do you give him a chance to be the starter the Cubs have hoped for?
One of the most overlooked pitchers on this roster continues to be extremely valuable in Alec Mills. The once top 30 prospect with the Kansas City Royals, Mills has been with the Cubs for several seasons bouncing between AAA and the MLB roster. Over the last two seasons, Mills has not only been on the roster the entire season, but has been given a chance to be an everyday starter in the process.
2020 saw Mills make 11 starts going 5-5 with a 4.48 ERA in the shortened season. Mills also no-hit the Milwaukee Brewers in Milwaukee in September, so that along was a memory he will never forget. After a rough spring this year, Mills lost the final starter spot to Alzolay and was essentially sent to the bullpen. In 12 games in relief, Mills struggled mightily as he never looked comfortable in that role.
Once an injury in the rotation popped up, Mills not only had his opportunity to start, but he took it and ran with it. Across his 20 starts, a career-high, Mills posted a 6-7 record with a 5.07 ERA. Those numbers are a bit deceiving as Mills fell apart the final few weeks as the innings load started to get to him. Take that away, and he made 11 consecutive starts of allowing three earned runs or less, so he continued to prove he deserves to be a starter.
Grade C+: Much like Alzolay, Mills gets a little better grade than expected mainly because no one expected much out of him. Given his high workload and a career-high in virtually every category, it was only a matter of time until he ran out of gas. That happened in September, and now Mills has an entire offseason to focus on being a full-time starter.
The Cubs need to add to their starting rotation, but one guy who has earned a shot at the No. 5 spot next season is Mills. He has proven that he can start in this league and is another Kyle Hendricks style of pitcher. He may not be a long-term option, but if this team is still in transition mode next year, the Cubs need to trot him out instead of wasting money on someone else.
With four holes to fill in the Cubs rotation heading into the 2021 season, the Cubs had to add arms, but couldn't break the bank in the process. Knowing that they wouldn't be in the running for big-name pitchers, the Cubs tried to sign an under-the-radar name by bringing in former Pittsburgh Pirates starter Trevor Williams on a one-year deal.
Williams had a great 2018 with the Pirates going 14-10 with a 3.11 ERA, but it has been a struggle outside of that. His overall record isn't that bad going 35-39 with a 4.42 ERA, but his last several years have been rough. Across 2019 and 20, Williams not only posted a 9-17 mark, but a 5.87 ERA. Hoping his worst days were behind him, the Cubs brought him in, expecting things to change.
Early on, it looked as if the 2018 version of Williams would be arriving on the Northside, but once May hit, his season went downhill. Williams appeared in 13 games for the year, making 12 starts as he missed a month after having an appendectomy. Despite posting a 4-2 record with the team, his ERA continued to climb as he finished the season with a 5.06 ERA with the Cubs. The only silver lining could be his command which was the best it has been.
Grade D: Williams was never looked at as the savior of this rotation, but I thought this could be a Jason Hammel signing where a change of scenery did him well. Early in the season, Williams looked like a solid addition for the Cubs, but once his road struggles got in his head, it went downhill. Ironically, a change of scenery is what he needed, but it was with the Mets that brought out his best, appearing in 10 games and posting a 3.06 ERA after the trade.

Upgrade Your Account
Unlock premium boards and exclusive features (e.g. ad-free) by upgrading your account today.
Upgrade Now