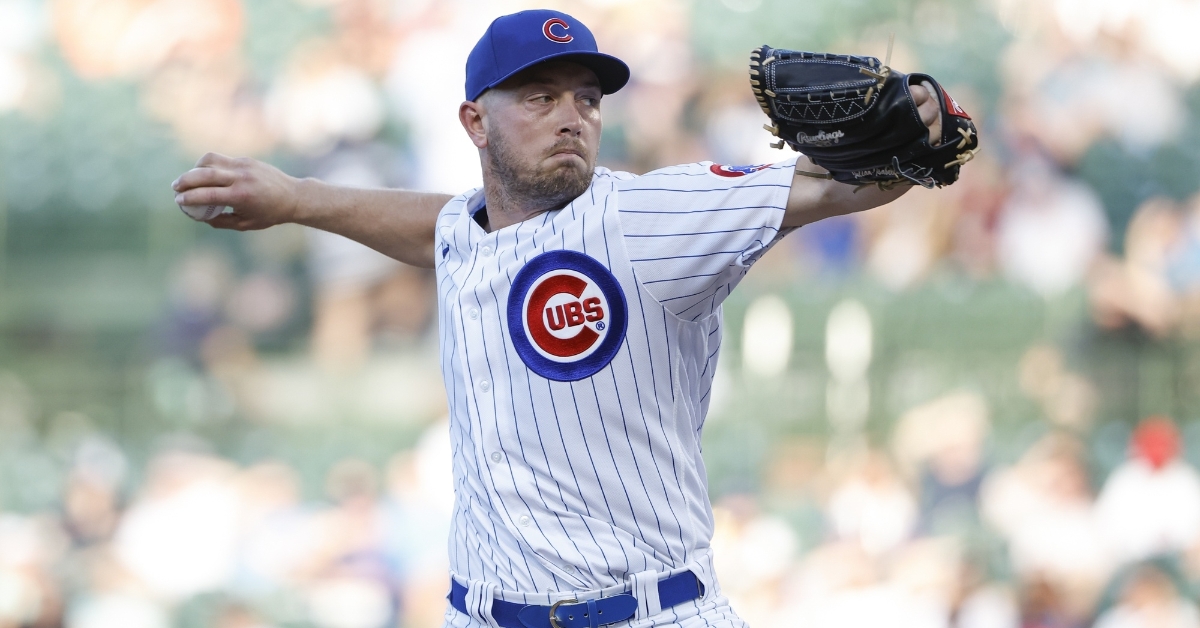 | | |
| --- | --- |
| Cubs News: 2022 Season Report Cards: Starting Pitchers Part 3 | |
---
| | | |
| --- | --- | --- |
| Friday, October 21, 2022, 12:32 PM | | |
Today marks the third and final installment of the starting pitcher report cards. The players mentioned in this installment were not with the team when the season began, but instead filled in as starters as the season went on.
Some of them are going to be with different teams next season. Some will be back in the minors, and some will have a different role, but they are still on this roster in some capacity. Regardless, the Cubs had a ton of new faces emerge in the rotation as the season went on, which bodes well for the future ahead.
Was anyone more impressive in the Cubs rotation than Adrian Sampson? If so, it had to be Justin Steele or Keegan Thompson, as Sampson was excellent all season long. At 31 years old, Sampson is not a long-term option, but the once former top prospect in the Texas Organization has finally found a home, which has worked out well for the Cubs.
Sampson was not part of the Cubs roster when the season began, but after being called up midseason, he never went back to Iowa. For the season, Sampson made 21 appearances and 19 starts. Another player victimized by a lack of run support, Sampson, finished the season 4-5, but posted a 3.11 ERA. That was primarily due to his 1.85 ERA in September, ranked fifth best in all baseball.
Grade A: Sampson was not only a great pitcher this season, but may have been the most consistent arm for the Cubs all season. He was always viewed as a starter, but never was given enough chances to make things happen. When he was given starter opportunities in the past, he never took advantage of them, which is why he has been primarily a minor leaguer most of his career.
The Cubs have not only given him those opportunities, but he has found a home in Chicago, and the Cubs would be foolish to let him go. With Alec Mills missing nearly all of 2022 with injuries, I look for Sampson to take over his role on the team next year as the veteran swingman that can do anything.
Javier Assad: One of the biggest surprises this season was seeing Javier Assad not only reach the majors, but make as many starts as he did. However, when you look at his Minor league performance, it shouldn't shock anyone as he went 5-3 with a 2.66 ERA across 21 starts.
Once the Cubs rotation started to pile up injuries, they were in desperate need of arms, and Assad was one of those guys called up. Assad was excellent when he arrived, as he made eight starts and went 2-2 with a 3.11 ERA. Much like Sampson, Assad has an undefined role for 2023, but look for him to get a fair shake in the spring.
Grade B: Assad opened many eyes this season but came with a small sample size. Sure, the results were good, but they were unconventionally good, as a high walk rate and lots of hits forced him to work out of tough spots. That is something he was able to work through this season, but not something that can continue.
Assad has been a starter for most of his career, but when it comes to being a starter on this team, that may not be in the cards for the next few years. Regardless, he is a valuable asset that should find a role in the bullpen next season.
Acquired from the New York Yankees as part of the Scott Effross deal, Wesneski took a while to get to Wrigley Field. Once he arrived, you saw a new sense of energy as he proved he would be part of the rotation next year.
Across his six appearances, four starts, Wesneski went 3-2 while posting a 2.18 ERA. Not only that, but his seven walks and 33 strikeouts showed impeccable command as he will play a significant role next season.
Grade A: Although a limited sample size, Wesneski did more than impress during his time with Chicago. His mix of power, command, and pure movement makes him a nightmare to hit, and he will be part of this rotation moving forward.
Whether that is in the middle of the rotation, top or bottom remains to be seen, but he at least gives the Cubs another option to plug in for next year. However, by 2025 look for him to be the ace of this staff as Jed Hoyer had a great trade with the Yankees.
The Cubs also used guys like Matt Swarmer, Caleb Kilian, Anderson Espinoza, and Mark Leiter Jr, among others, in the starting rotation during the season. All of them had moments of greatness, but also moments of struggle and earned a combined grade of a C for their work.

Tags: Cubs Baseball
,
Adrian Sampson
,
Justin Steele
,
Keegan Thompson
,
Alec Mills
,
Javier Assad
,
Hayden Wesneski
,
Scott Effross
,
Caleb Kilian
,
Anderson Espinoza
,
Mark Leiter