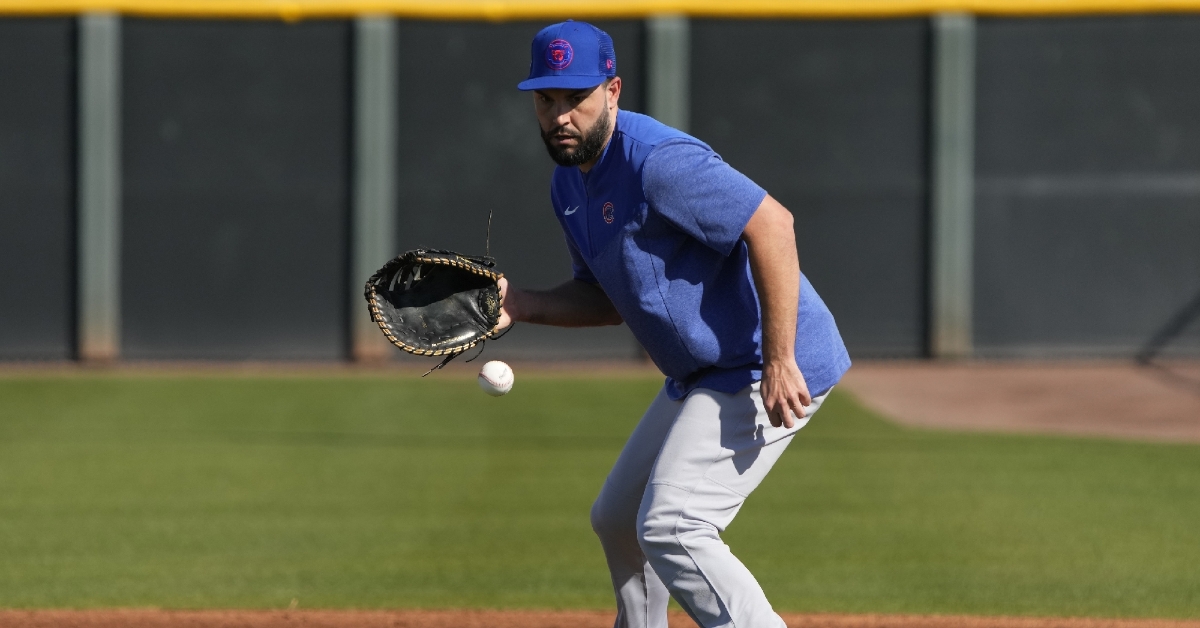 | | |
| --- | --- |
| Cubs News: 2023 Season Projections: Eric Hosmer, Trey Mancini, Matt Mervis | |
---
| | | |
| --- | --- | --- |
| Friday, February 24, 2023, 8:13 AM | | |
Ever since the Chicago Cubs traded away Anthony Rizzo during the 2021 season, first base has been a gaping hole for this team. They have tried guys like Frank Schwindel and Alfonso Rivas in that spot, but neither of them could sustain long-term success proving they weren't the answer.
That set the stage for this offseason, where the Cubs were again in a position to fix first base as the Cubs entered the offseason with no first basemen on the roster. Sure, Matt Mervis was everyone's favorite, but he is still a minor league who needs more seasoning before being an everyday option.
With that being said, the Cubs took it upon themselves to add not one, but two first basemen to their roster, as both of them come with tons of experience and should be in a position to play most of the season. Those men are lefty Eric Hosmer and righty Trey Mancini as both are looking for bounce-back campaigns this season.
Eric Hosmer
After the Padres traded Hosmer to the Red Sox last season, there was a lot of talk about his future moving forward. The Red Sox made it clear that they didn't want him long-term and chose to release him in December. That set the stage for the Cubs to scoop him up as they added him to a one-year deal on a veteran's minimum salary.
That is the key to all of this. The 34-year-old was linked to the Cubs several times as a trade candidate, so to have him for 750K this season is amazing, especially with the Padres paying his contract for two more seasons. Hosmer is a gold glover at first base whose seen his offensive numbers slump in recent seasons, but there is potential for him to have a bounce-back season this year.
Prediction: 83 games, .238 average, 8 homers, and 31 RBIs
Given the price tag of Hosmer this season, he becomes the biggest roster question mark this season. Should he do well, the Cubs have a guy they paid next to nothing to have while providing them with a desperately needed left-handed bat. Should he struggle, the Cubs can cut ties with him without having to eat a significant financial burden.
I think Hosmer gets off to a good start, but that may be it. With Mervis potentially going off again in AAA, it gives the Cubs an easy out to release Hosmer and is an excellent problem to have. Hosmer has something to prove this season, and it will be interesting to see how things go.
Trey Mancini
One of the most talked about players linked to the Cubs all offseason was Mancini, and it took nearly three months for the Cubs to sign him. Now that they have, you have another veteran presence at first base on a one or two-year deal worth upwards of seven million per season.
Granted, his primary position is first base; look for him to fill the DH role this season, especially with Franmil Reyes now in the Royals system. He is in a similar position to Hosmer, where he would love to prove he can still play at this level. What better way to have motivation than getting a starting job with a team eager to compete this season?
Prediction: 115 games, .262 average, 17 homers 56 RBIs
Mancini will play a ton this season, whether at 1B, DH, or even in the OF. However, this won't be the Mancini of old capable of hitting 25-30 homers and close to 100 RBIs. The Cubs may not need that in any instance, as he can still be a very productive bat in the middle of this lineup. Look for him to provide some much-needed pop for the Cubs this season while offering the veteran leadership they lacked last season.
Matt Mervis
Perhaps the most interesting story in camp this season will be what to do with Mervis. If you consider last season, Mervis would be a starter for this team looking at anchoring 1B for the next decade. However, Last season was his second year as a pro, and he still has a few things to work on before the Cubs feel like he is ready.
That is what he will do to open the season. Mervis will go to AAA, work on his defense and hitting lefties, and go from there. Should he improve on all of that, it becomes a matter of when not if he reaches the majors this season. This is a player the Cubs can be patient with, even if the fans don't want them to be.
Prediction: 74 games: .250 average, 14 homers, 39 RBIs
Mervis will be on this team at some point this season, and once he gets here, he will not be leaving. Sure, Mervis will take some bumps along the way, but look for him to be more of a DH this season, allowing Mancini to move to first before settling into 1B long-term. This is a player that Cubs fans are going to love and the sooner he shows he is for real, the sooner he gets to the show.

Upgrade Your Account
Unlock premium boards and exclusive features (e.g. ad-free) by upgrading your account today.
Upgrade Now