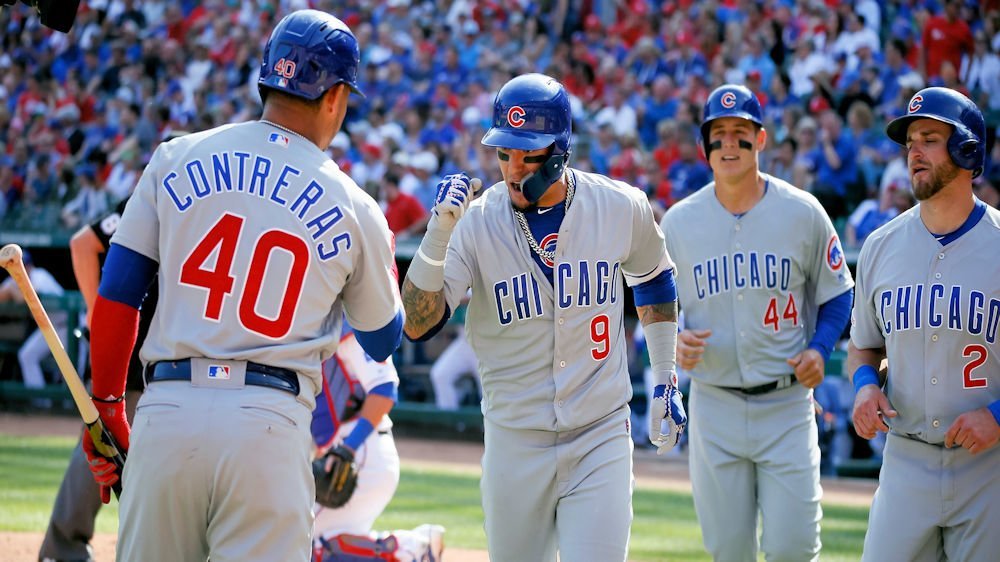 | | |
| --- | --- |
| Cubs News and Notes: Baez on Cubs' complacency, Ross with a surprise, Darvish rips Astros | |
---
| | | |
| --- | --- | --- |
| Monday, February 17, 2020, 8:02 AM | | |
CUBS NEWS AND NOTES
Next Game: Next Game: 6 days – Saturday, February 22, 2020: Athletics vs Cubs (Sloan Park).
Opening Day: 43 days - Thursday, March 26, 2020: Cubs vs. Brewers (Miller Park).
Javier Baez: Javy met with the media on Sunday, talking about what he saw as problems from 2019. As I've repeated time and time, complacency was their biggest problem.
"A lot of players were doing the same as me, getting loose during the game. You can lose the game in the first inning. Sometimes when you're not ready, and the other team scored on something simple, I feel like it was because of that. We weren't ready."
Javy holds court... pic.twitter.com/8gJluIl3y5

— Jordan Bastian (@MLBastian) February 16, 2020
Baez continued, "It wasn't something bad, but we have a lot of optional things. Not mandatory. Everyone kind of sat back on that, including me. I wasn't really going out there and preparing for the game. I was getting ready during the game, which is not good."
I blame Joe Maddon for breeding that attitude, both in the clubhouse and on the field. Maddon had a mentality that loudly screamed, "Relax. It'll all be fine." But it wasn't. When you rest on your heels, it begins to breed laziness and complacency, which is precisely what this team has endured for two-plus seasons now.
If Maddon's firing wasn't enough motivation for this team, then perhaps the truth emerging about "philosophical differences" (as Maddon phrased it) will be. The cat is out of the bag. Theo and Maddon weren't on the same page as everyone reported, and the hesitancy to fire him after the 2018 season cost them big. I firmly believe that the Cubs felt that they owed Maddon for 2016, thus refusing to fire him until his contract ended.
Javy Baez welcomes the expectations David Ross has for him and his teammates, compared to what his old manager had: https://t.co/Xb5TdUKROB pic.twitter.com/Vtird4vKNi

— Cubs Talk (@NBCSCubs) February 16, 2020
In the meantime, that passive approach cost the Cubs big in terms of wins, standings, and in the case of 2019, a playoff bid. Ross needs to re-install the hunger in these guys, and contrary to his statements about incorporating some of Maddon's ways, he needs to steer clear of those traps and forge his own path as a manager.
Javy's apology seems sincere – much more so than anything that has come out of the mouths of anyone affiliated with the Astros. That attitude and sincerity need to flood the clubhouse, with everyone accepting responsibility for their decline last season. Then, and only then, can this team take the field and win again.
"It's about getting on base and giving the at-bat to the next guy," Baez said. Sometimes we forget about that because of the situation of the game. And that's the way you get back in the game - going pitch-by-pitch and at-bat by at-bat."
Ross on Baez's comments: "the fact he's saying it publicly and holding himself accountable to you guys and the fans is a strong message that I'm really happy he's sending."

— Mark Gonzales (@MDGonzales) February 16, 2020
Baez says that he hopes to have an extension signed before Opening Day and that he remains optimistic.
"It's been up and down. It's business. It's really tough. I'll let them work that out. If it works, great. If not, we have another year."
If this gets accomplished, it would be the only one of the Cubs' primary goals to have been satisfied this winter.
Speaking about Pedro Strop, Baez said, "He meant a lot. He's one of my brothers. He's one of the guys who taught me a lot of things mentally. He's a guy that you want to have right next to you. He's a leader, even though he's from the bullpen."
Javy appreciation post. pic.twitter.com/L9KvdxPHJ0

— Chicago Cubs (@Cubs) February 16, 2020
Yu Darvish: Long-awaited, Yu finally spoke out on the Astros.
Yu made an excellent point by saying that Olympic athlete's who cheat, lose their gold medals, but somehow, the Astros still have a trophy. One fan, trying to be a smart-ass, posted a picture of the trophy and added, "It's still here." Never wasting a second, Yu replied:
Bah gawd, Yu! pic.twitter.com/gr1730jKeU

— Cubs Talk (@NBCSCubs) February 16, 2020
Darvish, on Correa's response to Bellinger: pic.twitter.com/a1rRi48COx

— Mark Gonzales (@MDGonzales) February 16, 2020
No time to lose: Not expected until next week, David Ross called for live batting practice yesterday. He then took it a step further with an umpire instead of a batting cage. Ingenuity. I love it.
Live BP, with an umpire. A new Spring Training wrinkle from new Cubs manager David Ross. pic.twitter.com/RJlyyGWK8S

— Jordan Bastian (@MLBastian) February 16, 2020
When you're trying to get an ISO shot of Josh Phegley and Contreras smacks one dead center off the wall and you miss the shot?? (that bat crack tho) pic.twitter.com/sMOif2d8W9

— Scott Changnon (@ScottyChags) February 16, 2020
Nolan Arenado: Arenado says that he heard about rumors of a trade to Chicago for Kris Bryant, replying, "That would have been interesting. That would have been crazy."
February 16, 2020
Brandon Morrow: I know it's not an injury, but here we go again. If Morrow could stay healthy for just seven consecutive minutes…
After dealing with a stomach bug for much of the past week, Brandon Morrow is scheduled to be back on a mound during Monday's workout.

— Jordan Bastian (@MLBastian) February 16, 2020
Steven Souza Jr: I have no idea what prompted this, but I like the idea. Seriously doubt it'll ever happen, though. Then again, Marquee could televise the Cubs' arbitration hearings. Alas, nobody would ever see them…
We need to have arbitration hearings for players publicly televised so they can see what goes on in there. I think you all would be very shocked.

— Steven Souza Jr. (@SouzaJr) February 16, 2020
Cubs' Birthdays: Celebrating yesterday, were ex-Cubs Nate Schierholtz (36), Brian Williams (51), Rolando Roomes (58), Ron Cey (72), Chuck Estrada (82), Richard "Footer" Johnson (88), and posthumously, Charlie Irwin (151).
Baseball Quotes: "Creating success is tough. But keeping it is tougher. You have to keep producing, and you can't ever stop working hard." -Pete Rose
Some fantastic hitting advise from the legendary Tony Gwynn ?? pic.twitter.com/lmH2DhqmrM

— Baseball Quotes (@BaseballQuotes1) February 16, 2020
MLB News and Notes:
Condolences: Baseball great, infielder Tony Fernandez has died of a stroke and related kidney problems, he was 57. During his career, Fernandez was a 5x All-Star and a 4x Gold Glove winner.
In memory of Number 1. Forever in our hearts ?? pic.twitter.com/lUCfBpc1U3

— Toronto Blue Jays (@BlueJays) February 16, 2020

Upgrade Your Account
Unlock premium boards and exclusive features (e.g. ad-free) by upgrading your account today.
Upgrade Now