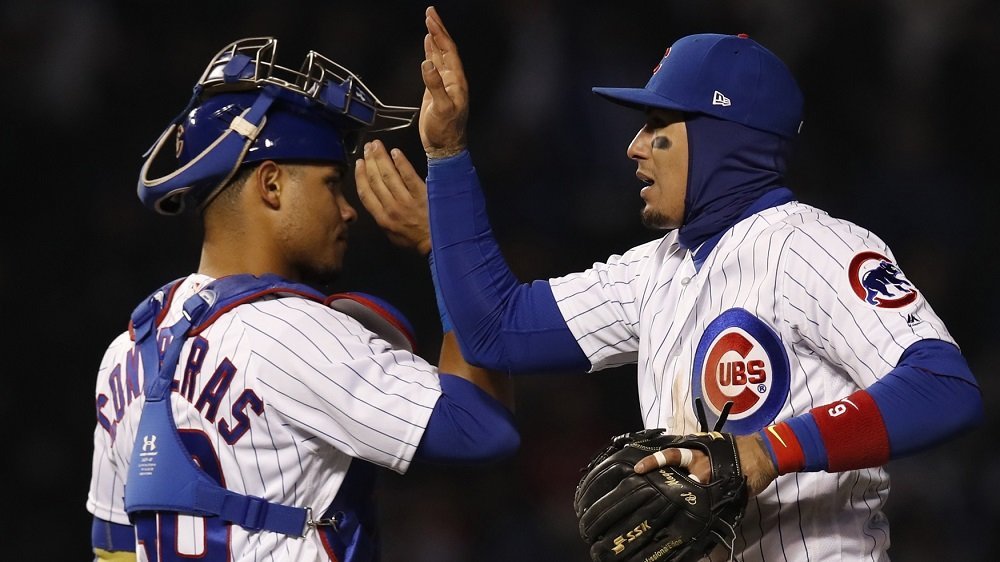 | | |
| --- | --- |
| Cubs News and Notes: Baseball one day away, Chatwood throwing heat, Kelly Crull to ATL | |
---
| | | |
| --- | --- | --- |
| Friday, February 21, 2020, 8:06 AM | | |
Next Game: Next Game: 1 day – Saturday, February 22, 2020: Athletics vs Cubs (Sloan Park).
Opening Day: 35 days - Thursday, March 26, 2020: Cubs vs Brewers (Miller Park).
Thoughts as baseball returns: Well, this is it – the last day without baseball of some sort for the next eight months, and I couldn't be happier. It may only be spring training, but at least it's baseball. For some fans, baseball returns today.
We'll start getting some actual glimpses of players competing in games, even if only for a couple of innings a day. Marquee Network has still left a bunch of us in the lurch, but MLB TV will be showing at least some of the games, so those of us without the new network will just have to settle for what we can get. For that, I'm frustrated.
These next 35 days will go by quick, especially for those living the dream of just being able to say they were in camp with guys like Javier Baez and Anthony Rizzo. Names will start dropping off of the Cubs' spring training roster at a feverish pace as David Ross looks to choose the men who'll represent the 2020 Chicago Cubs.
As the regular season unfolds, I'll lose my head 1,000 times, screaming at a television which doesn't hear me. Much like the rest of you, I'll ride the roller coaster of ups and downs as our Cubbies and their new manager navigate the pitfalls of a 162-game schedule, now riddled with new rules.
No matter how little the Cubs' front office did this winter, we'll get through the season. I'm 54-years-old and I've endured a lot of Cubs teams far worse than what David Ross has to choose from. Whether they become the National League champs, World Series champs or return to the Lovable Losers, the true fans will still be around next spring – hey, maybe by that time you'll be able to find them on TV again.
In a way, this season seems to be more about David Ross than it is the team. Ross is now charged with filling the shoes of a man who broke a 108-year drought, even if that man has fallen from grace lately. Ross seems to be a very innovative guy, committed to the old-school ways of the game. Though it sounds funny to say, Ross can be successful even if the team isn't. A manager's strategy isn't always validated or denounceable based on his team's performance. The skipper can make all the right calls, but if guys fail to perform…
I'm not saying that'll happen, but rather suggesting that you almost need to watch David Ross as a separate entity, while realizing that he's also deeply interwoven within the team. He'll stumble sometimes – that's a given – but the key will be how fast he picks himself up, dusts himself off and forges ahead. Know that if he is successful, that it's not likely to be the result of some elaborate cheating scheme.
Predictions for this team are all over the road. Some have them contending, some have them picked to finish as low as fourth. Nobody seems to expect much from the Northside Nine this year, and without that pressure, they may just turn a few million heads.
He's already done miraculous things with the team's attitude (at least from what I've seen), and it's going to be a pleasure to watch him command his troops in battle.
Hey Chicago, what do you say? Cubs' baseball in just one day.
Chatty: Sounds like Tyler Chatwood is throwing some heat in Mesa. Chatwood's control issues in 2018 took a lot of attention away from his talent. He still throws a four-seam in the upper 90s.
Tyler Chatwood broke Javy Baez's bat in live BP. Javy yells, "Owww!" and shakes hand, with a playful grin. Tossed the lumber away, got a new one and continued. pic.twitter.com/0pTqzbASuN

— Jordan Bastian (@MLBastian) February 20, 2020
Who will be the #Cubs' 5th starter when the season starts?

Reply with whoever else you think it could be: https://t.co/zGzeuUkZGC

— Cubs Talk (@NBCSCubs) February 20, 2020
So long, Kelly: NBC Sports Chicago's Kelly Crull is moving onto greener pastures. Kelly didn't move over to the Marquee Sports Network, so she'd no longer be able to cover the Cubs. She has accepted a job with Fox Sports South, where she'll be covering the Braves. Best wishes, Kelly.
????CHICAGO, THANK YOU!????
I cannot begin to express how grateful I am for your love and loyalty the last 6 years. It was a dream come true for this Hoosier to become a sportscaster in the Windy City.
Cubs… https://t.co/lA3HvMkzhe

— Kelly Crull (@Kelly_Crull) February 20, 2020
Latest CubsHQ spring training videos:
Cubs' Birthdays Celebrating yesterday, were ex-Cubs Spencer Patton (32), Julio Borbon (34), Ryan Sweeney (35), Jesús Figueroa (63), and posthumously, Frankie Gustine (100).
Baseball Quotes: ""Every day is a new opportunity. You can build on yesterday's success or put its failures behind and start over again. That's the way life is, with a new game every day, and that's the way baseball is." - Bullet Bob Feller
Vin Scully reciting the Field of Dreams speech pic.twitter.com/qX9LPiisTu

— Baseball Quotes (@BaseballQuotes1) February 18, 2020
MLB News and Notes:
Ready for a laugh? Jose Canseco tweeted yesterday that he was ready to be the MLB Commissioner. (I replied)
HA! You're a washed up hitter who sold out your friends and MLB in order to sell your books. You're part of the problem, Canseco, not the solution.

— Ken Allison (@KenAllison18) February 20, 2020