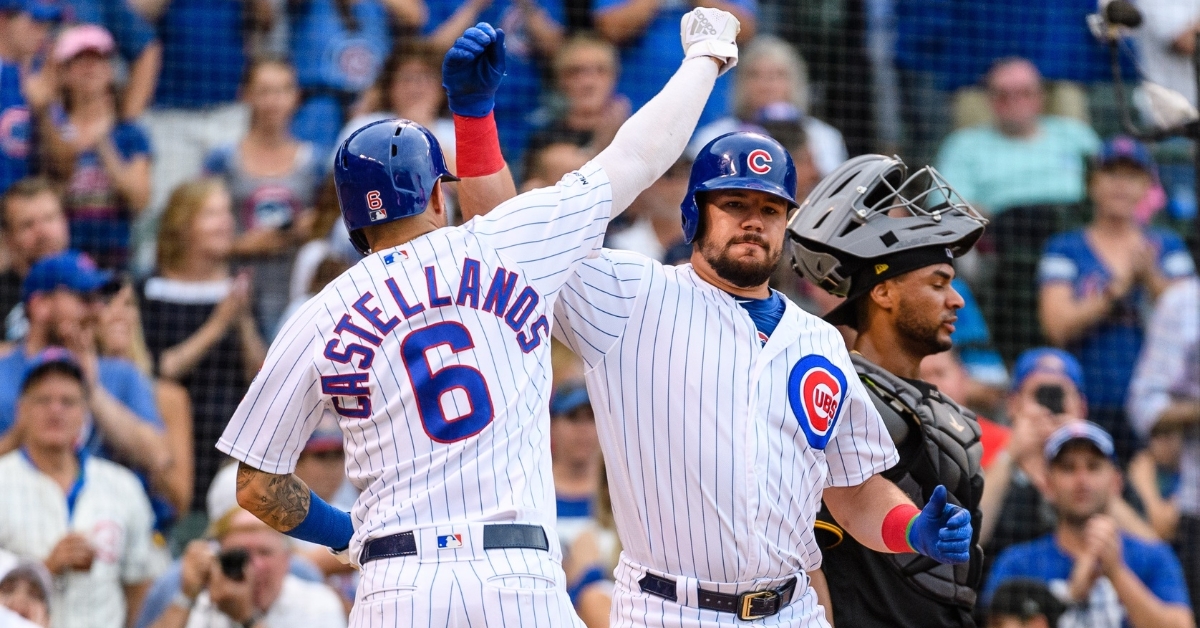 | | |
| --- | --- |
| Cubs News and Notes: Cubs still want Castellanos, Cole Hamels, Hot Stove, more | |
---
| | | |
| --- | --- | --- |
| Wednesday, December 4, 2019, 8:36 AM | | |
CUBS NEWS AND NOTES
Roster moves: After non-tendering Addison Russell and Danny Hultzen, the Cubs will tender deals to 25 men on the 40-man roster yesterday. All other arbitration-eligible players will now go through the arbitration process (Kris Bryant, Javier Baez, Albert Almora Jr., Kyle Schwarber, Kyle Ryan, and Willson Contreras).
The Cubs also reached a one-year deal with RHP Jharel Cotton, and 19 other players not yet ready for arbitration were re-signed.
Time to start moving: Believe it or not, the offseason is now half over (and I still don't know how I'm going to get the Marquee Network next year…). Now that the non-tender deadline has passed, the baseball execs are getting ready for the Winter Meetings, which start in less than a week. Trades are coming; the only questions are who leaves, who comes to Chicago, and when.
How does this make you feel Cubs fans? From @JeffPassan pic.twitter.com/7tSGTYg4LW

— Chris Bleck (@chrisbleck) December 3, 2019
Nicholas Castellanos: Good news for fans of Castellanos – the Cubs are reportedly still pursuing him, despite their payroll situation and questions surrounding his defense. The Cubs won't be alone, as others want him as well.
Sources: #SFGiants among teams with interest in free agent Nicholas Castellanos. Story: https://t.co/D3L88zDdTr @MLB @MLBNetwork

— Jon Morosi (@jonmorosi) December 3, 2019
Cole Hamels: Hamels may be staying in Chicago, but if things go as he expects, he'll be playing for the Sox.
"They have reached out. That was great to be able to hear. I know with the few guys that they've signed, I think that was kind of their focus. When they did talk to my agent, it was, 'Hey, we're putting something together. We have a few guys that we want to try to get first,' which I think that's what they've been doing, 'but we really have some good interest and would like to talk further down the line.' And I think that's always really good to see.
"And then you see that they're actually making moves, and that's when you pay attention a little bit more, just because you have to see where you might actually fit into the situation." – Cole Hamels on the White Sox
Treinen to Chicago? With the Cubs' budget this winter, signing Blake Treinen seems like a stretch, but then again, who'd have thought that the A's would non-tender him?
After Oakland declined to offer Blake Treinen a contract and he became a free agent, the interest in him was immediate, and heavy. With a bounce-back season, he could help a lot of bullpens. https://t.co/9SA8W5Qmjt

— Buster Olney (@Buster_ESPN) December 3, 2019
Kevin Pillar: As the Cubs continue to seek a center fielder, the Giants surprised fans by non-tendering CF Kevin Pillar after just a year of service – a move almost as surprising as the A's letting Treinen walk.
Thank you @sfgiants and the fans for welcoming my family and I. I loved every second of playing for such a historic and successful franchise. It's not how we drew it up but it's every players dream and what they work… https://t.co/m1CLeVbdUK

— Kevin Pillar (@KPILLAR4) December 3, 2019
Pillar, who turns 31 in January, stroked .259/.287/.432 with 21 dingers and 88 RBI last season while committing just five errors over 1,353 innings of defense.
Teams and agents believe the free agent relief market is about to start moving. Aside from the early moves by Atlanta with Will Smith and Chris Martin as well as San Diego with Drew Pomeranz, it has been pretty frozen. The Winter Meetings could be where relievers find homes.

— Jeff Passan (@JeffPassan) December 3, 2019
Cubs' Birthdays Celebrating today, were ex-Cubs Manny Corpas (37), Damon Berryhill (56), Gene Nelson (59), and posthumously, Bennie Tate (118) and Patrick "Cozy" Dolan (147).
RIP RONNIE https://t.co/R8vpHLaFdQ

— CubsHQ.com (@ChicagoCubsHQ) December 3, 2019
Baseball Quotes: "I can't blow the ball by guys. I have to pitch. I have to outthink guys. It's about moving the ball around the zone. It's about cutting the ball. It's about sinking it. It's about putting the ball where I want it to be." - Dan Haren
If he can hit .350, we figured he could see. -The Missouri DMV, on why they waived George Brett's eyesight test pic.twitter.com/zaCyLZgZlo

— Baseball Quotes (@BaseballQuotes1) November 18, 2019
MLB and the Hot Stove
MLB has informed clubs Ryosuke Kikuchi and Shun Yamaguchi are available via posting process. As of 8:00 a.m. ET today any Club willing to pay the corresponding Release Fee and any applicable Supplemental Release Fee(s) may negotiate with each respective player. Jan 2 is deadline

— Jon Heyman (@JonHeyman) December 3, 2019
Yankees: The Yanks have set their sights on signing Gerrit Cole and Stephen Strasburg as well. The team will meet with both by tomorrow.
Yankees meet with top target Gerrit Cole in SoCal today. They are all in. But having been rebuffed after drafting him and offering basically a blank check (he went to UCLA instead), they are very concerned he may prefer Angels and Dodgers. NYY will meet w/Strasburg tomorrow.

— Jon Heyman (@JonHeyman) December 3, 2019
Blue Jays: Congrats to my buddy (and former Cub) Anthony Bass who avoided arbitration with the Blue Jays, landing a guaranteed one-year/$1.5M deal. According to MLB Trade Rumors: "Recently plucked from the waiver wire, Bass had projected to earn $1.7MM. The 32-year-old is coming off a season in which he threw 48 innings of 3.56 ERA ball with 8.1 K/9 and 3.2 BB/9. It was his most extensive MLB action since 2015."
Cubs should have kept him…
Anthony Rendon: Unlike the waiting game played by both Bryce Harper and Manny Machado last winter, some baseball execs are insisting that Anthony Rendon will be the first big signing, following his meetings with interested teams. Rendon has recently met with both the Dodgers and Rangers.
Zack Wheeler: According to MLB Trade Rumors, the bidding for former Mets' righty, Zack Wheeler has now reached the nine-figure mark. For $100M+, you can bet Wheeler isn't going to land on the North Side; but the South Siders are interested.
Hearing Zack Wheeler deal before the Winter Meetings is very possible — maybe even probable. @Ken_Rosenthal reported bidding has already hit $100M, not a surprise considering age, innings, velocity, potential and signs of dominance. White Sox, Twins, Rangers, others in.

— Jon Heyman (@JonHeyman) December 3, 2019
Mets: The Mets are looking to ditch payroll this winter and reports say that they'll be looking to offload Jeurys Familia and Jed Lowrie, who both had disastrous seasons in 2019.
According to Ken Rosenthal, "No other club is going to have interest in paying Familia ($22MM through 2021) and Lowrie ($13MM through 2020) what they're still owed. But the Mets are floating a "concept," per Rosenthal, by which they'd attach some of those unwanted payroll obligations to an otherwise positive-value player-asset. Say, Dominic Smith, and his five remaining seasons of team control."
A's: Oakland has reached a deal to re-sign LHP Jake Diekman; two-years/$7.5M, with an option for a third year.
Next season will be the first in which pitchers must face at least three batters or pitch to the end of an inning. LH Jake Diekman, whose two-year, $7.5M deal with the #Athletics was first reported by @JeffPassan, has fairly even splits and thus, added value under the new rule.

— Ken Rosenthal (@Ken_Rosenthal) December 3, 2019
White Sox: They won't get every free agent out there, but the Sox are certainly tied to a bunch of them. Now, they've talked to Joc Pederson (as have the Dodgers).
The intention and hope of the White Sox is to add TWO veteran free agent starting pitchers. The Grandal signing was the first sign that 2020 is an all-in year for the White Sox, and this is another.

— Buster Olney (@Buster_ESPN) December 3, 2019

Upgrade Your Account
Unlock premium boards and exclusive features (e.g. ad-free) by upgrading your account today.
Upgrade Now