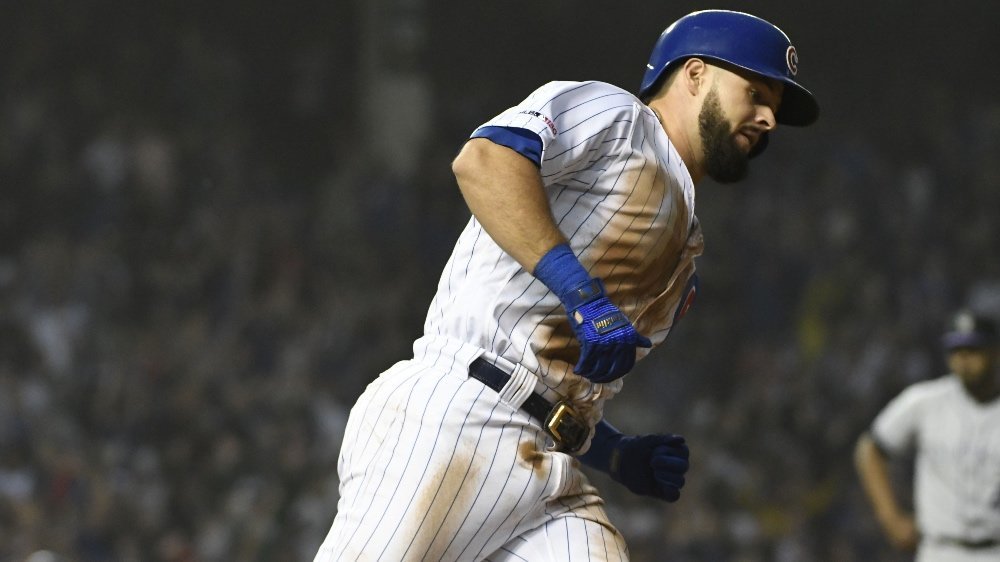 | | |
| --- | --- |
| Cubs News and Notes: David Bote optioned, Maddon on Q, 2020 Spring schedule, more | |
---
| | | |
| --- | --- | --- |
| Tuesday, August 20, 2019, 8:17 AM | | |
Next Game: Tuesday: LHP Cole Hamels (6-4, 3.69 ERA) vs RHP Tyler Beede (3-7, 5.77). Game time 7:05 PM CDT; NBC Sports Chicago+.
Cubs-Giants start today:
The Cubs haven't had the best run of luck lately, hell, they even dropped out of first place yesterday, and they didn't even play. Tonight, they'll open up a three-game set with a Giants team which has gone 7-3 over their last ten. The Cubs are tough at home, the Giants are good on the road, but the deciding factor may be that SF has posted a record of just 29-34 against teams with records greater than .500. Read more in my series preview, posting later this afternoon.
CUBS NEWS AND NOTES
Cubs/Giants Probable Pitchers: Wednesday: RHP Yu Darvish (4-6, 4.21 ERA) vs RHP Dereck Rodriguez (5-6, 4.79 ERA). Game time 7:05 PM; NBC Sports Chicago. RHP Kyle Hendricks (8-9, 3.37 ERA) vs Jeff Samardzija (9-9, 3.54 ERA). Game time 1:20 PM CDT; WGN, MLB Network (out of market only).
Roster Moves: At 7:30 PM Central last night, the Cubs announced that David Bote had been optioned to Iowa. No one was recalled however Steve Cishek was due to return from the IL today. I have a bad feeling this one is going to jump right up and bite Theo and the team in the "you know where."
Actual shot of the guys dragging David Bote to the bus station. pic.twitter.com/m0PDiOiWaI

— Desipio.com (@desipiodotcom) August 20, 2019
Iowa or Chicago? Now that Davis Bote has been demoted, let's check out the Iowa Cubs roster: (1) David Bote (2) Ben Zobrist (3) Albert Almora Jr. (4) Randy Rosario (5) Taylor Davis (6) Daniel Descalso (7) Robel Garcia (8) Mark Zagunis… not to mention Alec Mills, Dillon Maples, James Norwood and Duane Underwood Jr.. Everybody seems to be killing it down there, so might I be the first to suggest that maybe we need to bring the Iowa hitting and pitching coaches up to Chicago?
ICYMI: Down on #Cubs Farm: Descalso homers for second straight game, SB keeps pace, Ems win, more: https://t.co/1g0rkjBwTf pic.twitter.com/b5X9JBErX6

— CubsHQ.com (@ChicagoCubsHQ) August 19, 2019
Is Williamsport what the Cubs needed? With the way that the Cubs have been losing road series, their appearance in the Little League Classic may be just what the doctor ordered. In addition to a very relaxed and intimate atmosphere which gave the players an ability to relax, they played (and won) a road game in more of a neutral setting- even though the Cubs were designated as the visiting team.
This issue with winning (or instead not winning) games on the road has become some team-wide psychological issue and winning that game may have helped to break the mindset that they can't win away from Wrigley. Whether or not it helped, the Cubs better figure this out… and fast.
Javy Baez: When asked about the Little League World Series, Javier Baez says, "It was special."
Baez on LLWS experience: "It was special" pic.twitter.com/Y2wexrUxbY

— Mark Gonzales (@MDGonzales) August 19, 2019
Maddon on Quintana: Joe Maddon says that "[Jose Quintana's] confidence cannot be any higher." For the month, Q has killed it with a 2.05 ERA (30.2 IP), collecting 36 strikeouts, while only walking three. Over the last two weeks, the numbers are even better: 0.90 ERA (20.0 IP), with 28 punchouts and just one walk.
Maddon on Quintana: "His confidence cannot be any higher" pic.twitter.com/AmlSEwXtXe

— Mark Gonzales (@MDGonzales) August 19, 2019
Not that there aren't 100 highlight reels featuring Q, floating around in cyberspace, but in case you missed Sunday night's game, here's a little of what Quintana accomplished.
A big league performance. #EverybodyIn pic.twitter.com/uSQnfUJTxM

— Chicago Cubs (@Cubs) August 19, 2019
Nick Castellanos: After Nicholas Castellanos homered again in the Little League Classic on Sunday night, I decided to take a look at just what Theo Epstein accomplished for the Cubs by trading for him. In 17 games, equating to 74 plate appearances and 69 at-bats, the "Artist" has accumulated a slash line of .348/.392/.710, and an OPS of 1.102 (178 wRC+). Then there's his MLB leading 41 doubles (seven as a Cub), a half-dozen homers and eight RBI, not to mention a handful of walks. By the way, his attitude is priceless.
Nick Castellanos fist-bumps Joe Maddon and tells him "Happy Opening Day" before every single game, because he's that excited to get out there and play, Maddon says.

— 670 The Score (@670TheScore) August 19, 2019
All and all, I'd say that was a pretty good transaction on Theo's behalf, as it cost him two minor league pitching prospects (Alex Lange and Paul Richan) for Castellanos. Granted, the Cubs didn't land that leadoff man that they were searching for, but Castellanos' ability as a #2 batter, has freed up the opportunity for Jason Heyward or Anthony Rizzo, to move up to the leadoff spot.
Rizz needs a translator? After homering on Sunday night, Anthony Rizzo's ball was recovered, then returned to him. Rizz was impressed with the shortstop from team Japan and decided to autograph the ball and give it to the kid- only one problem- Rizzo is Italian, not Japanese. Who better to translate than Yu-San Darvish?
They're all grown up now: The Cubs released another new video entitled "Big League Players. Little League Moments.
Big League players. Little League memories. pic.twitter.com/5EGw41K3Vv

— Chicago Cubs (@Cubs) August 19, 2019
American Legion Week: With the Legion week starting today, Joe Maddon left the players with a simple message: "Show up late but be ready to play." The Cubs will treat an American Legion post in the Chicago area to beer and sausages. "The whole point is you don't have to be there all day to play Major League Baseball games successfully, especially this time of year when guys are a little bit tired," Maddon said Sunday.
2020 Spring Opener: It's almost depressing to think that we're already talking about next year…
Chicago #Cubs announce 2020 Spring training schedule: https://t.co/OkUiKQXfwy pic.twitter.com/gnurJ6Ymed

— CubsHQ.com (@ChicagoCubsHQ) August 19, 2019
Tightening up the zone: If it's not hard enough for little-leaguers to pitch, this little dude decided to make it harder on the pitcher, by shrinking the strike zone- or so he thought. The pitch was called a strike, as was the next one. I guess this could be the first time in baseball history that a player has struck out squatting.
?????? pic.twitter.com/G2hNcesygM

— Baseball Quotes (@BaseballQuotes1) August 19, 2019
Baseball Quotes: "The game has a cleanness. If you do a good job, the numbers say so. You don't have to ask anyone or play politics. You don't have to wait for the reviews." -Sandy Koufax
Maybe tomorrow we'll all wear 42, that way they won't tell us apart. -42

pic.twitter.com/H5IjOyfyur

— Baseball Quotes (@BaseballQuotes1) August 15, 2019
Cubs Birthdays: Celebrating yesterday, were ex-Cubs
THIS WEEK'S NL CENTRAL SCHEDULE:
(Wins in green, losses in red)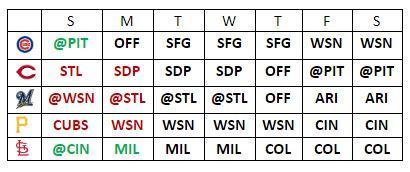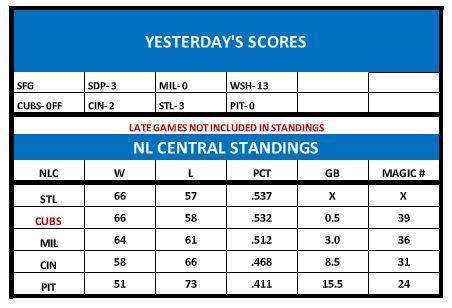 Tags: Cubs Baseball
,
Cole Hamels
,
Yu Darvish
,
Kyle Hendricks
,
David Bote
,
Steve Cishek
,
Ben Zobrist
,
Albert Almora Jr
,
Randy Rosario
,
Taylor Davis
,
Daniel Descalso
,
Robel Garcia
,
Mark Zagunis
,
,
Dillon Maples
,
James Norwood
,
Duane Underwood
,
,
Jose Quintana
,
Paul Richan
,
Jason Heyward
,
Anthony Rizzo
,
Joe Maddon
,
Theo Epstein