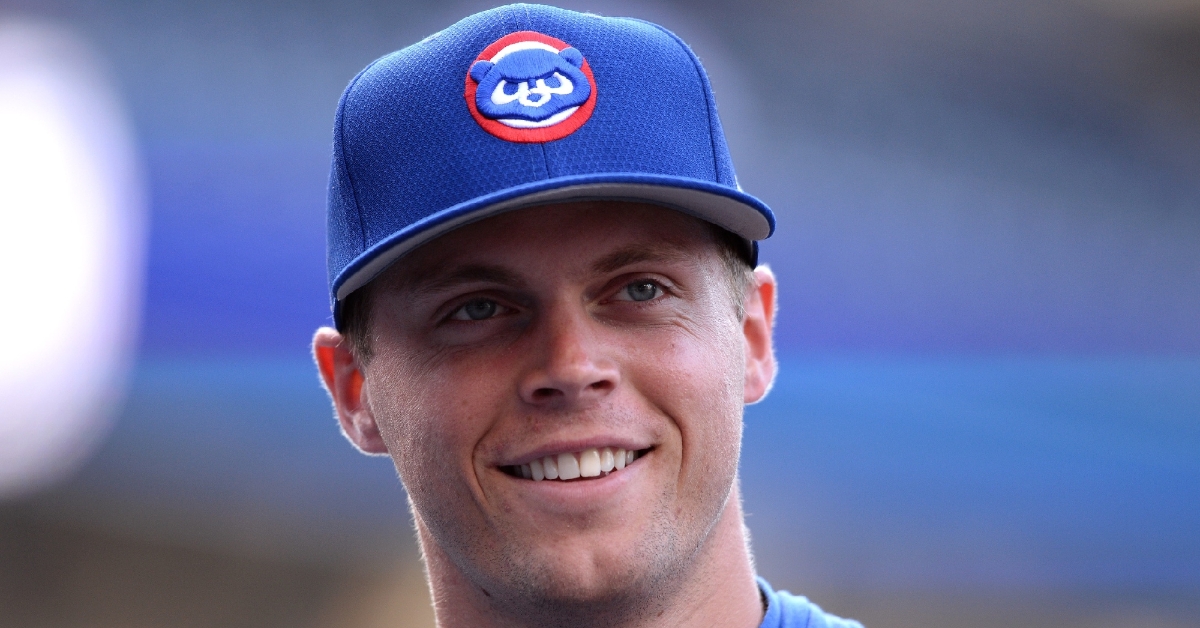 | | |
| --- | --- |
| Cubs News and Notes: Hoerner's 2020, Lester's future, Almora determined, 3B watch, more | |
---
CUBS NEWS AND NOTES
Next Game: 8 days – Saturday, February 22, 2020: Athletics vs Cubs (Sloan Park).
Opening Day: 45 days – Thursday, March 26, 2020: Cubs vs. Brewers (Miller Park).
There seems to be a ton of positivity coming out of Mesa. Players' individual goals seem much more defined, and the attitude seems to be that of a winning team.
Nico Hoerner: "The best baseball I've ever played in my life is when I'm focusing on long term and development. I think that's when I've learned the most, had the most fun, and helped the team win the most too. I'm trying to maintain that – that might be hard at times this spring. But trying to do that the best I can."
"I've said that a million times to people. [The sudden call-up] was the luckiest thing that ever happened to me. There wasn't a buildup of expectation. It was just boom, here we go, let's go play, and I played the first day. You go from there. I was thankful for how it happened." -Nico Hoerner
Full speed ahead. pic.twitter.com/DIRZhD0HNF

— Chicago Cubs (@Cubs) February 13, 2020
Jon Lester: Speaking about David Ross, Jon said, "Is that weird? Yes. But he's my boss. When he decides the game is over for me, the game is over. I don't know if you guys know this, but he took me out of games plenty of times... this won't be anything new. I've never disrespected my manager regardless of who that is.
Concerning his career, Jon Lester's 2021 option will kick in if Big Jon manages to hurl 200 innings this season. When asked, Lester said, "I signed here hoping that option would take care of itself. I just want to try to win a World Series this year."
"He's so good at getting the best out of you." @ARizzo44 and his teammates embracing the @D_Ross3 Era: https://t.co/lFAhImmRUd pic.twitter.com/zUY3Ci8FVQ

— Cubs Talk (@NBCSCubs) February 13, 2020
Lester struggled last season, and his frustration was noticeable. Although he made 31 starts, he only lasted a total of 171.2 innings, for an average of 5.5 innings per start. Only eight times in Lester's illustrious 14-year career has he reached the 200 mark, with the last two coming in 2016 when he made 32 starts (202 IP) and 2015 when he reached 205 innings in 32 starts.
If Jon Is to make the 200-inning mark in 31 starts this year, he must average 6.5 innings per outing; 32 starts would require an average of 6.3 innings per start.
Jon also states this he hopes to finish his career as a Cub. He'll be turning 37 next January, which indicates that next season will probably be his last hurrah.
Lester on preparation for 2020: pic.twitter.com/2Il8ssZ9xu

— Mark Gonzales (@MDGonzales) February 13, 2020
Lester on lack of changes in offseason pic.twitter.com/2TO5GoIJ9S

— Mark Gonzales (@MDGonzales) February 13, 2020
Craig Kimbrel: "Terrible' is kind of an understatement for what I felt like I did last year." Dirty Craig added that he was dealing with knee issues that affected both his mechanics and results.
Kimbrel on 2019: "Terrible is kind of an understatement" pic.twitter.com/e5KngNVlIH

— Mark Gonzales (@MDGonzales) February 13, 2020
Craig Kimbrel met with the media. Says he's healthy, after right knee was problematic last season. Was lack of spring a year ago the issue? "We'll see." Plans to dive more into numbers later in spring, following his usual buildup and strength training. pic.twitter.com/eyIuomqBj3

— Jordan Bastian (@MLBastian) February 13, 2020
Is it time yet? According to David Kaplan, not only are the Cubs and Rockies still talking about a potential Bryant for Arenado swap but determined to make it happen.
Kaplan said, "I was on the phone with somebody in Colorado last night who covers the Rockies," Kaplan said, "and he said to me, 'Hey dude, let me just tell you, these discussions are real. He [Arenado] absolutely wants out of the Colorado Rockies organization, and he's made it clear to ownership, 'I don't want to be here. Get me outta here.'" I'm telling you; the Cubs are absolutely motivated to try and get him. Absolutely, 100%.
(2/2) the direction of the @rockies organization. I'm told he would warmly welcome a trade to the @cubs. The @cubs will continue to pursue this throughout spring training. (The @cubs also are fearful he could end up w/the division rival @Cardinals.) #rockies #cubs #mlbnetwork

— Les Shapiro (@LesShapiro) February 12, 2020
Albert Almora Jr.: While trying to fight for playing time in 2019, Albert Almora Jr. was further hindered last year by a slow offensive campaign; then disaster struck. During a game in Houston on May 29th, Almora hit a foul ball that struck a two-year-old girl in the stands.
Most have seen the video, showing the girl being struck and an emotionally distraught Almora clinging to a security guard and teammates as the incident unfolded (out of respect to Albert and the families involved, I've elected not to include the video).
Almora attempted to reach out to the girl but was denied access by the family and their attorney. The latest reports have said the child may be permanently afflicted with a seizure disorder.
Almora has understandably carried a feeling of guilt since the incident occurred, but he seems to be in a better place now.
Almora said he needed time to "disconnect" over offseason. Was in a bad mental place at season's end and confided in trusted people close to him to work through it. Then, got to work on offensive approach and swing (says changes will be visible) and feels he's in great spot now.

— Jordan Bastian (@MLBastian) February 13, 2020
I've thought about that incident a lot. If I could reach out, I'd tell him to keep his chin up and to look forward, not back. I'd let him know that no matter how tragic, he did nothing wrong. I'd attempt to make him understand that this was a terrible, terrible freak-accident and nothing more. I'd assure him that he didn't intend on hurting that little girl, nor was he in any way negligent. I'd beg him to understand that he was only doing what the Cubs pay him to do – attempting to get on base and that he couldn't control where that ball was going to land.
If I could, I would have given Albert a huge hug and offered up any kind of mental support that a normal 19 year old kid can offer. I love Albert as a person, and knowing what he went through, for him to say he needed to find mental help and he did get it.

— Tre (@The_Trentnado) February 13, 2020
He attempted to reach out, and he wanted to form a bond with the child, but he was rebuffed. He can't do much more than that. Knowing that he's in a better frame of mind, he can now enter spring training, hopefully feeling less guilty about an accident that he'll never forget. He seems to be focused more on baseball, which can only help going forward. In the already crowded outfield, Almora is still going to have to fight for playing time this year, but at least now, there are no demons holding him back. I hope he finds his rhythm in the batter's box, but more than that, I hope he's found peace.
New Rule: MLB has now announced yet another rule change for 2020, imposing a 20-second limit on managers to challenge instead of 30 seconds.
Cubs' Birthdays: Celebrating yesterday were ex-Cubs Matt Mieske (52) and posthumously, Donnie Moore (66), Gilly Campbell (112), and Bill Bradley (142).
Baseball Quotes: "The only time I really try for a strikeout is when I'm in a jam. If the bases are loaded with none out, for example, then I'll go for a strikeout. But most of the time, I try to throw to spots. I try to get them to pop up or ground out." -Sandy Koufax
George Costanza: Hitting Guru pic.twitter.com/VNoOdqGRyI

— Baseball Quotes (@BaseballQuotes1) February 4, 2020
MLB News and Notes:
Reds: Reds' manager David Bell says that despite undergoing shoulder surgery in January, third baseman Eugenio Suarez might be ready for Opening Day.
Red Sox: Eduardo Rodriguez lost his arbitration case with the Red Sox. He will receive the team's offer of $8.3M, not his requested $8.975M.
Orioles: Baltimore has signed LHP Tommy Milone to a minor league deal which includes an invite to camp.
Marlins: Miami has signed Brad Boxberger to a minor league deal. He'll also receive an invite to camp.

Upgrade Your Account
Unlock premium boards and exclusive features (e.g. ad-free) by upgrading your account today.
Upgrade Now