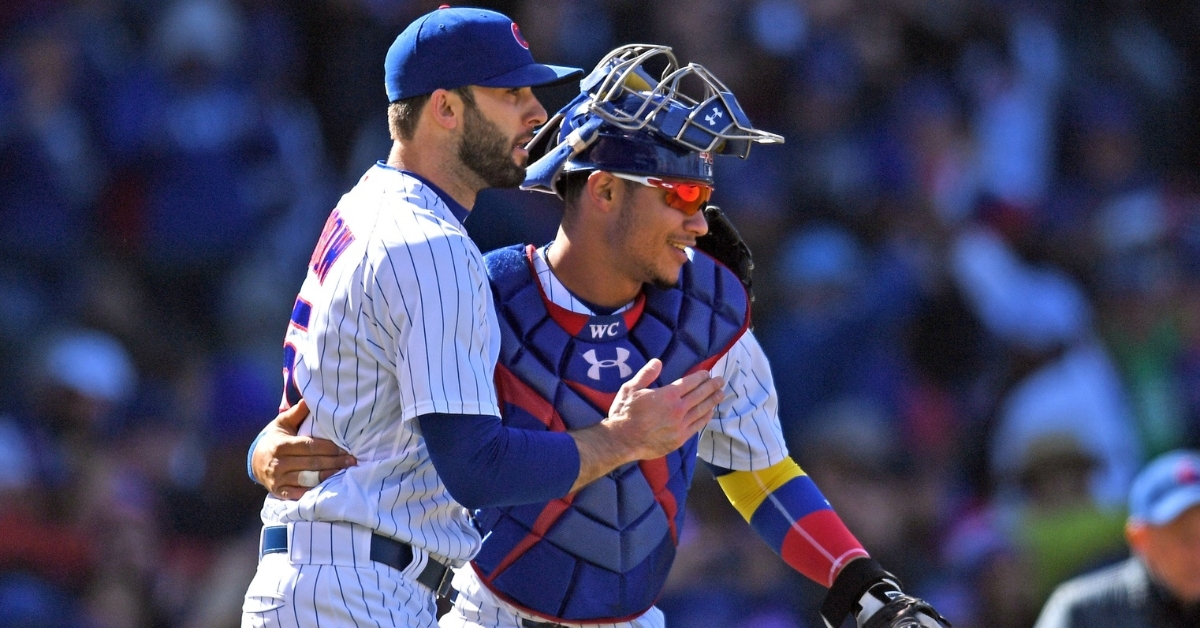 | | |
| --- | --- |
| Cubs News and Notes: Morrow is back, Darvish inquiries, Rule 5 Draft, Hot Stove, more | |
---
| | | |
| --- | --- | --- |
| Friday, December 13, 2019, 5:53 PM | | |
CUBS NEWS AND NOTES
Brandon Morrow: The Cubs have agreed to terms with Brandon Morrow on a minor league pact. Morrow says his arm feels great, but he has not pitched since before the All-Star break in 2018. It is a one-year minor league deal with a salary of $1 million if he makes the MLB roster plus 1.25 million in incentives if he pitches in 65 games. A risky move, in my opinion.
According to ESPN's Jesse Rogers, Morrow is 'full go' for spring training according to his source.
Brandon Morrow has agreed to a Minor League contract with the Cubs. A no-risk, high-reward move for Chicago, and a chance for Morrow to re-establish himself after two tough years.@ESPNChiCubs was first on the agreement.

— Jordan Bastian (@MLBastian) December 13, 2019
Yu Darvish: While no specific trade offer has been mentioned, Theo Epstein received inquiries about the availability of Yu Darvish before the meetings ended. Darvish is still owed $81M over the next four years, but I can't see the Cubs offloading him at this point.
With Cole Hamels' spot still vacant and the reality that both Jon Lester and Jose Quintana become free agents next winter, the Cubs can ill-afford to let Darvish go at this point, especially knowing there's a chance for him to come back as hot as he was in the second half.
Yu Darvish: Trade candidate? https://t.co/zLdPn7ZOE3 #Cubs pic.twitter.com/DSkiKlgf2h

— MLB Trade Rumors (@mlbtraderumors) December 13, 2019
The good news is that according to some media sources, Yu has a full no-trade clause for 2020, despite previous reports that he could only block trades to a dozen teams.
Yu Darvish Reportedly Has "No Intention" Of Waiving No-Trade Protection https://t.co/VmZOJsu61v pic.twitter.com/0tbYi7U8LM

— MLB Trade Rumors (@mlbtraderumors) December 13, 2019
Every single day of this offseason reading through these godforsaken Cubs trade rumors pic.twitter.com/KW2VD7NqyF

— Corey Freedman (@CFCubsRelated) December 13, 2019
Rule 5 Draft: While Theo selected righty, Trevor Megill from the Padres in the Rule 5 Draft, the Cubs lost a pair of players.
Two former @smokiesbaseball were selected in the Rule-5 draft today. RHP Michael Rucker (BAL) & IF Vimael Machin (A's from PHI) Rucker has electric ?? stuff at times but battled w/ results at times. His FB stays mid 90's & breaking ball has major bite. He will pitch in the MLB

— Mick Gillispie (@BroadcasterMick) December 12, 2019
Crickets in San Diego? The Winter Meetings looked pretty mundane for cubs' fans, but things were happening behind the scenes. Here's Jed Hoyer's recap:
Jed Hoyer recaps the Winter Meetings in San Diego. pic.twitter.com/3QQjEvhSOz

— Cubs Talk (@NBCSCubs) December 12, 2019
The Cubs may be momentarily stalled, but they aren't dead in the water. Relying on trades to accomplish your agenda tends to rely on patience – especially while top-tier free agents remain unsigned.
Status quo? Once Josh Donaldson chooses where to sign, the Cubs will be right back in the middle of the action again: https://t.co/Msqr4BxILP

— Patrick Mooney (@PJ_Mooney) December 13, 2019
Hoyer on Ross: Jed says Rossy can hold guys accountable, but also do it in a way that they'll still love him. Hoyer says people "inherently trust" Ross and know that doing what's best for everyone is essential.
What will @D_Ross3 bring to the @Cubs dugout?

Chicago GM Jed Hoyer chatted with #MLBTonight earlier this week at the #WinterMeetings! https://t.co/u29r9ttynB pic.twitter.com/clHqW7sB6h

— MLB Network (@MLBNetwork) December 13, 2019
Cub Concerts: For those near Wrigleyville, the Cubs have announced that Maroon 5 will be making their summer concert debut in 2020.
Maroon 5 will make their performance debut at Wrigley Field this summer!

????? https://t.co/L1WQDxhuee pic.twitter.com/Mcmi0fqZoP

— Chicago Cubs (@Cubs) December 13, 2019
Cubs' Birthdays Celebrating today, were ex-Cubs One name before all others Fergie Jenkins, who turns 77. Then, Steve Wilson (55), Jeff Robinson (59), Jon Perlman (63), Nate Oliver (79), J.C. Martin (83), Lindy McDaniel (84), and posthumously, Bob Wright (128), Jack Taylor (146), and Bill Everitt (151).
Happy Birthday @fergieajenkins! pic.twitter.com/ejAYKZH2X2

— CubsHQ.com (@ChicagoCubsHQ) December 13, 2019
Baseball Quotes: "It's supposed to be fun, the man says, 'Play Ball' not 'Work Ball' you know." -Willie Stargell
Baseball is littered with obstacles. You have to learn how to overcome them to be successful. -Dave Winfield pic.twitter.com/Q2RhtrerA1

— Baseball Quotes (@BaseballQuotes1) December 12, 2019
MLB and the Hot Stove
NL Central News:
Brewers: The Brewers have brought back RHP Corey Knebel on a one-year/$5.125M deal. The team has also announced that they've signed LHP Brett Anderson.
Free agent LHP Brett Anderson has officially been signed to a 1-year contract. Anderson went 13-9 with a 3.89 ERA in 31 starts with Oakland in 2019. His 13 wins marked a career high. pic.twitter.com/A8dBDLQt60

— Milwaukee Brewers (@Brewers) December 13, 2019
Cardinals: The Cards met with Scott Boras this week, regarding Keuchel and Ryu. The Cards are also showing interest in David Price.
From the Rest of MLB:
Rays: Tampa has signed Japanese slugger, Yoshitomo Tsutsugo.
Red Sox: The Sox have landed former Reds' infielder, Jose Peraza, while also inking LHP Martin Perez to a one-year/$6.25M deal.
Marlins: Miami has signed RHP Yimi Garcia to a Major League deal. Miami has also met with Yasiel Puig.
Dodgers: Los Angeles is now reportedly showing interest in RHP Dellin Betances.
David Price: Showing interest in Price are the Cardinals, Padres, White Sox, Reds, and Angels.
Phillies: Philadelphia has signed former Cub Matt Szczur to a minor league deal.
Merry Christmas, Mom: I love my mother to death – and she did quit smoking – but Ken's not going anywhere near this far unless he hits the lottery. Even then, what in the hell would my 75-year-old mom need with a Mas? Merry Christmas, Mrs. Donaldson – congrats.
Josh Donaldson told his mom if she quit smoking he'd get her a Maserati ...

??: @BringerOfRain20 pic.twitter.com/PaoGDk5ZXB

— MLB (@MLB) December 13, 2019
Astros: Lance McCullers and the Astros have settled McCullers arbitration case for $4.1M – the same salary that he had last year.

Tags: Cubs Baseball
,
Brandon Morrow
,
Yu Darvish
,
Cole Hamels
,
,
Jose Quintana
,
Michael Rucker
,
Vimael Machin
,
Brett Anderson
,
Matt Szczur
,
Theo Epstein