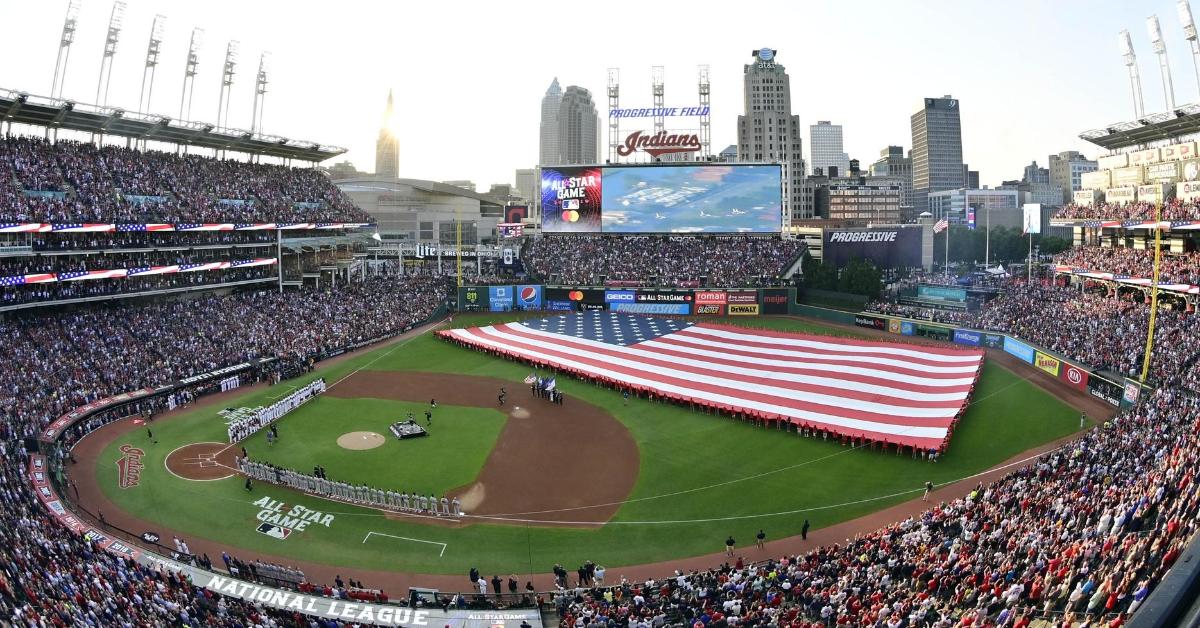 | | |
| --- | --- |
| Cubs News and Notes: My All-Star experience, El Mago's swag, Nico Hoerner in CF, more | |
---
Next Game: Friday, 1:20 PM CDT: Pirates at Cubs. RHP Yu Darvish (2-4, 5.01 ERA) vs RHP Chris Archer (3-6, 5.49 ERA).
All-Star Game Recap:
I'm going to leave this recap to CubsHQ's Cole Little so check out his full recap here. Instead of a recap, let me tell you how my 2019 All-Star experience was.
I tuned in just in time last night, as three guitarists on a stage at Progressive field, played some of the best rock-n-roll guitar riffs ever, while players began being announced. This was sort of cool, and I looked forward to a great game.
Just as the thing was about to get going, my Dish receiver decided it was done working. The picture was on, the sound was on, but right smack-dab in the middle of the screen was a 15" x 6" box telling me to insert my smart card. Um…the system doesn't work without the card, yet the pre-game continued in the background, behind that permanently affixed message. This makes the fourth time in 20 months that we've had a complete equipment failure.
After almost 90 minutes on the phone with the "Who do I talk to about canceling my contract department," I was rewarded with a two-day wait until my service is fixed, and a "free $100 equipment upgrade," one which they say actually works. I appreciate the freebie for my (recurrent) problems and all, but I still felt compelled to ask why they just didn't update every paying customer's equipment (free of charge) to something that worked.
I was able to finally stream the game, on their app that initially wasn't working right either, then I was rewarded with Joe Buck and John Smoltz. By the time it was over, I knew two things for sure: Charlie Blackmon had homered for the NL, and the AL won by a final of 4-3. By that time, I was toast for the night.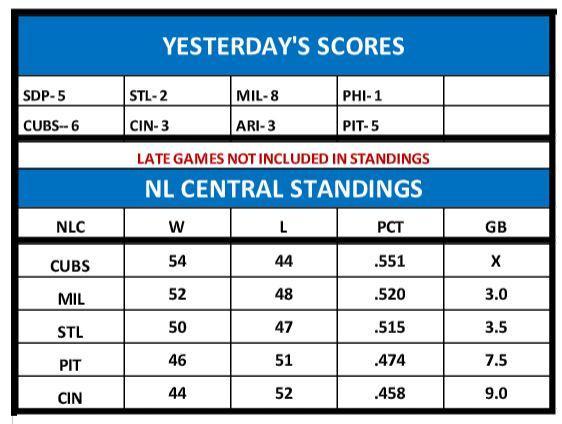 CUBS NEWS AND NOTES:
Cubs/Pirates Probable Pitchers The Cubs will resume action on Friday, at 1:20 PM, as they host the Pirates at Wrigley. Pitchers expected: Friday: RHP Yu Darvish (2-4, 5.01 ERA) vs. RHP Chris Archer (3-6, 5.49 ERA). Saturday, 1:20 PM: LHP Jon Lester (8-6, 3.72 ERA) vs. RHP Jordan Lyles (5-5, 4.36 ERA). Sunday, 1:20 PM: LHP Jose Quintana (6-7, 4.19 ERA) vs. RHP Trevor Williams (3-2, 4.54 ERA).
Javy on "non" baseball topics: Here's Javier Baez on everything from a new hairstyle, in order to compete with his friend, Francisco Lindor, at the All-Star festivities, to basketball, boxing and bling.
Is @Cubs All-Star @javy23baez planning to outswag his buddy @Lindor12BC at the Midsummer Classic? #AllStarGame

Full ?? - https://t.co/RyBNIwVy3t pic.twitter.com/AvQok6JKKN

— Intentional Talk (@IntentionalTalk) July 9, 2019
The Athletic: I'm not sure why it took me so long to subscribe to The Athletic, but I finally did so yesterday- and glad I did. A ton of great Cubs stuff in there by Kenny Rosenthal, Patrick Mooney, Sahadev Sharma, and others.
I read an article yesterday by Patrick Mooney, entitled " The Truth about Javier Baez: Nobody plays harder or means more to this team than he does" good stuff about how the Cubs view Javy.
In the article, Cubs' Coach Mike Borzello weighed in: "He's almost like Deion Sanders where you let him make the decisions and cover all the ground," Borzello said. "Most infielders are a little more limited, and you have to put them where the high propensity of groundballs are hit. But with Javy, you can kind of freelance it a little more, and you can cover so many different spots."
July 9, 2019
Kris Bryant- Mic'd up: More sights and sounds from the All-Star festivities. KB wore a mic on Monday night, before the Homerun Derby…
"They should do it at Wrigley one year..."

Listen to @KrisBryant_23 mic'd up before the #HRDerby last night! pic.twitter.com/Xf1D2UHCvx

— Cubs Talk (@NBCSCubs) July 9, 2019
Derrick Hall: Arizona's CEO, Derrick Hall, says, "We haven't played great of late, and other teams have struggled as well, which has kept us in it, which is not necessarily a good thing for us." BINGO! This is precisely what I've been trying to articulate to readers about the position the Cubs are in.
"I just think the sloppiness has kind of surprised all of us." Ninety games in, the Cubs are back to wondering what kind of team they'll be in October. My All-Star break column: https://t.co/8hjRfAbhTW

— jon greenberg (@jon_greenberg) July 9, 2019
After a frustrating first half, #Cubs envision a surge in the second half, which has been a hallmark of the Joe Maddon era https://t.co/MgCsTA7oMV via @MLBBruceLevine pic.twitter.com/qeCyp44AKt

— 670 The Score (@670TheScore) July 9, 2019
Much like the Snakes, the Cubs have potential, but instead of being a solid leader in the division, they're lingering in first place based more on the losses of their division rivals, rather than being there on their own merit and accomplishments. I said the same thing as we neared the finish line last year, and people called me an unintelligent pessimistic idiot, yet, on October third, I found myself longing for Cubs baseball to be back again. Hmm. I'd like to see this team make at least a little deeper playoff run this year, but to do it, they're going to have to start winning regularly and decisively. Period.
What's your fave? NBC Sports Chicago compiled a list of five "internet shaking" moments from the Cubs' season to date. I'm personally voting for The Cookie Monster signing the 7th inning stretch. I was there that day: A Schwarb-bomb led off the bottom of the first, the Cubs got a W, and Craig Kimbrel made his debut and notched the save.
Which of these 5? @Cubs moments that shook the internet this season is your favorite? pic.twitter.com/iqkGHkbt94

— Cubs Talk (@NBCSCubs) July 9, 2019
Angst over the Homerun Derby: I hear people all the time complaining that this year's baseballs are "juiced," resulting in mega-homers by guys like Tommy La Stella, who generally hit few. No argument here- the balls have undoubtedly been altered somehow, but many of the same lot are now belly-aching even more, based on the incredible number of homers in Monday night's derby. Can I share a little secret with you?
Rob Manfred on some players' belief that MLB intentionally juiced the baseball: "Baseball has done nothing, given no direction, for an alteration of the baseball."

— Jeff Passan (@JeffPassan) July 9, 2019
They've been using different balls for the Derby for I don't know how long. I've known this, but if you're a pessimist who needs absolute proof, find the now archived games of this past weekend's Cubs/Sox matchup (MLB TV has them). Either AJ Pierzynski or Ryan Dempster (I can't recall which- I apologize), asked Len, "Have you ever felt a Homerun Derby ball?"
Peralta watch: As speculation continues to ramp up about the level of seriousness the Cubs have in obtaining David Peralta from the D-Backs, Arizona's CEO, Derrick Hall says the team is entering the deadline without a scripted approach- meaning anything or nothing is possible. "[A] lot could be cleared up over the next few weeks," he said. "I don't think Mike [Hazen, the D-Backs' GM] is in favor of a complete rebuild, and we're in support of whatever direction he decides."
Chase Strumpf: CubsHQ's Dustin Riese generally handles the Cubs' Farm system news (and he does a damn good job at it), but I have to give a nod to SS/2B Chase Strumpf, one of the Cubs' prospects, signed just last month. Strumpf has just started playing in the minors- a total of 11 games between the Eugene Emeralds and the Cubs-2 Team in Arizona, but he's starting to get his swing developed, delivering his first professional homer on Monday.
Strumpf slams first pro homer and Bigge makes his Emeralds debut in a tough loss on Monday night at PK Park. Recap ?? https://t.co/20vEWoUEel

— Eugene Emeralds (@EugeneEmeralds) July 9, 2019
Then there's a kid named Nico Hoerner that I've bragged about since he was signed last June. Hoerner made an appearance in spring training games this year, and for the most part- he killed it. The kid handles himself like a pro, and not like some rookie prospect who's trying to find his way while rubbing elbows with the big boys.
He's been injury prone, but he's back again, and now he's starting to show his versatility in the field. Although he was signed as a shortstop/second-baseman, Hoerner got a start in center yesterday with the Tennessee Smokies.
"Put me in coach...". #Cubs Top Prospect @nico_hoerner in Centerfield today! Catch today's @smokiesbaseball 12/ct 1/et @tunein @TalkRadio923 #Everybodyin pic.twitter.com/eoQMYsnAlr

— Mick Gillispie (@BroadcasterMick) July 9, 2019
Nico Hoerner's first putout in center field is accompanied with his first outfield assist!

Men on second and third, one out.

Easy fly out to short center. Both runners tag, Hoerner goes to third and gets the baserunner out by a lot. The run scores.

— Cubs Prospects - Bryan Smith (@cubprospects) July 9, 2019
Baseball Quotes: "Think classy, you'll be classy. You win twenty in the show, you can let the fungus grow back on your shower shoes, and the press will think you're colorful." -Bull Durham
Cub Birthdays: Celebrating yesterday, was Cubs' pitching coach, Tommy Hottovy, as were ex-Cubs Miguel Montero (36), Guy Hoffman (63), Willie Wilson (64), and posthumously, Gene Fodge (88), Turner Barber (126), Charles "Buck" Herzog (134), Dave Shean (136), and Jimmy Cooney (154).
Happy birthday to #Cubs pitching coach Tommy Hottovy! #EverybodyIn pic.twitter.com/INFiN5PhEv

— Chicago Cubs (@Cubs) July 9, 2019
NL CENTRAL SCHEDULE (July 7 – July 13, 2019)
(Wins are in green, losses in red)


Upgrade Your Account
Unlock premium boards and exclusive features (e.g. ad-free) by upgrading your account today.
Upgrade Now

Tags: Cubs Baseball
,
,
Yu Darvish
,
,
Jose Quintana
,
,
Tommy La Stella
,
Miguel Montero
,
Joe Maddon
,
Mike Borzello
,
Tommy Hottovy