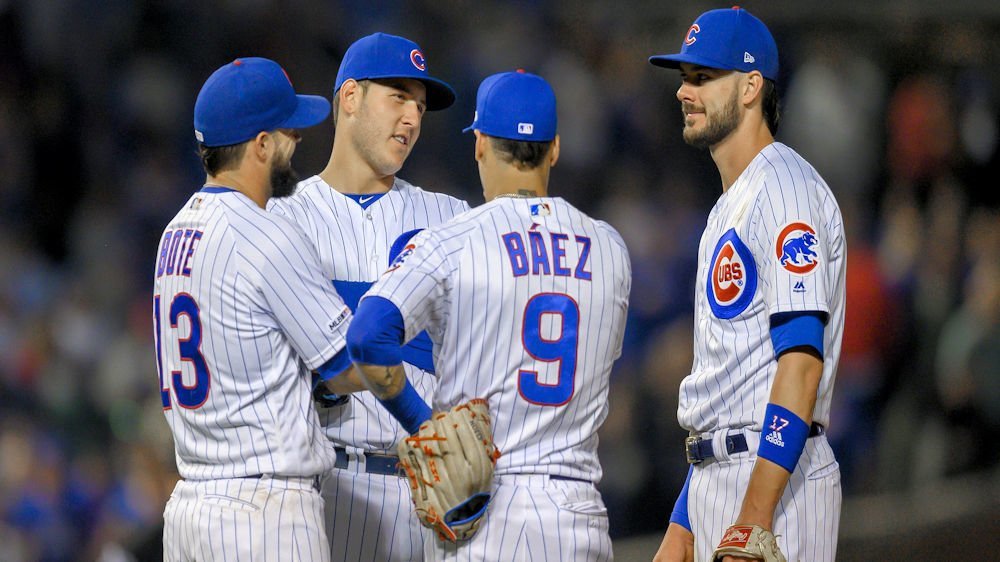 | | |
| --- | --- |
| Cubs News and Notes: Sweeping the Redbirds, Schwarber's night, David Ortiz shot | |
---
| | | |
| --- | --- | --- |
| Monday, June 10, 2019, 7:56 AM | | |
Next Game: Today, 7:40 PM CDT: Cubs @ Rockies: RHP Yu Darvish (2-3, 4.88 ERA) vs RHP German Marquez (6-3, 4.07 ERA).
CUBS NEWS AND NOTES:
Sunday's Game Recap:
In the third and final game of the series, the Cubs (36-27) sent Kyle Hendricks (6-4, 3.16 ERA) to the hill, hoping to secure a second sweep of the Cardinals (31-31) this season. Mission accomplished.
St. Louis manager, Mike Shildt, turned to righty, Adam Wainwright (5-5, 4.34 ERA), in an attempt to quell the damage, by salvaging one game of the series. Wainwright did well against the Cubs last week in St. Louis, with eight scoreless innings and eight strikeouts, but Hendricks has been fierce as well, posting a 5-0 record with 47 strikeouts since May 3rd.
The Cubs grabbed an early run in the first, but the Cards quickly tied it in the top of the second. Great situational hitting helped the Cubs tally two in the fifth, one in the seventh, and then their final run, via a Carlos Gonzalez blast in the eighth.
The Professor? Brilliant. Another solid, seven-inning outing for Hendricks, as he allowed just a single run on eight hits. Walks, you ask? Non-existent. Strikeouts? Only three tonight, but he found just about every other way possible to pitch himself out of the few jams that he got himself into. The defense was there as well, as Anthony Rizzo also bailed his pitcher out with a heads-up play that cut a runner down at the plate. Final score: Cubs-5; Cardinals-1.

The Cubs will jet off to Denver to tonight to face the Rockies, then over to Los Angeles for a four-game set with the Dodgers.
Any bird-watchers out there? The photo below depicts a species which is becoming very common to the Chicago area. Though the bird only migrates to Chicago a few times each year (at varying times from April through September), sightings are becoming far more common.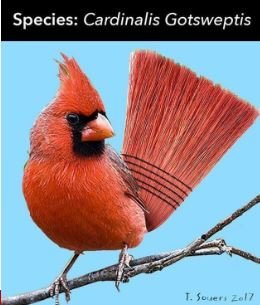 The #Cubs are 10-0 in @kylehendricks28's last 10 starts against St. Louis.#EverybodyIn pic.twitter.com/EH2pUF7eE3

— Chicago Cubs (@Cubs) June 10, 2019
David Ortiz shot: According to reports, former Red Sox slugger, David Ortiz, was shot and wounded last night during a burglary attempt in the Dominican Republic.
This is what we know: David Ortiz was shot at a club/rest. in Santo Domingo; was taken to a local clinic. An attending doctor told our colleague @dSoldevila the bullet hit him in the lower back, went through-and-through. He's currently in surgery; doctors say he's out of danger.

— Marly Rivera (@MarlyRiveraESPN) June 10, 2019
Best news we've heard so far come from David Ortiz's father, Leo Ortiz, who told reporters gathered at the clinic that David is currently resting after surgery and that no organs were affected by the bullet. He said the doctors anticipate full recovery. #BigPapi

— Marly Rivera (@MarlyRiveraESPN) June 10, 2019
Cubs/Rockies Probable Pitchers: Tuesday, 7:40 PM: LHP Jose Quintana (4-5, 3.77 ERA) vs Rockies TBD. Wednesday, 2:10 PM: LHP Cole Hamels (5-2, 3.24 ERA). vs RHP Antonio Senzatela (5-4, 4.95 ERA).
Cubs/Dodgers Probable Pitchers: Thursday: LHP Jon Lester (5-4, 3.56 ERA) vs RHP Clayton Kershaw (5-1, 3.14 ERA). Friday: RHP Kyle Hendricks (6-4, 3.16 ERA) vs RHP Rich Hill (3-1, 2.40 ERA). Saturday. RHP Yu Darvish (2-3, 4.88 ERA) vs RHP Walker Buehler (6-1, 3.69 ERA). Sunday: Pitchers TBD.
Today's question: Will Ian Happ ever return to Chicago?
The Professor: Going into last night's game, Kyle Hendricks had a career low, 4.4% walk rate, which was also the 8th lowest in MLB. Over his ten previous starts, Kyle's walk rate was just 3.7%. Michael Cerami joked on Twitter, "The professor may take you to school, but he's not walking you home."
Maddon on Schwarber: "That's as good as I've seen him, ever. If we could put this in a little bit of time capsule, heads up." Kyle Schwarber had an incredible night last night, going 2 for 3 with a walk, 2 RBI and no strikeouts.
Hendricks, Schwarber lead #Cubs to sweep of Cardinals.

Recap: https://t.co/AObp4i0n66 #EverybodyIn pic.twitter.com/oCyo9zPuTE

— Chicago Cubs (@Cubs) June 10, 2019
With RISP: Hard to believe as dominant as the Cubs looked that they went just 2 for 9 (.222) with runners in scoring position last night, but that's what they did. Still, they figured out to move the runners and make runs cross the plate, and no one was better than Kyle Hendricks with his two sac-bunts.
A rarity: Unfortunately, it wasn't the Cubs this time, but the Washington Nationals (vs. San Diego) did something in the eighth inning that was incredible: Back-to-back-to-back-to-back home runs- 4 consecutive batters.
ESPN Coverage: Not sure if this was a national or local broadcasting issue but can't say how pleased I am (heavy sarcasm) that Pedro Strop's only pitch wasn't even shown. ESPN came back just as the groundball was on its way to Anthony Rizzo.
Jon Lester: Commenting on his performance on Saturday, Lester says, "Not the way we wanted to start but made the adjustments necessary to stay in the game, and the bats took care of the rest."
Twitter poll: ESPN's Buster Olney posted a poll on Twitter, asking fans who they thought this year's NL MVP would be. Just 10% of the first 4,512 votes thought that Javier Baez would get it.
The Dodgers will play host to the Cubs on Sunday Night Baseball on June 16. Our poll question for the week: Who is most likely to win the NL MVP?

— Buster Olney (@Buster_ESPN) June 9, 2019
Winning the battle: There's nothing better than a good battle between a pitcher and hitter, and Kyle Schwarber won a big one on Saturday, with a fourth-inning- go-ahead home run off of Jack Flaherty.
Four home runs this @MLB season have been hit on the 11th pitch of an at-bat or later.

Two of them belong to @kschwarb12. #EverybodyIn pic.twitter.com/58Pz3Hq1Jy

— Chicago Cubs (@Cubs) June 9, 2019
Cub Birthdays: Celebrating yesterday, were ex-Cubs Zac Rosscup (31), Buck Coats (37), Mike Fontenot (39), Tom Edens (58), Doug Clemens (70), and posthumously, Roy Smalley (93), Sal Madrid (99), and Marty Callaghan (119).
NL CENTRAL SCHEDULE (June 9 – June 15, 2019)
(Wins are in green, losses in red)

NL CENTRAL SCOREBOARD/STANDINGS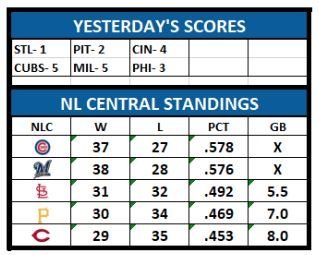 Tags: Cubs Baseball
,
Yu Darvish
,
Kyle Hendricks
,
Anthony Rizzo
,
Jose Quintana
,
Cole Hamels
,
,
,
Kyle Schwarber
,
Pedro Strop
,
,
Zac Rosscup