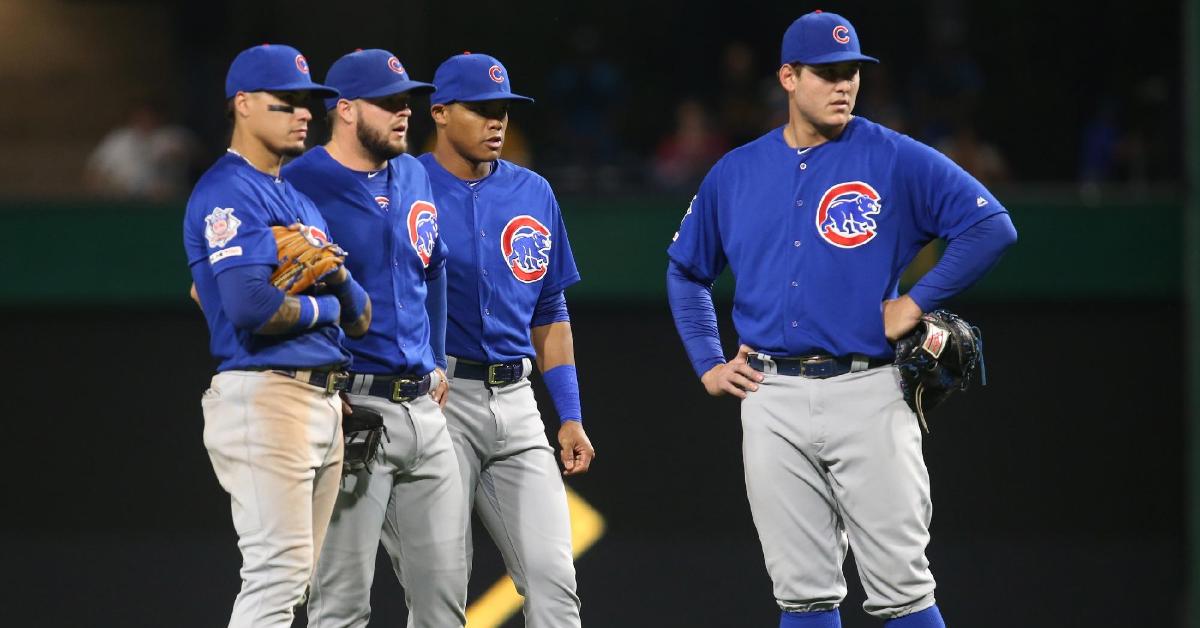 | | |
| --- | --- |
| Cubs News and Notes: Walk-off mania, Yu Da Man, Bullpen meltdowns, Russell talks, more | |
---
| | | |
| --- | --- | --- |
| Saturday, August 17, 2019, 7:28 AM | | |
Next Game: Today: LHP Jon Lester (9-8, 4.43 ERA) vs LHP Steven Brault (3-1, 4.33 ERA). Game time 12:35 PM; ABC-7, MLB Network (out of market only).
Friday's Game Recap:
New team, new town, new series, same results. As the Cubs hopes for a successful post-season are beginning to look dimmer and dimmer, Pittsburgh welcomed their chance to try to knock Chicago around at PNC Park. Last night it was Kyle Hendricks squaring off against Bucs' righty, Joe Musgrove.
Not surprisingly, the Pirates drew first blood in the fourth. Cubs down 1-0.
Nothing but crickets from the Cubs' offense until the eighth, when Tony Kemp would hammer a two-RBI triple to put the Cubs up 2-1.
We've been told that Tony Kemping isn't easy.#EverybodyIn pic.twitter.com/4sMqgP0dYy

— Chicago Cubs (@Cubs) August 17, 2019
Kyle Hendricks pitched a gem, getting through seven innings on just 77 pitches, but much as like Yu Darvish the night before last, Hendricks would be pulled for a pinch hitter, leaving the bullpen to protect a lead in the late innings: Mistake.
David Phelps would get Chicago through the eighth, but Kyle Ryan and Brandon Kintzler would each give up a run in the ninth. Cubs lose 3-2, and with that, fall entirely out of first place and now own their own elimination number (41).

CUBS NEWS AND NOTES
Cubs/Pirates Probable Pitchers: Sunday: LHP José Quintana (10-7, 4.11 ERA) vs RHP Mitch Keller (1-1, 7.94 ERA). Game time 6:10 PM CDT; ESPN. (I was praying that we were done being tormented by Álex Rodríguez, but apparently not).
Cubs/Giants Probable Pitchers: Tuesday: LHP Cole Hamels (6-4, 3.69 ERA) vs Giants TBD. Game time 7:05 PM CDT; NBC Sports Chicago+. Wednesday: RHP Yu Darvish (4-6, 4.21 ERA) vs Giants TBD. Game time 7:05 PM; NBC Sports Chicago. RHP Kyle Hendricks (8-9, 3.37 ERA) vs Jeff Samardzija (9-9, 3.54 ERA). Game time 1:20 PM CDT; WGN, MLB Network (out of market only).
Roster Moves: Almost unbelievable, but Albert Almora Jr. was optioned to Triple-A Iowa yesterday, and the Cubs recalled Addison Russell. Brandon Kintzler was also activated from the IL, with James Norwood being optioned back to Iowa.
Russell arrives, many players going out of their way to greet him

— Mark Gonzales (@MDGonzales) August 16, 2019
Schwarber on Almora going down: "It's a tough situation. He's like a brother to me. I've been there. I know he'll be ok but it's tough."

— Jesse Rogers (@ESPNChiCubs) August 16, 2019
Chin Music: If there's one thing to watch for this series, it's how the Pirates pitch to the Cubs. The up-and-in stuff was an issue when the teams met last month, and when Pittsburgh used this tactic against the reds, it erupted into an all-out brawl.
Little League Classic: I failed to add to my series preview, that Sunday's Cubs/Pirates game will be the Little League Classic style game. The game will be played at historic Bowman Field, which is the site of the Little League World Series. ESPN will televise the game, which begins at 6:10 PM CDT.
Cubbies vs. The Burgh

Introducing the 2019 #LittleLeagueClassic uniforms. ?? pic.twitter.com/4Awolzh245

— MLB (@MLB) August 9, 2019
Schwar-Bombs: On Thursday night, Kyle Schwarber reached his 100th career homerun sooner than any Cub in history. Here's a spray chart of where Bam Bam's bombs have landed.
Congratulations to @cubs Kyle Schwarber who slugged his 100th career home run last night... Here's a breakdown of all 100 of his dingers ?????? pic.twitter.com/INVNjZ0x2s

— Daren Willman (@darenw) August 16, 2019
Yu da man: I'll admit it- I was wrong about Yu Darvish last year. The more that time goes by, the more he's becoming one of my favorite Cubs- and not just for his performances on the mound.
Things you may know about Yu Darvish:

- Last night was his best @Cubs start
- Since the break, he's been one of @MLB's best pitchers
- Today is his birthday ??

Things you may not know about @faridyu:

- This. ???????????? pic.twitter.com/5WsLUZqEC7

— Infield Chatter (@InfieldChatter) August 16, 2019
Holland takes the blame: After giving up a grand-slam to Bryce Harper on Thursday night, leading the Phillies to a walk-off win, Holland blamed nobody but himself.
Don't blame them. Blame me. And the pitch was not down the middle. It was inside off the plate. And we lost because of me not because of them. I gave up the homer. Not them. Hold me accountable for the actions that Happened.

— Derek Holland (@Dutch_Oven45) August 16, 2019
I think it's great that Holland would accept the responsibility and shoulder all the blame, but apparently, that's not enough for some. I can see some real tension developing over this, as the media and the fans are already taking shots at him. Perhaps even worse, Holland is responding…
All because of this homerun to Harper I'm a reason we didn't construct the bullpen very well?

— Derek Holland (@Dutch_Oven45) August 16, 2019
Bullpen meltdowns: Obviously, the majority of us concern ourselves with the Cubs, good or bad, and we've all noticed the bullpen is terrible this season. It isn't just the Cubs though. Only five teams in MLB have bullpens with an ERA below 4.00, four teams have a bullpen with ERAs between 5.00 and 6.00, and two teams have a bullpen ERA over 6. That means that 6 of the 30 bullpens (20%) in MLB are suffering from ERAs above 5.00, while only five teams (16.7%) are under 4.00. Something's wrong here.
Addison Russell: Russell says that he was devastated by his demotion on July 24, and says, "I was there [Iowa] on a mission."
Russell: "I felt I got back to the original me" pic.twitter.com/Pd7rpdO1us

— Mark Gonzales (@MDGonzales) August 16, 2019
Kyle Schwarber: Schwarbs weighed in on the fan's reaction to Thursday's loss: "On the caring side, you couldn't ask for 25-30 players that care as much as everyone watching us. We're trying to do it for them. We're not here trying to blow games. We're lucky with the fan base we have. You can't blame them because they care so much."
He's still the king: Babe Ruth never needed PEDs to hit the home runs he did, and Hank Aaron didn't use them either when he was overtaking the Babe. Although he died 17 years before I was born, I'm old enough to realize that Ruth played in an ERA when baseball was somehow purer. RIP, Babe.
The baseball world lost an all-time icon #OTD in 1948 when the great Babe Ruth passed away at the age of 53, just two months after the @yankees had retired his No. 3. https://t.co/veKmq0DfNe pic.twitter.com/76XIKFoHtw

— National Baseball Hall of Fame and Museum ? (@baseballhall) August 16, 2019
Baseball Quotes: "As long as I have fun playing, the stats will take care of themselves." -Ken Griffey Jr
The one unbreakable rule about hitting is this: if a batter hits well with his own particular stance and swing, think twice, or more, before suggesting a change. -Stan Musial pic.twitter.com/8JvfLzQdW3

— Baseball Quotes (@BaseballQuotes1) August 15, 2019
Cubs Birthdays: Celebrating yesterday, were ex-Cubs Justin Grimm (31), Martin Maldonado (33), Damian Jackson (46), Bret Barberie (52) and Terry Shumpert (53).
And I didn't forget Yu either. Happy birthday, Yu- your comeback this season has been absolutely amazing.
Happy birthday, @faridyu! #EverybodyIn pic.twitter.com/UDzcuaz8sm

— Chicago Cubs (@Cubs) August 16, 2019
THIS WEEK'S NL CENTRAL SCHEDULE:
(Wins in green, losses in red)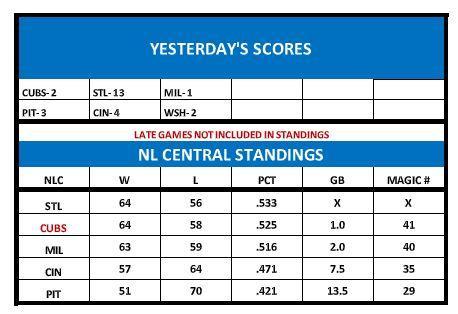 Tags: Cubs Baseball
,
,
Kyle Hendricks
,
Yu Darvish
,
Kyle Ryan
,
Brandon Kintzler
,
Cole Hamels
,
Albert Almora Jr
,
Addison Russell
,
James Norwood
,
Kyle Schwarber
,
Justin Grimm