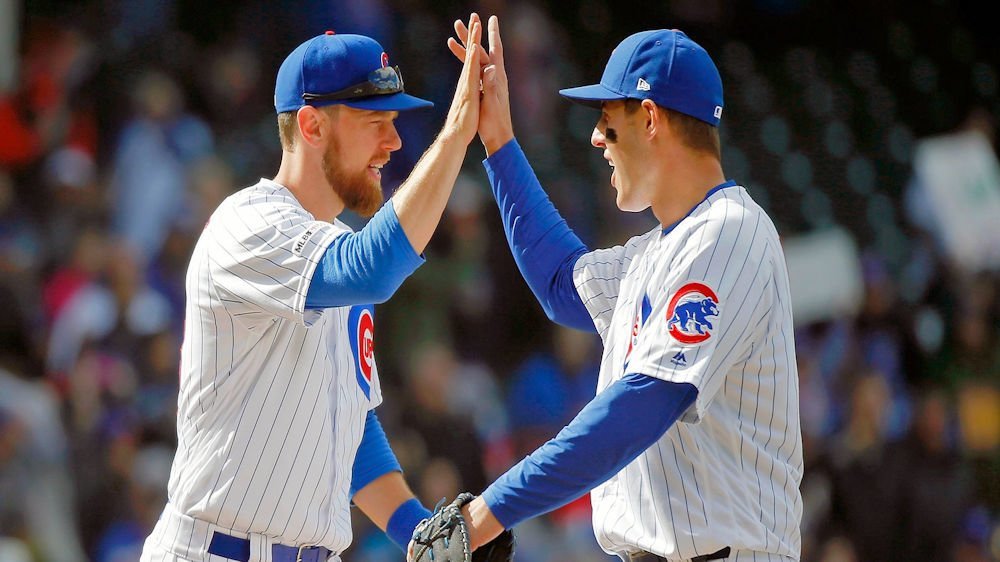 | | |
| --- | --- |
| Cubs News and Notes: Ben Zobrist to Iowa, Kimbrel update, Epstein on Happ, Roster moves | |
---
Next Game: Today: LHP Cole Hamels (6-3, 3.09 ERA) vs RHP Aaron Nola (10-3, 3.67 ERA). Game time 6:05 PM; NBC Sports Chicago, ESPN, ESPN (out of market only).
Tuesday's Game Recap:
The Cubs still have a long way to go before they see the Friendly Confines again on Thursday, August 20, when they host the Giants. In the interim, the Philadelphia Phillies welcomed a chance to beat a struggling Chicago team, as they continue their hunt for a wildcard spot. Last night it was Jose Quintana vs. lefty, Jason Vargas, as the three-game set began at Citizens Bank Park.
By the third inning, I could already see that this wasn't going to be José Quintana's night. With nearly 60 pitches in the books after just three frames, Q had already given up three hits and plunked as many batters, including Corey Dickerson, who appeared to have possibly suffered a broken bone in his hand. Despite a rocky start, Q would recover nicely finishing the night (6.0 I.P.) with an astonishing 14 strikeouts.
14-strikeout starts by #Cubs lefties
1908-present

José Quintana (14) tonight
Jon Lester (14) July 29, 2015

— Christopher Kamka (@ckamka) August 14, 2019
I should note here, that there is a question as to whether or not Realmuto was actually hit, but since the count was 3-2 at the time, it would have been a walk if not ruled as an HBP. Ironically, Q had not hit a batter all year, but no matter what they end up ruling on the pitch to Realmuto, he plunked Segura and Dickerson.
The Phils would also tally an unearned run in the third, as they'd capitalize on an error by Ian Happ. Ian, I've been complimentary of you since you returned, but you must take the bad with the good. The fly ball that Happ muffed was so routine, that according to JD, "Stat-Cast would have given that a 99.9999% catch probability." In the words of Reds announcer, Thom Brennaman, "Un-be-lievable." Cubs down 1-0.
The Cubs would get the run back in the fourth, when Javier Báez's sac-fly scored Nicholas Castellanos from third, on what would be a close play at the plate. Game tied 1-1.
Nicholas vs. the deuce. #EverybodyIn pic.twitter.com/9NfKR3WcTl

— Chicago Cubs (@Cubs) August 14, 2019
Easy come, easy go, as the Phils retook the lead in the fifth, this time Realmuto's home run, but the Cubs would tie it at 2-2 in the sixth on Castellanos' blast to left.
Another short-lived tie, Phils up 3-2 after seven, then 4-2 after eight, and that's all it would take to drop the Cubs' road record to an unbelievably bad 23-36.

CUBS NEWS AND NOTES
Cubs' Magic Numbers (aka Elimination #s): I've added a section to the standings chart near the bottom of the article, showing the Magic (or elimination) numbers for the division. For those that may not understand elimination numbers: (1) They're used to determine when a team clinches their division. (2) Every time the Cubs win, each team in the division drops by one number. (3) Regardless of what the Cubs do, any loss by Milwaukee, St. Louis, Cincinnati or Pittsburgh causes the losing team(s) to drop by one number. (3) When the Cubs play anyone in the division and win, that team's number drops by two instead of just one, while the remaining three teams each fall by one number.
Cubs/Phillies Probable Pitchers: Thursday: RHP Yu Darvish (4-6, 4.43 ERA) vs RHP Drew Smyly (2-6, 6.96 ERA). Game time 6:05 PM CDT; WGN, MLB Network (out of market only).
Cubs/Pirates Probable Pitchers: Friday: RHP Kyle Hendricks (8-9, 3.48 ERA) vs RHP Joe Musgrove (8-11, 4.71 ERA). Game time 6:05 PM CDT; WGN. Saturday: LHP Jon Lester (9-8, 4.43 ERA) vs LHP Steven Brault (3-1, 4.33 ERA). Game time 12:35 PM; ABC-7, MLB Network (out of market only). Sunday: LHP José Quintana (10-7, 4.11 ERA) vs. RHP Mitch Keller (1-1, 7.94 ERA). Game time 6:10 PM CDT; ESPN. (I was praying that we were done being tormented by Álex Rodríguez, but apparently not).
Zo moving again: As Ben Zobrist enters the final phase of his preparation to rejoin Chicago, he's being moved to Iowa's roster, beginning tomorrow. Ben will meet the team for their game in Memphis, as he finished up the last of his rehab time. MLB rules state that he must be on Chicago's roster by September first, or he'll be ineligible for the playoffs.
Ben Zobrist will join the Iowa Cubs on Thursday in Memphis. He'll be there Thursday to Sunday and then, as has been the case since he started up again, they'll reevaluate on Monday.

— Sahadev Sharma (@sahadevsharma) August 13, 2019
I had the opportunity to chat for a second (on social media) with Sahadev Sharma (The Athletic) yesterday, and asked him whether he felt, with such an interrupted season, if Ben would be a big contributor as part of the lineup, or whether he thought the Cubs were looking to him more for his presence and leadership roles.
The approach should still be there and even when he struggled earlier this year, the walks were still there. And yes, he'll always be valuable for what he provides off the field. With rosters expanded in Sept, it's worth it to find out what he can do at the plate

— Sahadev Sharma (@sahadevsharma) August 13, 2019
Craig Kimbrel healing: Craig Kimbrel played some catch from flat ground yesterday morning, then headed for the bullpen as he continues to try to get his knee back in working order. Kimbrel is eligible to be activated from the IL today, but whether the Cubs intend to use him tonight (if needed) is not yet known.
Kimbrel reports progress: pic.twitter.com/MbEzUlCGLy

— Mark Gonzales (@MDGonzales) August 13, 2019
Roster moves: In addition to the possibility that Kimbrel may return tonight, the Cubs also activated Kyle Ryan from the bereavement list yesterday. Dillon Maples was optioned to Triple-A Iowa.
Kimbrel and Kintzler threw pen sessions. Kimbrel likely to throw another pen session later this week. Kintzler on target to return Friday.

— Mark Gonzales (@MDGonzales) August 13, 2019
Theo on Happ: Theo Epstein appeared on the Bernstein and McKnight show yesterday (670 The Score) and defended his decision on sending Ian Happ to Triple-A for over half the season.
"You're not going to get many competitors to say, 'Oh yeah, I needed to go down to triple-A for four months to work on some things,'" Epstein said. "I'm sure in Ian Happ's mind, we overreacted. He's not going to agree with our assessment, and he feels he probably could have worked things out up here at the big-league level. I respect that. It's also my job to make a decision, and I felt it was the best thing for the club and the best thing for Ian Happ for him to go down and work on some important things in an environment that was best suited for his development."
Cubs upset with Maddon? As reported on the Bernstein and McKnight show on Tuesday, a source told Dan Bernstein that the Cubs are unhappy with Joe discussing his contract status publicly. The source claimed that "[The Cubs] are unhappy that Joe, himself, did not honor the handshake agreement…" not to discuss his contract publicly. Theo Epstein was quick to denounce the leaked rumor as utterly false.
Phillies make a change: Just hours before the game, the Phillies took a swing at improving their offense, as they fired hitting coach John Mallee and replaced him with Charlie Manuel. Before joining the Phillies last year, Mallee spent three seasons with the Cubs (2015-2017), before he was fired then subsequently replaced by Chili Davis (we all know how that one worked out).
Charlie Manuel is the Phillies' new hitting coach, according to two sources. Phillies make a drastic change after installing John Mallee's philosophies throughout organization. First: @ToddZolecki.

— Matt Gelb (@MattGelb) August 13, 2019
Cubs Notes: José Quintana is 6-0, with 3.67 ERA in his last 7 starts. His 6-game win streak ties Hendricks (May 3-June 9) for the longest winning streak by a Cub in 2019. The last Cub to win at least seven consecutive games is Jon Lester, who did so in 8 games, May 29-July 15, 2018. The Cubs are now 13-9 in Q's starts this season.
Around the NL Central: The Reds added some infield depth on Monday when they added utility infielder, Freddy Galvis to the mix. Galvis (someone whom I wished the Cubs would have signed last winter) brings a .267/.299/.444 slash-line to the reds, giving them an alternative at second for Kyle Farmer, while providing a reliable backup shortstop for Peraza and Iglesias. Cincinnati also signed righty, Kevin Gausman, last week.
Baseball Quotes: "There are three types of baseball players: Those who make it happen, those who watch it happen and those who wonder what happens." -Tommy Lasorda
Baseball is a game based on adversity. It's a game that's going to test you repeatedly. It's going to find your weaknesses and vulnerabilities and force you to adjust. That adversity, in the big picture, is a good thing because it shows you your weaknesses. -Theo Epstein pic.twitter.com/VhTwlS0oMf

— Baseball Quotes (@BaseballQuotes1) August 13, 2019
Cubs Birthdays: Celebrating yesterday, were ex-Cubs Corey Patterson (40), Will Ohman (42), and André Thornton (70).
Corey Patterson turns 40 today. He's one of four #Cubs to play at least 500 games in center field over the last 100 years.

The others are Hack Wilson, Andy Pafko & Rick Monday.

— Christopher Kamka (@ckamka) August 13, 2019
THIS WEEK'S NL CENTRAL SCHEDULE:
(Wins in green, losses in red)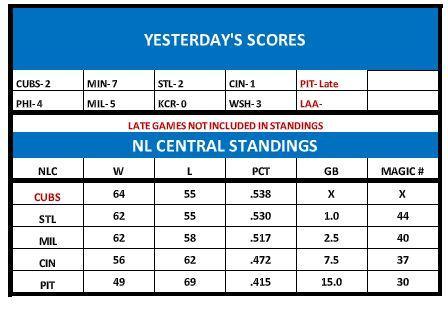 Tags: Cubs Baseball
,
Cole Hamels
,
Yu Darvish
,
,
,
Kyle Hendricks
,
Ben Zobrist
,
Kyle Ryan
,
Dillon Maples
,
John Mallee
,
Theo Epstein
,
Chili Davis