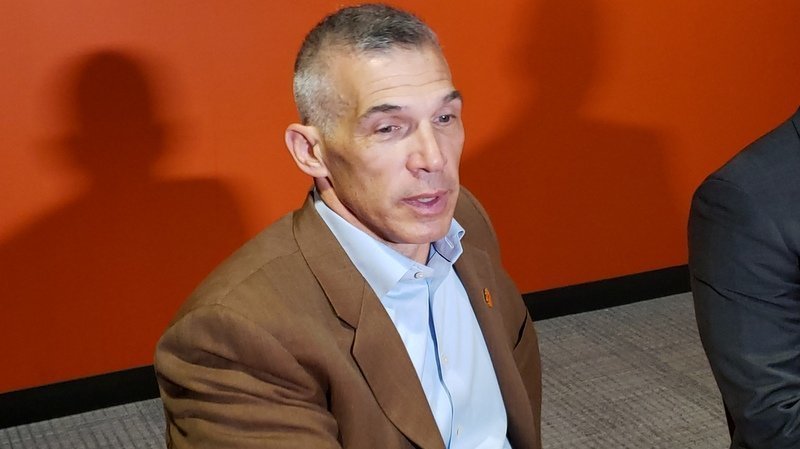 | | |
| --- | --- |
| Cubs News and Notes: Joe Girardi interested in Cubs, Brewers done, MLB hot stove, more | |
---
MLB Postseason
Let me start by saying that without the Cubs, this October sucks. Still, it's the only baseball we have left, so pick your winners, and we'll just ride it out together.
Last night, the MLB postseason kicked, and the Brewers got kicked out. In a come from behind win, the Nationals took the lead in the bottom of the eighth on Juan Soto's 3-RBI single to the right. Brewer's rookie right fielder, Trent Grisham, muffed the play, letting the ball roll under his glove, causing the runs to score.
Juan Soto's dad tackling him after his game-winning hit is awesome!

Such a cool moment of pure joy between father and son ??

pic.twitter.com/HW64MYhJAj

— Baseball Quotes (@BaseballQuotes1) October 2, 2019
Final score: Milwaukee- 3; Nationals-4. The Nats will now face the Dodgers. (Good luck with that one.)
Brewers season ends in heartbreaking fashion https://t.co/ZLcXOls9hN

— Coulee Region Sports (@CRSportsNetwork) October 2, 2019
Tonight, it's the AL Wild Card Game, featuring the Oakland Athletics, who are hosting Tampa Bay Rays; game time is 7:09 PM Central (ESPN). The winner of this one gets to face the Astros in the ALDS. (Again…good luck with that one).
My Playoff Picks: Meant to post this last night…
NL Wild Card: Nationals
AL Wild Card- Tampa
NLDS: Los Angeles beats Washington; Atlanta beats St. Louis
ALDS: Houston beats Tampa, Yankees beat the Twins
NLCS: Dodgers (But oh, how I'd rather see the Braves)
ALCS: Houston
World Series: Houston in six. The pitching matchups will be insanely good, and both teams have plenty of offensive power, but for the last several years, Los Angeles always seems to be the bride's maid, but never the bride.
CUBS NEWS AND NOTES
Girardi joins the list: Former Cubs' catcher and long-time Yankees manager, Joe Girardi, has officially joined the list of managerial candidates for the Cubs. Girardi announced. Girardi announced his interest earlier today, during an appearance on the Mully and Haugh Show (670 The Score).
The Cubs undoubtedly have had interest in Girardi, but until today, it wasn't known if Girardi had an interest in picking up the pieces in Chicago.
Do you have an interview scheduled with the #Cubs?

Joe Girardi: "That I won't talk about" for any job.

— 670 The Score (@670TheScore) October 2, 2019
There is one caveat here, though, Girardi also said that he wants to manage anywhere- "Any job out there is going to interest me because I want to manage again." Well, that should leave him about 8-10 options…
"I would think any manager that has managed would love to come to Chicago." - Joe Girardi
Joe Girardi was on the "Mully & Haugh" show this morning & dropped a hint that he was interested in becoming the next manager for the Cubs.

"You start to look at the other jobs available and obviously I have a lot of ties to Chicago." ?? (Via @RDCSports) pic.twitter.com/7zBn5nYrDb

— Cubs Live (@Cubs_Live) October 2, 2019
How much better is Nick Castellanos? In only 51 games (a third of a season) he racked up 2.0 WAR by FanGraphs' metric, ranking sixth among all Cubs position players in 2019. That's more than Jason Heyward (1.9 WAR in 147 games), David Bote (1.5 WAR in 127 games), Victor Caratini (1.4 WAR in 95 games), Addison Russell (0.5 WAR in 82 games) and Albert Almora Jr. (-0.7 WAR in 130 games). (Credit to Tony Andracki for this stat and the following quote- man, I love that guy…)
You can check out Tony's article by clicking here.
Castellanos: Speaking on playing for the Cubs during a playoff race, Nicholas Castellanos says, "I mean, I haven't played baseball like this since I was in high school, really," he said. "So, I don't know what I was doing. I was just being myself, and everything that you guys saw was just genuine, raw emotion because of how much I wanted to win, and I wanted to be in October baseball. I wanted to win, man. I won a lot as an amateur baseball player. I was on a lot of cool teams that did a lot of cool things — won a gold medal in Venezuela, won state championships in high school, summer ball tournaments.
"I haven't been able to do that at all as a professional. None of my minor -league teams finished out too good. I was able to celebrate a Division Series in '14, but I was so young, and the game was so fast, I didn't really get to appreciate it yet. To be back in it this year, I enjoyed the shit out of it."
Question: "Ken, Joe Maddon will surely manage next year. Do you think he'll steal any of the Cubs' coaches?"
First of all, he'll absolutely manage, and I'll say now it'll be with the Angels. As far as stealing coaches; Nope. Not a chance in hell. Lester Strode has been there since the dawn of time. Tommy Hottovy and Anthony Iapoce are Theo's boys, Brian Butterfield isn't leaving Chicago, and Will Venable is competing for Maddon's spot- along with David Ross and bench coach, Mark Loretta.
It's interesting though that along with Brad Ausmus the Angels, are cleaning house, getting rid of all sorts of coaches (more on that below), which means that Maddon has already said that he wants his own crew. Reports say that the Angels and Joe have not yet spoken (I don't believe that for a minute), but that's what had to be said, as Maddon was still under contract until the end of Sunday's game.
Don't tell me for a minute, that the higher-ups in the Halos' organization didn't call Maddon a month, two, months, or even three months ago, just to "check on an old friend of the team," while asking about his restaurant, grandkids and such. It happened. The timing of everything is much too suspect- Maddon let go on Sunday, Ausmus fired on Monday, Angels' coaches canned on Tuesday. If you like Joe Maddon- buy season tickets for the Halos- he's going to end up there.
Boddy turns down Cubs: According to reports, "pitching guru," Kyle Boddy, has turned down the Cubs for a position he was offered in the player development sector. Boddy, the owner of Driveline (a player development company), was quickly sought by nearly every team, once he announced his desire to be involved more directly with the sport at a major-league level.
Raul Ibanez: This name is suddenly getting a lot of media attention.
Raul Ibañez, long viewed as a candidate for the #SFGiants managerial vacancy, will be considered by the #Cubs, as well. Has big-market experience as a player, front-office background with #Dodgers, and is an exceptional communicator in English and Spanish. @MLBNetwork @MLB

— Jon Morosi (@jonmorosi) September 30, 2019
Venable to interview: According to the Cubs, first base coach Will Venable will also be interviewed for Joe Maddon's spot. Now, I will admit that comes as a surprise. Good first base coach, but I'm not certain that I've ever seen his lips move…
MLB and the HOT STOVE
Not a ton going on yet- hell, the postseason just started last night, but little waiver claims are starting, managers are getting fired (you may have heard something about this), and coaches are re-signing and being released. Please don't misunderstand my bullets in this section as being a suggestion for the Cubs.
Tigers: In the continuing madness over coaches suddenly becoming free agents, Tigers' bench coach, Steve Liddie, has made his services available.
Angels: Pitching coach, Doug White, is now available, as the Halos canned him yesterday. (Maddon probably didn't want him ??).
The Angels also announced that bench coach Josh Paul won't be returning for the 2020 season.

— Fabian Ardaya (@FabianArdaya) October 1, 2019
Padres: Rumors now saying that former Orioles' manager, Buck Showalter is being considered for the manager's spot in San Diego. Showalter managed Manny Machado in Baltimore, with "considerable success," while also working with AJ Preller in Texas.
Indians: Cleveland now says it intends to exercise its option on Corey Kluber, but that they will decline their options on second baseman, Jason Kipnis and RHP Dan Otero.
Baseball Quotes: "Progress always involves risks. You can't steal second base and keep your foot on first." -Frederick B. Wilcox
Baseball is the only sport I know that when you're on offense, the other team controls the ball. -Hawk Harrelson pic.twitter.com/y0X18w4QwG

— Baseball Quotes (@BaseballQuotes1) October 1, 2019
?????????????? ??, ???????? | ??

???????? ?????????????????? hits a long home run to help his own cause and lead the Cubs to a win in ???????? ?? ???? ?????? ???????? ????????. pic.twitter.com/U8H9H5IqDp

— This Day in Chicago Sports (@ChiSportsDay) October 2, 2019
Cubs' Birthdays: Celebrating yesterday, were ex-Cubs Raffy Lopez (32), Matt Walbeck (50), Héctor Villanueva (55), Dave Beard (60), and posthumously, Bill Serena (95), Tom Angley (115), and Scott Stratton (150).

Tags: Cubs Baseball
,
Jason Heyward
,
David Bote
,
Victor Caratini
,
Addison Russell
,
Albert Almora Jr
,
David Ross
,
Joe Maddon
,
Lester Strode
,
Tommy Hottovy
,
Anthony Iapoce
,
Will Venable
,
Brian Butterfield
,
Mark Loretta