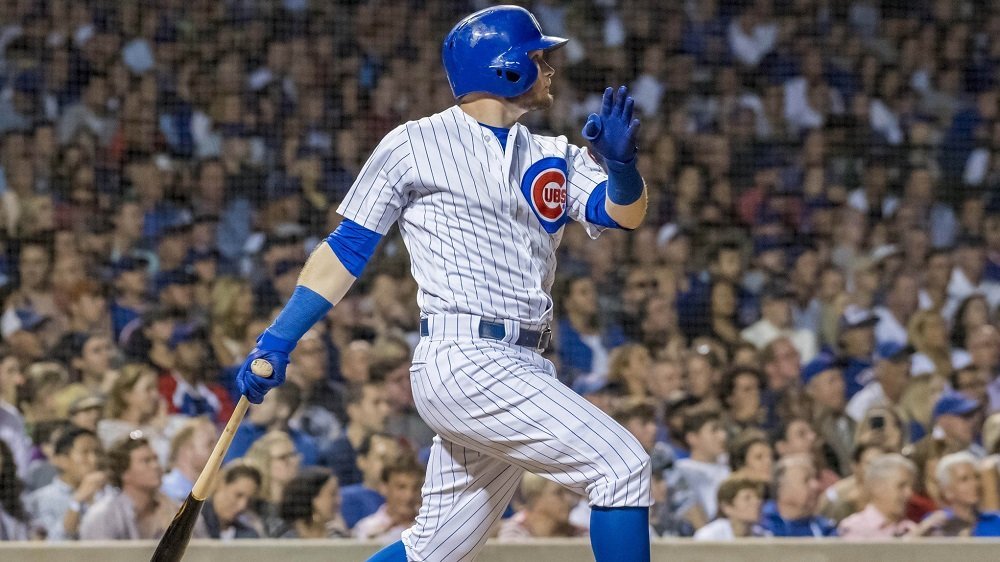 | | |
| --- | --- |
| Cubs News: Down on the Farm: 2-1 record, Happ and Hoerner impressive, Giambrone on fire, more | |
---
| | | |
| --- | --- | --- |
| Monday, April 15, 2019, 1:07 PM | | |
Sunday was all about drama for the Cubs minor league system as all three teams in action gave the fans some exciting moments. Although not a perfect day record-wise, a 2-1 day is nothing to be ashamed about especially considering the adversity a pair of teams had to deal with.
IOWA CUBS 4 – Oklahoma City Dodgers 3: The Iowa Cubs continued their homestand on Sunday looking to stay hot with another win. Even with the Cubs using a plethora of pitchers, it was the work of the bullpen that helped the Cubs hold on for the 4-3 win.
Looking to continue his strong start to the season, Trevor Clifton managed to last just 1 2/3 innings before the bullpen took over. The mix of Alberto Baldonado (winning pitcher), Brian Duensing (two scoreless innings), Carl Edwards Jr. (first earned run allowed in Iowa) and Dakota Mekkes (save) kept the Dodgers bats in check for the most part and held them off when they tried to rally late.
Things didn't get going offensively until the bottom of the third inning when Francisco Arcia put the Cubs on top 1-0 with a single. After Kyle Garlick tied things up with a homer in the top of the fourth, Trent Giambrone put the Cubs in front for good with a solo home run for his fourth of the season and second day in a row.
??: @Trentgiambrone3 mashes his third homer of the season?? pic.twitter.com/mLcqICIarZ

— Iowa Cubs (@IowaCubs) April 14, 2019
The Cubs added to their lead in the seventh when veteran journeyman Jim Aducci doubled home Ian Happ to stretch the lead to 3-1. The Dodgers refused to quit and continued to battle back off of Edwards in the eighth inning. It was Garlick once again providing some offense with a single and closing the gap to 3-2.
Looking for the knockout blow, Iowa took that run right back in the bottom of the eighth when Phillip Evans singled home Vimael Machin for the 4-2 advantage. Happ was thrown out attempting to score on the same play. Down to their final at-bats, the Dodgers had a chance to tie things up against Mekkes especially after Drew Jackson brought home their third run with a groundout. That would be as close as things would get with the Cubs holding on 4-3.
Iowa is now off to their best ten-game start in nearly a decade improving to 7-3 and still controlling the top spot in their division. Happ moved down in the order and picked up two hits in four trips. He was the lone Cub with multiple hits as seven other players tallied one apiece.
TENNESSEE SMOKIES 7 – Birmingham Barons 6: In what was the most exciting game in the farm system on Sunday the Smokies had to dig themselves out of a huge hole early to prevail 7-6 over the Barons. With Brad Markey struggling on the hill allowing six earned runs in 2 innings of work, it was up to the bullpen to work overtime. Not only did they do that, but Michael Rucker, Manuel Rondon, and Craig Brooks tossed seven shutout innings with zero
walk to give the Smokies a chance to win which they did late.
Birmingham certainly kept the pressure on Tennessee early as they opened the game in a big way. It was a string of four hits that opened the scoring with Luis Gonzalez, Gavin Sheets, and Yermin Mercedes collecting singles, while Micker Adolfo added a double to put the Barons up 4-0 after one. That lead continued to grow in the bottom of the third with a Sheets double, before Trey Michalczewski tallied a single to push the lead to 6-0 after three.
That seemed like it would be more than enough runs for the Barons in this one, but once the fifth inning began, things drastically changed. Solo home runs from Jhonny Pereda and Connor Myers gave the Smokies some life as it was now a 6-2 ball game. An Ian Rice sacrifice fly made it 6-3 before Charcer Burks plated both P.J. Higgins and Nico Hoerner to make it a 6-5 game. The hit parade continued for the Smokies as the Barons were left searching for answers when Roberto Caro doubled to bring things even at 6-6 suddenly.
With momentum now on the Tennessee side and the bullpen doing a great job at silencing the Birmingham bats, it was anyone's game heading into the late innings. With that in mind, the Smokies kept the pressure on in the eighth innings as Caro and Pereda were on the bases. Looking to make the perfect pitch, Danny Dopico uncorked a wild pitch allowing Caro to score giving the Smokies the 7-6 lead. That would be all they needed as Brooks shut the door in the ninth despite allowing two singles and the comeback bid was complete.
The Smokies remain in first place with the win improving to 6-3. Higgins had a monster day at the dish compiling three more hits, while Burks and Pereda had two of their own. Hoerner moved his average up to .250 on the season with two hits of his own, but also worked a walk to reach base three times in total.
FINAL: Smokies 7, Birmingham 6

WP: Rondon (1-1)
LP: Dopico (0-1)

— Tennessee Smokies (@smokiesbaseball) April 15, 2019
MYRTLE BEACH PELICANS 4 – Fayetteville Woodpeckers 9: The rough start to the season continued for Myrtle Beach as once again the Woodpeckers had their number. A lack of pitching in the early innings compiled with an offense that was nonexistent until late gave the Pelicans another lopsided loss 9-4.
Things did not start so bad in the first inning as for once it was the Pelicans striking first. With Jimmy Herron standing in scoring position, Carlos Sepulveda lofted a sacrifice fly to center to put Myrtle Beach up 1-0. That was about the only positive thing that happened in the early going as things began to unravel quickly in the second.
Looking to improve from a shaky first start, Erling Moreno tossed a scoreless first. It was all downhill from there as despite allowing just three hits, his six walks didn't help his cause as his ERA increased to 21.60 on the season following his five earned runs in 3 1/3 inning. Four of those runs came on one swing in the second when Miguelangel Sierra cranked a grand slam for the 4-1 Woodpecker lead. A Jake Adams solo homer in the third was the final straw as Moreno left trailing 5-1.
With the score now 6-1 following a Bryan De La Cruz sac-fly, things only continued to get worse for the Pelicans as they couldn't prevent the Woodpeckers from scoring. In innings 6, 7,8 Fayetteville managed to plate one run in each frame to push the lead to 9-1. Those RBI's came from Jacob Meyers, Jonathan Arauz, and Seth Beer.
Down by eight and with just three outs to work with, the Pelicans began to make some noise as they showed a little fight. With a pair of runners on base, Aramis Ademan rolled one into the right-field corner for an RBI triple cutting the lead to 9-3. Ademan would score a few pitches on a Jhonny Bethencourt sacrifice fly to make it 9-4. That was all Myrtle Beach would be able to muster as their offense showed up a little too late falling 9-4.
The loss drops them to 2-9 on the season and five games out of first place already. Ademan collected three hits to go with his two RBI's to lead the way, while back up catcher Tyler Payne grabbed two hits of his own in the loss.
Good Morning, Twitter ??

Last night was great! Thanks to @panerabread for bringing their Pieces of Hope for Autism cookies to the ballpark, AND for wishing Splash a very happy 21st birthday! pic.twitter.com/CkH05POEv4

— Myrtle Beach Pelicans (@Pelicanbaseball) April 15, 2019
SOUTH BEND CUBS vs. Lansing Lugnuts: Postponed.