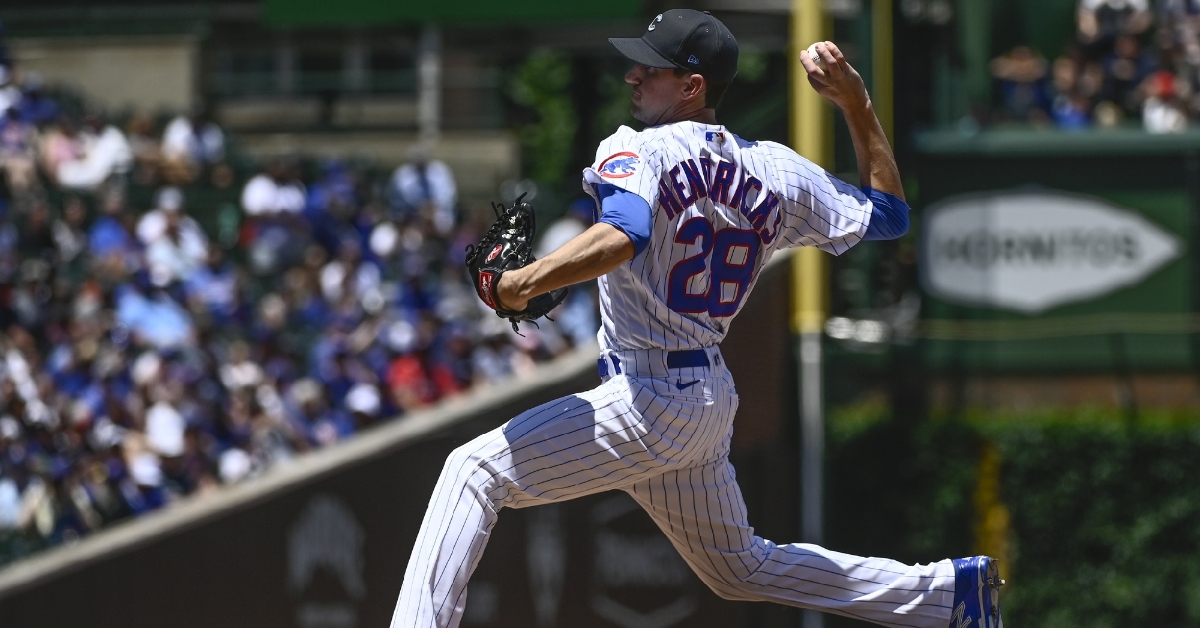 | | |
| --- | --- |
| Cubs News: Will increased velocity save Kyle Hendricks' career? | |
---
| | | |
| --- | --- | --- |
| Wednesday, November 16, 2022, 9:40 AM | | |
In an era where baseball is constantly changing, pitchers of the past era no longer exist. What was once a league filled with finesse pitchers that threw in the low 90s has now transformed into a game where everyone is hitting what appears to be 95 MPH. That is unless you are Kyle Hendricks, as he is one of the rare pitchers that still pitch like it is in the 1990s.
No one will blame him for his pitching style, as that is who he is and who he always was. The Dartmouth Graduate was always a bit of a soft tosser, but it was his impeccable command that earned high praise. His command was so good during his college and minor league career that many compared him to Greg Maddux, and you could see why.
Once the Cubs traded for him in 2014, Hendricks became a stable in the Cubs rotation, where he is now the lone holdover from the world series team. Hendricks has had several strong campaigns in the past, including his 2016 season, where he posted a 16-8 record with a 2.43 ERA. That was second-best on the team behind Jon Lester, and then he went on to dominate in the postseason.
Usually, a guy who sits in the 88-89 MPH range with his fastball, 2016 saw Hendricks averaging 91 MPH, which was a big reason for his success. That increased velocity made his change up that much harder to hit as he was able to mix speeds exceptionally well, including dropping in a curve ball now and then.
In the years since, Hendricks has been a consistent and reliable starter apart from the past two seasons. Yes, injuries played a role in his struggles recently, but so has a dramatic decrease in velocity as he is now in the 86-87 MPH range. I don't care how good your command is. When you throw that slow, you are in trouble, and Hendricks was in trouble early and often last season.
Once it was revealed that he was diagnosed with a season-ending shoulder injury, his future with the Cubs as a starter came into question as he is entering the final year of his contract, but is coming off of two poor seasons. Given what he has meant to this team over the years, Hendricks hopes to stick around at the worst through this season as he would be a valuable asset to this team.
However, if his recent performances are what to expect this year, the Cubs can only trot him out there every five days. To save his career and keep things going, Hendricks is about to go through a program that could make him an ultimate wildcard this season.
While not precisely the Driveline academy, Hendricks will be doing a Driveline type of program to increase velocity. That would be huge for Hendricks, even if it is just two MPH more. Hendricks will not be a flame thrower, and no one expects him to be, but he can still bring a lot to the table if he can discover his old form.
What he lacks in velocity, he makes up for with command and his ability to change speeds. His change-up continues to be one of the best in the game, but despite being just 81 MPH, it could be more effective when his fastball tops out at 86. That is what Hendricks is hoping this program can do for him.
Should he be able to increase his fastball velocity even in the slightest, it would make that change that much tougher to hit as the speed variation would look better. Throw in his ability to continue to work the corners, and he still has the potential to win double-digit games.
Hendricks may not be an ace anymore, but should he rediscover his old form, you are looking at a tremendous back-of-the-rotation arm. Should that happen, Hendricks would be one of the best No. 4 or five starters in the game, and the Cubs rotation would be better and deeper because of it.