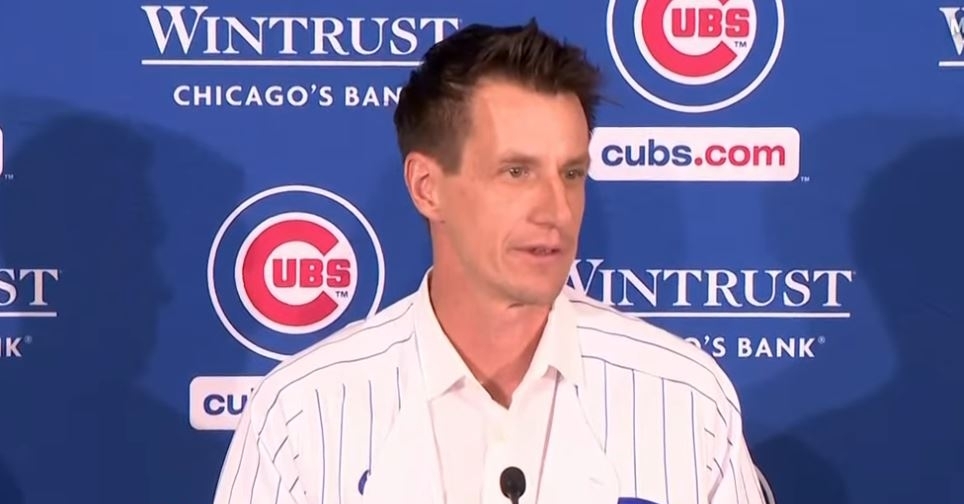 | | |
| --- | --- |
| Cubs News: If somebody can win a press conference, Craig Counsell did | |
---
On Monday, the Cubs introduced Craig Counsell as the 56th manager in their illustrious history. The former Milwaukee Brewer manager donned the pinstripes for the first time, with a sharp No. 30 on the back beneath the name Counsell.
As Jim Deshaies alluded to in Marquee Sports Network's coverage of the introductory press conference, they should be impressed if any players were watching Counsell speak.
There is a reason Counsell is touted as one of the league's best managers, and many of those qualities were on display during the press conference. Counsell is down to Earth, charismatic, confident, intelligent, calculated, and articulate — all qualities you hope your leader has.
Because of the new job within the division, travel or climate will be nothing new to Counsell. The big difference will be the market size and, with that, media attention. Both Joe Maddon and David Ross have excelled at that aspect of managing the Chicago Cubs, and Counsell's audition certainly was impressive.
But let's break down a few quotes that I thought were very telling:
"I respect the heck out of David Ross."
Counsell took David Ross' job after all. But it was refreshing to hear that Ross spoke with Counsell and that the two shared an excellent conversation. You'd hate for there to be bad blood — and you certainly have to gain some respect for Ross to reach out to Counsell even after being blindsided by the events that transpired.
"This organization is just in great health. Jed (Hoyer) presented a very compelling vision of that. It is time to be a Cub. There is momentum happening here, and it feels close."
I think this is as encouraging as anything you're going to hear all week. Not only does Jed Hoyer have a vision that Craig Counsell appreciates — but it was what sold Counsell to the job. Not only that, he thinks the success is close. He thinks it is attractive, it is sexy, to be a Cub. What an inviting pitch to free agents from outside the organization as well.
"Walking to Wrigley today, the first day as a Cub, and it already starts to mean something. You walk into the history."
It's not called the Federal Landmark for nothing. But what's cool about this is that it almost feels like more of a compliment coming from somebody who has played on the top-step opposite for nearly a decade. Even after spending the better part of two decades with Milwaukee, Counsell already has an appreciation and understanding of just how different it truly is on the Northside.
"It's a place that demands your best. It's a feeling I want to have ... it makes me so excited for it."
The Chicago Cubs deserve to be winners. They are a top market with nearly infinite resources. The expectations are heightened — Counsell is here to win. Selling? No. That's over.
Counsell also said he "underestimated" the reaction from the Brewers and their fan base. First, it should show how much he is beloved in Milwaukee and why Brewers fans may feel cheated. But perhaps more telling, money aside, Counsell believes in the Cubs' future that he may not have in Milwaukee — otherwise, he'd still be there.
Counsell has also just begun the conversations with the Cubs players and coaches on David Ross' staff. Counsell clarified how important these first impressions are on these players and how he wants to take his time to ensure he does this.
Counsell is well-documented for getting the most out of his rosters in the past. During his press conference, he expressed that he would have no trouble conversing with the front office about the roster or prospects midseason to see how to improve the big league club. Perhaps this is something Ross did not feel entitled to do as someone who came from within. But maybe Counsell would not hesitate to say, "We shouldn't be giving Eric Hosmer at-bats" or "Let's see what Alexander Canario can do?"
If somebody can win a press conference, Counsell did. The one thing you take away from listening to the press conference and hearing Craig Counsell's thoughts as he takes the reins of this team is Jed Hoyer has a vision. A vision that is so good was the selling point to a manager who weighed four key things to determine the health of an organization: current team, player development, front office, and financial resources. The Cubs checked all of those boxes for Counsell.
Now, not only is it time to be a Cub. It's time to win.
That should be unbelievably encouraging — just like it was when Theo Epstein and Co. brought in Joe Maddon ahead of the 2015 season.