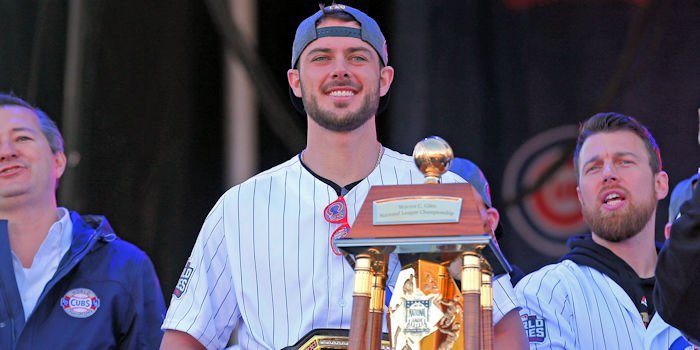 | | |
| --- | --- |
| Cubs Odds and Ends: "Grieving" players, Stealing Signs, What MLB is becoming | |
---
| | | |
| --- | --- | --- |
| Thursday, November 14, 2019, 5:03 PM | | |
"Grieving" MLB players
It (allegedly) happens a lot more often than we're told, but Kris Bryant isn't alone in his fight against a team who'd allegedly tampered with service time, to prolong club control and delay free agency.
In a subscription-based article by Jesse Rogers, George Springer is dealing with the same issue that Kris Bryant has filed a grievance over. Springer's issue dates back to 2014, and the best I can tell, no grievance was ever filed. There were a plethora of articles about how Springer's agent was contemplating filing a grievance, but it doesn't look as though it ever actually happened.
Why? Only Springer and his agent know for sure, but it could be that Springer elected to lick his wounds quietly, accept what was and kept doing what was best for himself and the Astros. That's not to say that KB doesn't have a right to stand up and say that he'd been screwed, but at what cost?
At the time (March 23, 2014), Astros' GM Jeff Luhnow said, "We'd never use a contract tool to affect a person. They're separate, the business aspect and playing aspect;" not quite the same message as Theo Epstein offered, but the underlying message is synonymous: "This wasn't done in a malicious manner."
While I'm not sure of the circumstances surrounding Springers' issue, Theo maintains that the timing of KB's callup has nothing to do with enslaving Bryant but has everything to do with multiple injuries incurred by the Cubs (Mike Olt, Tommy La Stella, and others). Whether either case was "toying with service time" or legitimate reasoning on behalf of the clubs, it is something that needs to be addressed (and corrected as necessary) in the next CBA talks.
Springer and his then-agent (Greg Genske) probably knew that Springer wouldn't win, but then again, Genske is no Scott Boras. The experts all say that this is unwinnable for Bryant. Still, while they broadly look at KB winning or losing service time, I look at Kris possibly becoming an understandably disgruntled mess if he loses his grievance. If Bryant loses, he plays the remaining extra year for Chicago – a team whose ownership he's understandably likely to become frustrated with. In contrast, if he wins, he'll be finishing his final year in Chicago, with perhaps a bit of a justified "I told you so" attitude. Neither is good for Kris or the club, which is one of the biggest reasons that I advocate the possibility of trading him now.
Watch for signs!
An article on a different site says the Astros aren't the only ones stealing signs, citing several MLB players who say the Milwaukee has been identified as one of the "most egregious electronic sign stealers" (at Miller Park).
True? Maybe, maybe not, but, interestingly, Christian Yelich hit .347/.451/.750 at Miller Park this year, and .324/.406/.655 last year, while stroking only .229/.341/.457 this year, and .205/.273/.205 previous year on the road.
Fixed that for you pic.twitter.com/Ms0o8jLpve

— Corey Freedman (@CFCubsRelated) November 12, 2019
Stealing signs is permissible if the thief happens to be a baserunner on second base, but when technology gets involved, things have definitely crossed the line. Not six hours after the story about the Astros broke the other night, Jeopardy offered up this gem (I hadn't even heard that an Apple Watch was involved).
This was on Jeopardy tonight @astros ???? pic.twitter.com/iwVYDShQME

— Baseball Quotes (@BaseballQuotes1) November 13, 2019
You've already seen some catchers using what appears to be some form of electronic device, designed to send signals to the pitcher, and now with the news of sign stealing out of the closet, you'll undoubtedly witness the new wave of how baseball signs are sent and received. Just what baseball needs: more technology. The last I knew, the Cubs were still looking for a quality assurance coach, but little did I know that the desired applicant may have to have a background in counterintelligence.
What the hell is MLB becoming?
Branded as "America's pastime." baseball was always looked at as such a wholesome sport, though not so much after the likes of Barry Bonds, Mark McGwire and Sammy Sosa (among about 300 others) decided to give it a "boost."
We can argue all day whether or not the steroid scandal was what baseball needed to give it – pardon the pun – a shot in the arm, and many wouldn't have even known about it, had a washed-up Jose Canseco not needed to peddle his book (title intentionally withheld). To not know, meant that many fans were able to find bliss within their ignorance, while others chose to pretend that it just wasn't true.
Deep down, I suppose I knew, but that didn't stop me from racing home from work each night to catch McGwire and Sosa trading punches as the ball went flying out of the old ballpark(s) left and right.
No matter what Canseco had to say, Congress had no right to interfere in the scandal. Still, you know our government – nothing like spending tens of millions (that we don't have) to investigate something that has absolutely nothing to do with running the country.
Nowadays, the steroid scandal looks almost innocent compared to what's going on around baseball, though I'm still not ready to re-embrace Sosa or McGwire.
Between the increasing domestic violence issues in MLB and the pedophilic behavior of Felipe Vazquez (Pirates) are enough to make me vomit, but now technological sign stealing (aka cheating, ethics violations, and violations of moral turpitude) occurring within the game itself.
Enough already.

Upgrade Your Account
Unlock premium boards and exclusive features (e.g. ad-free) by upgrading your account today.
Upgrade Now