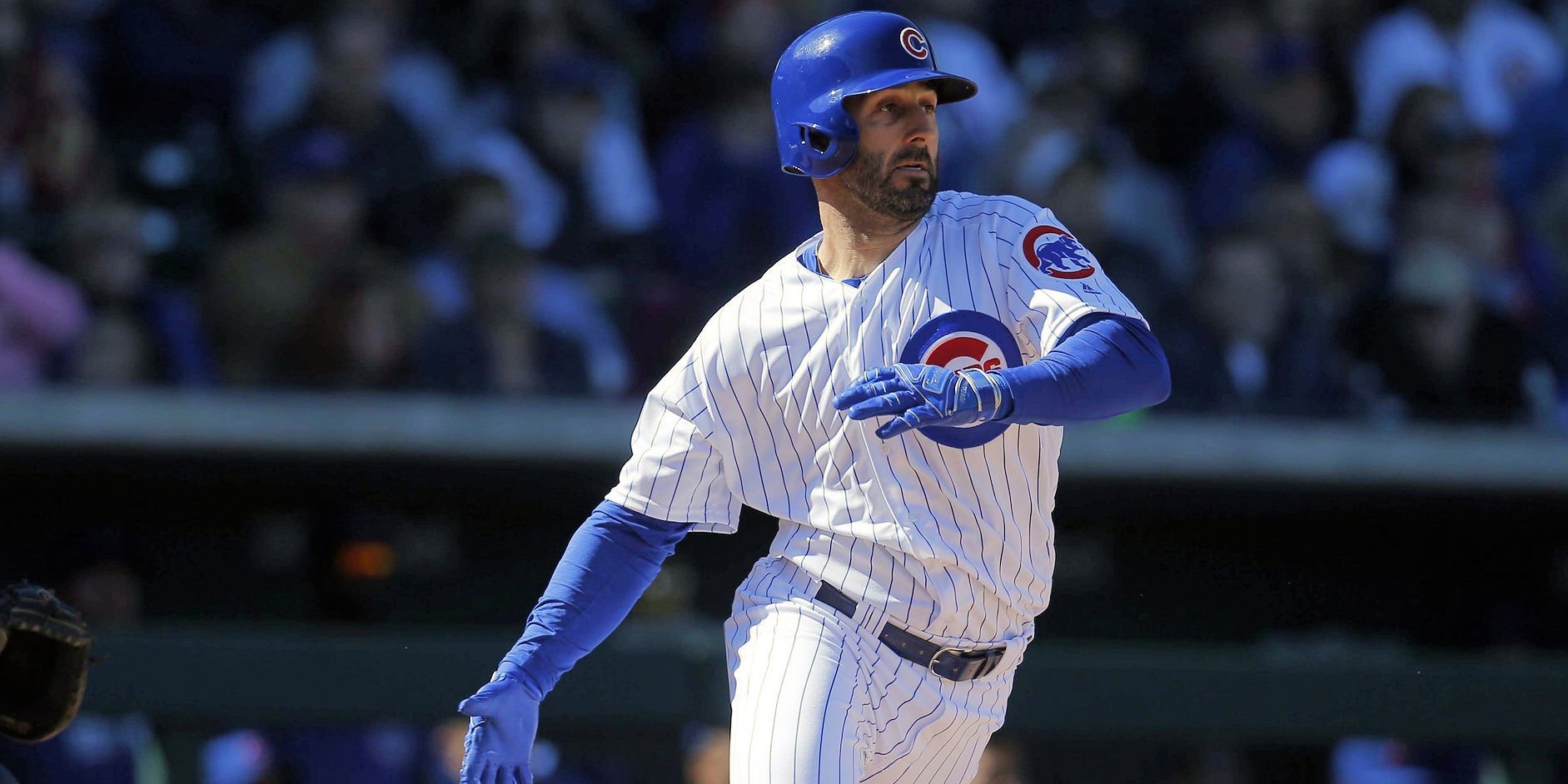 | | |
| --- | --- |
| Cubs Odds and Ends: The Descalso debacle, Zo and a halo, End of innocence with Ross | |
---
| | | |
| --- | --- | --- |
| Saturday, November 2, 2019, 12:08 PM | | |
This bullet is dedicated to my friend and colleague Dustin Riese and his recent The 2.5 million dollar question. I haven't written a rebuttal in quite some time, but this deserved one. Dustin: There is no way the Cubs can keep Daniel Descalso.
While I agree that Descalso was brought on to solidify the second base slot, that just never materialized. The Cubs have been fraught with a ton of dead weight for the last few seasons, and no matter how hard Theo Epstein may try, he always seems to add pounds, rather than to shed them.
I, for one, was excited to learn that the Cubs signed him last winter (he was the first offseason acquisition if memory serves me correctly), but that notion faded fast once Danny D. hit the skids. Poor offensive performance, combined with undeniably weak defense, has left the Cubs in a lurch. I wholeheartedly believe he voluntarily accepted a phantom trip to the IL for the greater good of the team – although much too late.
With the emergence of Nico Hoerner and the (miniature) plethora of choices via the free agent and trade markets, the Cubs need to eat every dime of that two million and send Descalso packing. Once a decent ballplayer, his age, knees, and an ankle issue have turned five million of Tom's bank account into a vast wasteland.
I have nothing personally against Descalso, but I don't want to see a guy who's batting .173 (168 at-bats) with a negative 1.4 WAR donning a Cubs' uniform, and I don't care what the Cubs have invested in him. For those kinds of stats, the Cubs could do far better for far less – have I mentioned Nico Hoerner? For the league minimum (soon to be extended), Hoerner produced a slash line of .282/.305/.436 with a .741 OPS. Fourteen years Descalso's junior, Hoerner's time has come, but should Theo take a different path, I'd certainly like to think that he could do a lot better for several million.
For somewhere in the neighborhood of $12M (two years), Howie Kendrick makes a lot more sense. He plays second, first and the outfield, making him about twice as valuable as Descalso. Is it the leadership you want? Watch Kendrick closely, as he interacted with teammates and kept the spirit high. He moves better than Descalso, he fields better than Descalso, and God knows, he hits better than Descalso.
Tom Ricketts needs to write Descalso's signing off as another of Theo's judgmental errors, turn him loose, lick his wounds, forget his losses, and get on with life. Two-and-a-half-million is cheap when the result is an open roster spot, and the Cubs certainly have spots to fill.
Zobrist is a candidate for the Angels
I didn't think for a million years that Ben Zobrist would play beyond 2020, but he's now announced his free agency. Not that the Cubs won't (most likely) offer Zo a deal, but I honestly don't think Zo is going to take it.
Zobrist spent every year of his time with the Rays under Joe Maddon's leadership, and once Maddon got himself the manager's spot in Chicago, Zo showed up a year later. Now with a total of 11 years under Maddon, Zo certainly fits the bill of one of "Maddon's guys."
The Angels want to spend this winter, and that notion has been well documented. The Angels are very familiar with Maddon and have already made it clear that they can expect to win under joe's supervision. Already holding names like Mike Trout, Shohei Ohtani, and a recently explosive Tommy La Stella, the halos are said to be the frontrunners for Astros' ace, Gerrit Cole.
Throughout 2015 through 2017, Maddon knew how to extract the talent from his roster in Chicago best, and he figures to do the same in Anaheim. The average age of a position player (current roster) in the Angels' camp is only 28.9, while their pitching staff average age is only 22.5; that's a lot of young talent, deserving of a seasoned vet like Zo.
The Angels are tickled pink to have Joe back, and for the next while (I give it two years or so), ownership is going to be writing check after check to build Maddon a team worthy of competing with the Astros and Oakland. Houston showed a definite weakness which was exploited by the Nats last week, and without Cole and other free agents (Chirinos, Rondon, Miley, and Smith, among others), the A's may become the next target for Anaheim to hunt down.
While I'll fall far short of forecasting a division title in 2020 for Maddon, Trout, Ohtani, and maybe Zo, it wouldn't surprise me to see the Angels in second place, vying for a wildcard berth.
If Zo does as I believe he'll do, you can expect to see him sign with the Angels by Thanksgiving. Ben Zobrist is a very focused guy again (now that the messiness and heartache of his divorce are out of the way), and he already knows where he'll be landing.
Best of luck, Zo (and Joe), you guys certainly made a difference in Chicago.
The end of the innocence for David Ross
The more that time wears on, the more I have one concern about David Ross as the cubs' new skipper. Ross has always had an almost innocent appearance and demeanor, despite reports and self-admission that he can brutal on underperforming teammates. Cubs' fans embraced Ross' public persona, but how long will the majority of the fanbase give Rossy a pass on managerial faux pas? That innocent Georgian smile and friendly laugh aren't going to play long if the Cubs start the year half as bad as they did in 2019.
Is it fair? Nope, but that's the way it'll be.
Fans are hypocritical, and at least some of the masses who supported Ross' appointment are going to grow weary fast if the Cubs don't come swinging (and winning) on Opening Day. You'll hear from the "they never should've gotten rid of Maddon" crowd faster than any other sector, but Ross will most likely also have to fight to keep his initial supporters on the train.
So far, Rossy's message has been good, but he needs to transform the message into action, rather than to leave it to become empty rhetoric, as his predecessor did in the final two years. Ross demands accountability, but he's about to be thrust into an accountability level like none he's ever seen. "Unfriendly" mound visits with Jon Lester were private and personal, but now every decision the man makes will be made in the eyes of players, upper management, owners, and a myriad of viewers.
I, for one, am going to give the guy a pass – mainly because I think we're going to see a new manager with a talented and rejuvenated team – no matter how much the Cubs scale down over the winter. With an apparent financial burden and the desire to fall below the luxury tax, Theo Epstein is going to be working with a very limited checkbook, and Rossy will be the ultimate recipient of the budget cuts.
I believe that Ross has the talent to manage this team, and I think that so long as Theo doesn't tank the team, he'll be fine. Retooling is good, as the Cubs have some burdens to shed, but if Ross' name is on the hook (and it is), I would like to think he'll be viewed based on who he will be managing, as opposed to only how he's managing them.
Godspeed, Rossy, I'm behind you 100%.

Upgrade Your Account
Unlock premium boards and exclusive features (e.g. ad-free) by upgrading your account today.
Upgrade Now