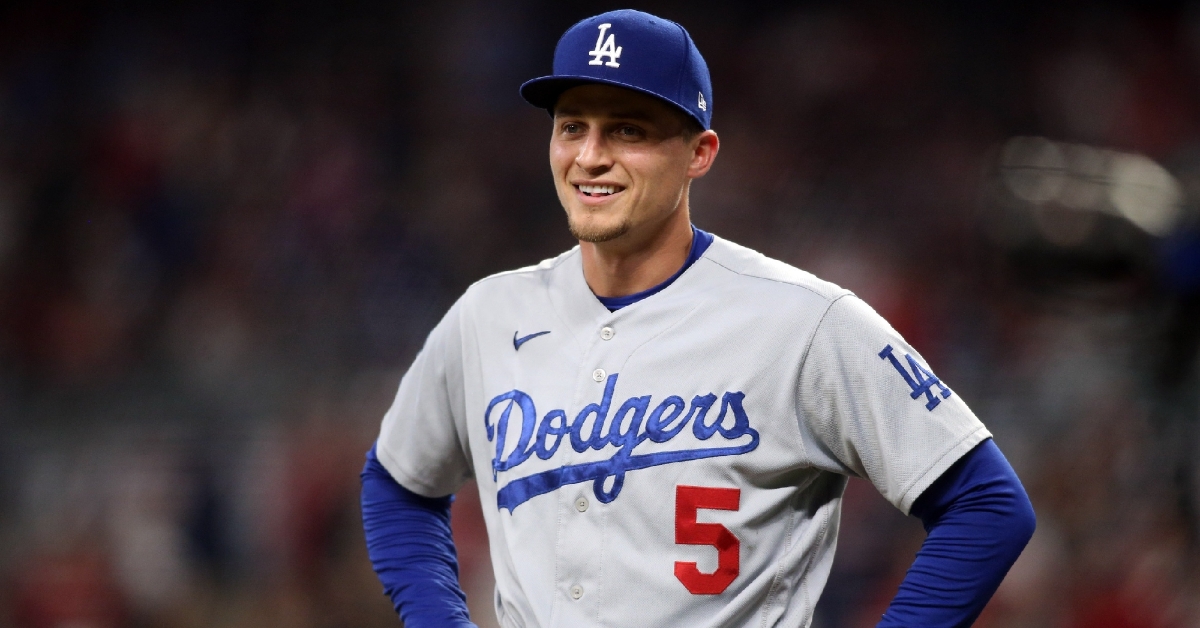 | | |
| --- | --- |
| Cubs one of the favorites to land Corey Seager | |
---
| | | |
| --- | --- | --- |
| Saturday, November 13, 2021, 1:30 PM | | |
It has been no secret what the hottest market is in this year's free-agent class, as the shortstop position will be fun to watch. The shortstop position is loaded with talent from Carlos Correa, Javy Baez, Trevor Story, and Corey Seager. Most MLB analysts expect every one of these guys to get a significant contract this offseason.
Many believe the Cubs will be in on the shortstop market after trading away Baez this season and not having a clear direction for shortstop the next several years. Although everyone has a different opinion about whom they might target, many fans want them to land Correa, given he is the youngest of the group with the most upside.
After listening to Jed Hoyer and his end of the year press conference, the new Cubs regime is trying to reinvent this team from the ground up, and that all starts with the hitting. If that is the case, Correa doesn't make sense for Chicago as he is too similar to Baez. Looking at the shortstop list, Seager would make the most sense in terms of what the Cubs are looking for, and it appears the Cubs feel the same as they are one of several teams pursuing him right now.
Looking at the financial side, the Cubs have 40 million in accounted salary for this season and next season, but only seven million for 2024 thus far. That means they will have plenty of money to work with the next few years and can afford to take on a big contract. Not only are the Cubs going to test the free-agent waters this offseason for a shortstop, but Seager looks to be one of their main targets at this point and would come with a hefty price tag.
A 2012 first-round pick of the Los Angeles Dodgers, Seager was fast-tracked to the MLB, reaching the Major Leagues in 2015. He played just 27 games that season before landing as an everyday player in 2016. Across the past six years, Seager has been nothing short of impressive, compiling a .297 average including three seasons above .300, with two of those over the last two years.
Not only that, but Seager has connected for 104 homers with at least 15 homers in every season where he has played a minimum of 90 games. Add a great strikeout to walk rate, and you get the perfect hitter for this Cubs lineup. Once a team that was predicated on home run or bust, this team started to manufacture runs differently during the second half, and now they realize they can score without the homer.
Seager fits that mold perfectly as he doesn't rely on the long ball. Instead, he does what he needs to do to put the ball in play, which the Cubs need more of. Seager is not only the hitter this lineup desires, but he has plenty of big-game experience and knows what it takes to win. Not to mention he was in the playoffs every season of his career, and Seager is no stranger to postseason success.
Despite hitting just .236 for his career in the postseason, 2020 was his coming-out party, where he mashed eight homers to go with 20 RBIs and a .328 average. Even with him struggling for much of his postseason career, Seager is still better than any hitter in the Cubs lineup, and he is about as versatile as it comes in terms of where he can hit.
The one concern I have surrounding Seager is his long-term health as he underwent Tommy John surgery a few seasons ago. Although it doesn't affect position players as much as it does pitchers, you have to wonder if that elbow will hold up long-term at short or if he will need to move to second base eventually.
No one will argue what Seager brings to the table offensively, but his defense is not at the level of Correa, Story, or Baez. That is not to say Seager isn't a great defensive player, because he is, but it is more about his range as he can't make some of the plays others can. Signing a guy like Seager will prove that the Cubs are valuing a more contact approach on offense compared to Correa, who would prove they are valuing defense first.
Most people have Seager landing a seven or eight-year contract in the $195-$240 million range, equalling around $30 million annually. Is Seager worth that? Probably, but is that price too steep for the Cubs to make a run at? I would say it is for this season, but when you look at how much money is coming off the books in the next few years, I would say no.
The Cubs have been burned before on long-term deals, so I don't expect them to offer anyone more than six years. If that is the case, don't be shocked to see Seager get a six-year offer in the shortstop market this offseason possibly by the Cubs.