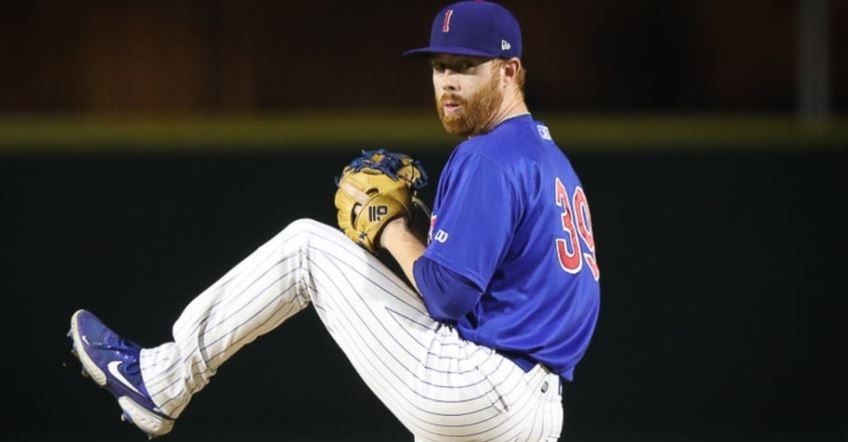 | | |
| --- | --- |
| Cubs Prospect Focus: Ben Leeper | |
---
| | | |
| --- | --- | --- |
| Thursday, December 30, 2021, 7:04 PM | | |
When you talk about the Cubs and what they need to do to become contenders again, the first thing that comes to mind is pitching. I am not just talking about buying pitching as they did with Marcus Stroman, but instead developing homegrown starting pitchers that this team can control for years. That has consistently been a struggle for this organization for whatever reason, and unless they can solve that issue soon, it won't get better.
The Cubs started to see times changing last year as Justin Steele, Keegan Thompson, and Adbert Alzolay started at least eight games in the rotation. Alzolay had the most with 21, but he struggled with consistency, thus leaving the question of where he is a better fit.
The same can be said with Steele and Thompson. Both showed promise in the rotation, but both pitched much better in the pen. 2022 will be huge for these three men as the Cubs will find out a lot about them and where they fit in the future of this team. Outside of that, the Cubs have plenty of pitching starting to take shape in the minors, which is a good thing.
However, unless someone can take the minor leagues by storm this season, most of their starting pitching help in the minors is years away, which still puts this team in a bind. Starting pitching is crucial to a team's success, but so are reliable bullpen arms, which the Cubs are hoping they can develop too. One pitcher who has made a statement in the minors thus far could be the organization's best relief prospect and may be ticketed for the Majors by the end of 2022.
I am talking about right-handed reliever Ben Leeper who continues to impress. Unlike most pitching prospects, Leeper is strictly a reliever and has been that way since day one. Part of the strange draft class of 2020, the 6-0 190 pound Oklahoma State product signed with the Cubs as an undrafted free agent and immediately took the minors by storm. Had it been a regular 20-round draft, the Cubs are probably not fortunate enough to land him as he was terrific his final season in college.
Not only has the early success of Leeper been phenomenal, but it has also come as a big surprise when you look at his injury history as an amateur. He has fallen into the Tommy John surgery not once, but twice with the second surgery coming in 2016. He is now four years removed from that surgery, and all things are trending up at this point which is a good thing.
When he finally reached Oklahoma St., not only was he fully healthy for the first time in a long time, but he was throwing harder than ever before. After minimal action with the Cowboys in 2016, Leeper missed all of 2017 recovering from his second Tommy John. Once 2018 rolled in, not only was he healthy, but the Cowboys wasted no time getting the most out of him, making him the closer.
Leeper struggled across 27 2/3 innings of work that season, posting a 12.69 ERA with 23 walks and 34 punchouts. Clearly, rust was an issue for him after missing nearly two years of action on the mound. One year later, Leeper was back on the mound seeing action in 25 games and posting a 4.31 ERA. His 23 walks to 43 strikeouts were a nice improvement while logging four saves in the process.
Leeper looked to finish his collegiate career with a bang and got off to an impressive start in 2020, logging 7 1/3 innings of work in six games. His six walks and 14 punchouts continued to improve, but the 2.45 ERA is what stood out. The Cubs saw something in him that season and liked what they saw enough to ink him to a minor league deal. That has proven to be an excellent decision for Leeper, and he has been turning heads since day one.
After not pitching in 2020 due to the pandemic, Leeper made his 2021 debut with AA Tennessee before finishing with AAA Iowa. That alone is impressive when you think about him skipping low-level ball and being thrown right into the fire. Not only did he impress once he got there, but he emerged as the most trusted and most consistent relief pitcher in the entire organization.
In 27 games this season, Leeper was a busy man logging 35 innings and posting a 4-3 record. He recorded three saves in four tries and posted an absurd 1.29 ERA during that time. What also stood out was his suddenly phenomenal command, where he walked 13 hitters and struck out 53. Whatever adjustments he made in 2020 and beyond have paid off, and the Cubs appear to have an undrafted steal ready to contribute.
Typically a guy who sits around 95-96 with his fastball to go with some sink, Leeper was throwing gas all season long, consistently sitting in the upper 90s. He maxed out at 99 MPH with Iowa this season, which is what you look for in a high-leverage late-game reliever. To pair with that heater comes an 88 MPH that can break in multiple ways.
Usually, you would like him to get another pitch, but if he is a late-game reliever with the dominant stuff he has shown, two pitches will work just fine. This is one of those pitchers who is a few years from a Rule 5 situation, but look for the Cubs to protect him as he may be MLB ready this season.