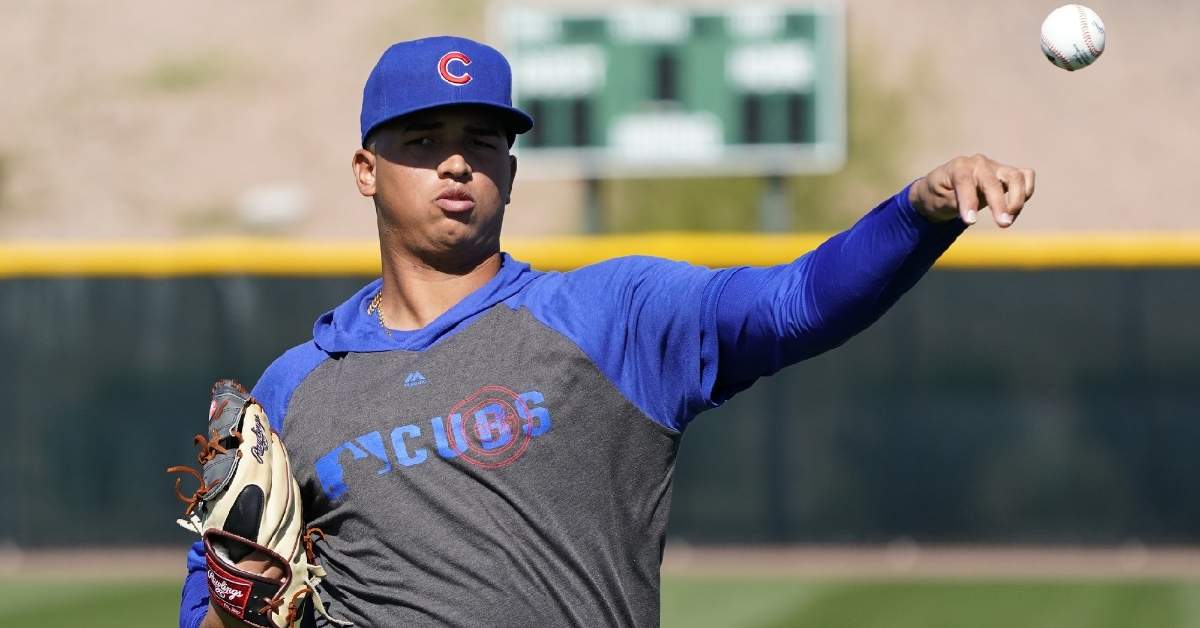 | | |
| --- | --- |
| Cubs Prospect Focus: Brailyn Marquez | |
---
| | | |
| --- | --- | --- |
| Saturday, December 25, 2021, 9:40 AM | | |
Of all the prospects in the Cubs system, very few were expected to contribute last season. Guys like Justin Steele and Keegan Thompson were thrown into the fire early, and for the most part, performed well, giving the Cubs hope for a better pitching staff in 2022. However, one name who burst onto the scene over the last two years was expected to contribute only to have his season end before it started.
I am talking about Cubs No. 2 prospect Brailyn Marquez. Say what you want about Brennen Davis, as there is a reason why he is the top prospect in the system. However, Marquez comes with just as much upside, if not more which is why he was formally the top prospect in the system prior to Davis and his success.
The big 6-4 lefty comes in at 185 pounds, but has put on a lot more weight in recent seasons with plenty of room to grow. He is no stranger to the Cubs system as the organization continued their run of international success by signing him as a free agent in August 2015. Not only that, but Marquez received the biggest contract of any amateur left-hander that season, where he signed for 600,000. What seemed a little steep then is turning into a bargain as Marquez is the real deal once the Cubs figure out his future role.
Not only was he signed at just 16 years old, but he has added velocity every season since, which doesn't come as a surprise. What is surprising is how much velocity he has added, which we will touch on later in this column. He made his professional debut at 17 years old, pitching for the DSL Cubs that season, where he was nothing short of impressive.
Not only did Marquez make 12 starts, but he logged more than 54 innings which is a ton at the rookie league level, especially for a 17-year-old. He went on to post a 4-2 record with a 1.48 ERA proving he can handle professional ball. Although his 23BB and 48K ratio was a bit concerning, Marquez did a great job limiting the damage across the board.
One year later, Marquez was on his way stateside to pitch in the Arizona rookie league. Unlike the DSL, Marquez struggled in the thin Arizona air posting a 2-1 record with a 5.52 ERA across nine starts. 2018 saw massive improvements as Marquez began the year with Eugene before finishing with South Bend. Despite his 1-4 record, Marquez posted a 3.13 ERA which included a 2.57 ERA after landing in South Bend. He walked 16 hitters and struck out 59 as he started to show signs of a great pitcher.
Looking to build off his 2018 season, Marquez was stashed with South Bend for 2019, where he emerged as one of the best lefties in the game. Not only did he make 17 starts with South Bend, going 5-4 with a 3.61 ERA, but his performance earned him a call up to Myrtle Beach, who he made five starts with them to finish the season. He went 4-1 after his promotion posting a 1.71 ERA, and walked 50 hitters compared to 128 punchouts on the season.
Given that the 2020 season would be canceled, the Cubs stashed Marquez at their alternative site and toyed with the idea of putting him on their postseason roster. For that to happen, he needed to pitch in a Big-League game making his debut in September 2020, only to get rocked by the White Sox.
That was followed by a nightmare 2021 where he was delayed to start the season due to COVID issues before a shoulder injury shut him down for the year.
Now, going on two years throwing a total of 2/3 innings, it will be interesting to see how the Cubs handle his next steps in the development process. From a stuff side of things, Marquez has it all as he averages 97.8 MPH with his fastball and has maxed out at 102. That is a far cry from his 91 MPH heater when he was drafted as Marquez continues to impress.
The Cubs have continued to work with him on his breaking ball as his slider sits around 90 MPH to compliment that heater. At times, that pitch acts as a slurve, but he needs more consistency to get teams off his heater. Those two pitches dominated hitters at the minor league level, but he will need a third pitch to get righties out consistently. Look for his 91 MPH change up to be that pitch as that pitch comes at righties with a nice sink.
The ideal plan was to make Marquez a starter, and after watching his final Low A start where he struck out 14 hitters in six innings, and you can see why. The problem with that, apart from having limited action the past two seasons, is a low ¾ arm slot that is often hard to repeat that delivery. That is when he gets wild, and if that happens, it is not good.
However, Marquez has made significant improvement with that delivery which is why his walk rate went from 5.8 walks per nine down to 2.3 walks per nine. Although he has the ceiling of a front-line starter, I would argue that his future is in the bullpen, especially in the late innings. Given the high velocity he brings to the table, Marquez has closer potential similar to Josh Hader and Aroldis Chapman. If the Cubs want to maximize that heater and maximize what he can do, the bullpen may be his best option going forward.