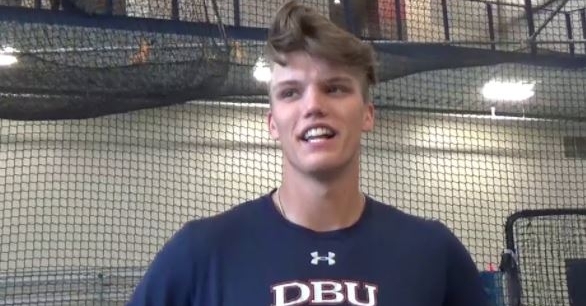 | | |
| --- | --- |
| Cubs Prospect Focus: Bryce Ball | |
---
| | | |
| --- | --- | --- |
| Wednesday, January 5, 2022, 9:05 AM | | |
Remember when the Cubs signed Joc Pederson to replace Kyle Schwarber in left? That seems so long ago we tend to forget that OCTOBER was a part of the Cubs this season for the better part of nearly four months. After putting on one of the best spring training showings since Kris Bryant in 2015, Pederson got off to a horrendous start before landing on the IL with a wrist injury in late April.
He would miss roughly two weeks before returning to the team and when he came back was a completely different player. Not only was he thriving in the leadoff role for the Cubs, but he raised his average above .270 at one point, which is way up from his career .237 mark. As the season went on, Pederson started to come back to reality, but still produced with 11 homers and near 40 RBIs in his tenure with the team.
Following the Cubs 11-game losing streak, which took them from first place and forced them into sell mode, many changes were coming to this roster, and Pederson was the first change as he was traded during the all-star break to the Atlanta Braves. A highly touted first baseman in Bryce Ball came in exchange for Pederson as the Cubs began planning for life without Anthony Rizzo.
Ranked 19th in the Braves system before the trade, Ball was a 24th round pick in the 2019 MLB draft, but has performed way better than that since turning pro. Known as a typical power-hitting first baseman, Ball saw his power starting to show up as a member of the North Iowa Community College baseball team in 2018. Ball would later transfer to Dallas Baptist, the same school as Burl Carraway, where those power numbers followed.
As a member of Dallas Baptist, Ball went on to blast 18 homers in his first and only season with them, which saw the Braves take a chance on him in the 24th round. His 197,500 entry-level signing was a product of potential as that was way more than his valued slot level pick.
Immediately after joining the Braves organization, Ball put on a show which is why the Braves and many scouts felt Atlanta got a steal.
In 62 games spanning two organizations, not only did Ball post a .329 average, but a 1.023 OPS, which is unheard of for a rookie minor league player. The power that the organization fell in love with was still there 17 homers and 52 RBIs, while his 40BB and 50K showed the ability to not only make contact, but take plenty of walks. Entering 2021 with the Rome Braves, Ball was looking to build off what he learned during the instructional lead as the 2020 season pandemic prevented him from improving during the season.
2021 was a challenge for Ball this season, but that doesn't take away from his potential. In 54 games with Rome, Ball hit just .206, slugging six homers and driving in 31 runs. His patience at the plate was still there, but the dramatic dip in power was a bit concerning. Following the trade to the Cubs, Ball was placed in South Bend, where the results were not much better.
In 53 games with them, Ball hit just a .207 connecting for seven homers and 21 RBIs. That means in 107 combined games, Ball saw his Power numbers fall to just 13 homers and 52 RBIs while still taking 80 walks compared to 121 strikeouts. The lack of power may be a bit concerning, but his ability to take walks leaves the Cubs confident as they know he has an excellent feel for the strike zone.
The left-handed-hitting first baseman not only has the potential to be a 30 homer hitter, but is that rare breed that could hit for average and power. His tremendous eye in the strike zone makes it tough for pitchers as he doesn't often get himself out. That eye forces pitchers to throw him more strikes which is where that ridiculous raw power kicks in.
At 6-6 and weighing close to 240 pounds, Ball isn't going to scare anyone on the bases, but he is more athletic than most give him credit for. Despite seeing his power take a dip in 2021, Ball makes consistent hard contact and takes his share of walks while keeping a below-average strikeout rate intact. That strikeout rate slightly increased last season, but not enough to be alarming at this point.
From a defensive side of things, Ball isn't going to be a gold glove caliber player but has improved over the last two seasons. First base is where he will remain unless a DH comes to the National League, where the Cubs may rely on his bat more than his glove. Ball isn't ready to give up defensively yet as he continues to work on his throwing mechanics to be a better player. Ultimately, the bat and, in particular, the raw power is where he will do the most damage as the Cubs, like the return they received from Pederson.