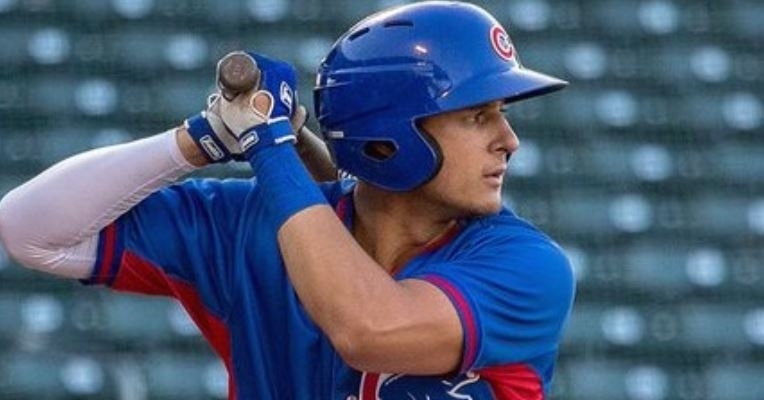 | | |
| --- | --- |
| Cubs Prospect Focus: Chase Strumpf | |
---
| | | |
| --- | --- | --- |
| Wednesday, February 1, 2023, 12:00 PM | | |
There was a time not all that long ago when the Cubs valued big bats on draft day. That approach worked for them as they made it to three consecutive NLCS and a World Series Championship. However, all good things must come to an end and the writing on the wall was at the end of the 2018 season when they lost the One-game Wild Card to the Colorado Rockies.
After all the success the then GM Theo Epstein had when it came to drafting and putting his team together, that success quickly ended as he resigned from his GM duties in 2021 and handed the team over to Jed Hoyer. Needing a complete rebuild of the farm system, Hoyer has done a fantastic job while also altering the teams approach on whom to target.
This once bat heavy farm-system has done a complete 180 as they are now a pitching heavy farm system. That doesn't mean they have no big bats in their system as that is far from the case, but Chase Strumpf is a classic case of what has happened to this farm system. The former second round pick in 2019, Strumpf was the top college bat on the board and was once a top 10 prospect in the system.
He has now fallen to No. 25 as the Cubs system has gotten much deeper, but make no mistake about it. Strumpf would be a top 10 prospect in a lot of systems as he continues to thrive with potential. Unlike a lot of players that were drafted in 2019, Strumpf not only saw action, but split time between three minor league levels.
Strumpf started in rookie ball and ended in South Bend where he finished the year with a .244 average, three homers and 17 RBIs across 39 games. He also added 12 doubles and became an extra base machine. Expecting big things in 2020, Strumpf had to wait a little while to get back on the diamond as COVID put an end to any 2020 season. Fast forward to 2021 and Strumpf was at it again splitting time between South Bend and Tennessee.
Across 78 games, Strumpf took his lumps along the way and managed to hit just .231. However with 19 doubles, seven homers and 36 RBIs the extra base potential was still there as he continues to come into his own as a player. 2022 marked the first time Strumpf would remain in one level all season where he was able to call Tennessee home.
Once again, his average was a bit low, sitting at .234, but he did play in a career high 116 games. During that time he connected for 22 doubles and 21 homers while bringing home 57. That is the type of power the Cubs were expecting from him and it was nice to see that on display. If there was a concern, it would be his ugly K rate as he had a career high 73 walks, but also a career worst 162K.
An immediate starter from the moment he arrived on the UCLA campus, the Cubs liked him so much that they signed him for more than one million dollars. Although Strumpf has more power than Nico Hoerner, a lot of scouts compared him to Hoerner due to their focus on driving the ball from gap to gap. However, Strumpf has gotten more aggressive at the minor league level and has seen some of that great hitting production vanish as his strikeout rate continues to climb.
Despite that, he is still taking his walks and making hard contact when he does put the ball in play, but the Cubs need to see more consistency from him. Like a lot of the Cubs draft picks from 2011-2016, Strumpf is always going to be known for his bat and that is his ticket to the majors.
A second basemen by trade, Strumpf has been playing a ton of 3B at the minor league level and that could be a good thing. The Cubs have a need for 3B at the major league level and if Strumpf continues to improve he could be that 3B of the near future. Ideally, the Cubs would like him to stay at second, but given the Hoerner contract extension potentially coming, 3B could be his spot and he played well over there when called upon.