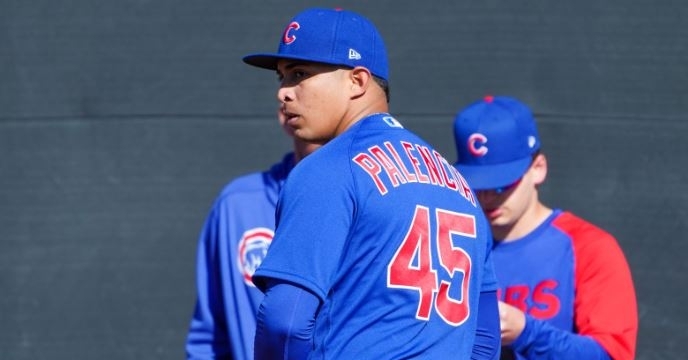 | | |
| --- | --- |
| Cubs Prospect Focus: Daniel Palencia | |
---
| | | |
| --- | --- | --- |
| Tuesday, February 7, 2023, 5:01 PM | | |
Now that we are cracking the top 20 in terms of the Cubs prospects, it is time to focus on the future of the organization. When you get into this area in the Cubs system, you immediately notice the amount of depth and quality of talent the Cubs have. No one is saying that everyone will pan out, but most of these players will play a role in the future of this team in one way or another.
One of the players to watch this season started to make a name for himself last year in Daniel Palencia. An international free agent signed by the Oakland A's in 2020, Palencia was quickly traded to the Cubs in exchange for Andrew Chafin. From the moment Palencia arrived in the Cubs system, you could see the amount of potential this kid had. However, it wasn't until 2022 that he started to show that potential.
After struggling mightily out of the gates in 2021 with Oakland, going 0-2 with a 6.91 ERA across six starts, Palencia started to get more comfortable in the Cubs system once he reached Myrtle Beach. He made seven starts with the Pelicans that summer, and despite throwing less than 30 innings, he posted a 1-0 mark with a 3.67 ERA. If there were something to point out, it would be the command, as he did have times when he struggled to throw strikes.
Looking to turn the corner in 2022, Palencia did that and more with South Bend, as he was a formidable arm in the Cubs rotation. Not only did he appear in 21, but 20 of those games were starts proving he has what it takes to be a starter at this level. The Cubs continued to watch his innings as he failed to reach 80, but with a 1-3 record and the 3.94 ERA, there is a ton to like about Palencia.
You also saw a significant improvement in his command last season, as he had 35BB and 98K. That was the key to his success last season, and it will be the key to his long-term success. When you look at the landscape of the Cubs minor league system, you can make a case for five or six guys who deserve to be the top pitching prospect in the system. Palencia is not considered the best right now, but he does have some of the best pure stuff and will only get better.
Standing at 5-11 and 160 pounds, Palencia needs to put on a ton of weight, but you never would guess that when you watch him pitch. Palencia emerged as a promising pitching prospect last season, mainly because of his fastball, which sits in the 96-98 MPH and can top out at 101 MPH. That gives him the best fastball in the organization, and the fans shouldn't worry about him losing velocity any time soon.
Not only does he throw hard, but his fastball has some of the best movement in the minors, making him more difficult to hit. He showed a better feel for a spin than Chicago initially expected, unleashing some mid-80s knuckle-curves that were wipeout-breaking balls at their best. Palencia has started working on a fading change that sits at 87 MPH. That is a pitch that he will work on a lot this upcoming season as he is trying to put it all together.
At this point in his career, Palencia still has a ton to prove, primarily due to his limited innings. Still, this is a guy who is not only confident, but is starting to show he has what it takes to remain in the starting rotation long-term. His delivery features effort and long-arm action, and he goes through stretches where the strike zone eludes him. If he does end up in the bullpen, his fastball/curveball combo could make him a late-inning option.
The 2023 season is going to be a big season for Palencia for a variety of reasons. First and foremost, Palencia needs to increase the innings on his arm to show he is starter worthy. Second, the third pitch he has started to work on needs to become average at best if he wants to keep hitters off balance. Finally, Palencia needs to continue to improve that command, consistently hit the strike zone, and let his stuff do the work for him. If he can accomplish that, this guy has the potential to skyrocket up the rankings next season.
https://www.youtube.com/watch?v=1jy1gA3BAC0