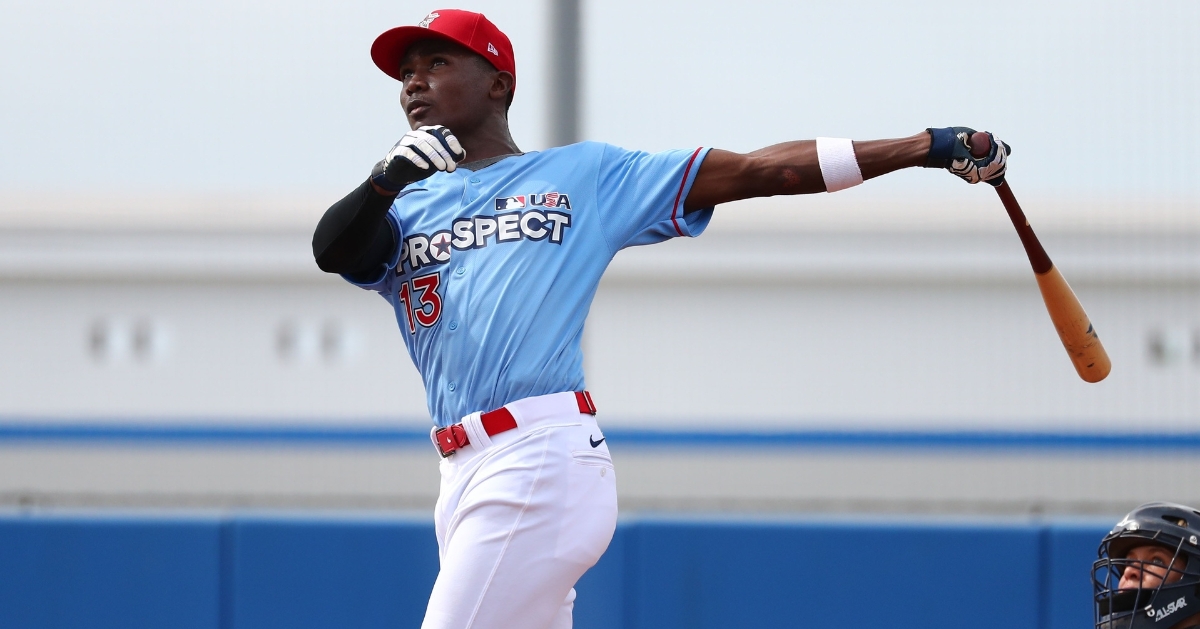 | | |
| --- | --- |
| Cubs Prospect Focus: Ed Howard | |
---
| | | |
| --- | --- | --- |
| Monday, December 20, 2021, 8:44 AM | | |
The Cubs may not have the top farm system in baseball or top 10 for that matter, but they are moving up in the rankings. Compared to where things were just a few seasons ago, their minor league system is vastly improved to the point where they could be the most improved system across the board.
Rankings are just rankings, and the Cubs rank in the top 15, but I still feel that is a bit low. Given what they have invested in trades over the last few years, this should be a top 10 system again, and they will soon prove why as the organization turns the page over to the 2022 season. One thing this system has better than any other is a boatload of shortstop prospects that would make anyone envious.
At one point, they had seven shortstops ranked in their top 30. That has gone down to five as new faces entered the organization and bumped others out. Most of the shortstop prospects they have are ranked in the top 20, and two are ranked in the top 10. Ed Howard is one of them, and the Cubs would love to see him as the face of their franchise for years to come for a variety of reasons.
Drafted 16th overall in the 2020 MLB draft out of high school, Howard was met with anticipation and plenty of unknowns about what type of player he could be. His professional days as a Chicago Cub are just getting started, but his ties to the Chicago area go way beyond that. Howard is a familiar name with the fans now, but before being drafted, his name was familiar in the Chicagoland area for different reasons.
Those of you who watch the Little League World Series might remember the Jackie Robinson West team from Chicago that advanced to the 2014 LLWS Finals. Howard was not only a part of that team, but played a massive role in the success they had that summer.
Six years later, he was drafted by his hometown team, making him just the third home-grown player ever to be drafted by the Cubs.
Although he was a high schooler when he was drafted, his potential is off the charts as many felt he was the best true shortstop of all the prospects. Knowing that it might take a lot to sign him instead of letting him attend college, the Cubs made sure they wouldn't miss out and signed him to an impressive 3.7 million dollar contract out of the gate.
Given that there would be no minor league season in 2020, the Cubs needed to find a way to get him on the field and see what he could do. They stashed him away at their alternate site during the season before sending him to the instructional league in the fall, where he impressed the team with his physical and mental maturity for his age. Hoping that would translate into 2021, where he would face Minor League pitching, Howard went through plenty of struggles during his first season.
Coming out of high school is hard enough to have immediate success at the minor league level. Missing an entire season due to COVID makes it that much more challenging, and Howard found out the hard way how tough it can be. Placed in Myrtle Beach for the year, Howard appeared in 80 games for the Pelicans, and they were anything but easy for him.
He logged 302 at-bats that season, but struggled to hit the ball, hitting just a .225 while logging a .277 OBP. A big reason for the low OBP was his 18 walks to 98 strikeouts, as he looked lost at the plate most of the season. Once he settled in, things started to come more naturally for him as he added nine doubles, three triples, four home runs to go with 31 RBIs. Howard also added seven steals as he showed plenty of growth as the season went on.
Howard is a shortstop, but showing the ability to play second was huge for his development. Although he was considered the best shortstop in the class, especially defensively, Howard spent more time at second base than at shortstop in the Minor Leagues. A big reason for that is fellow top 20 prospect Kevin Made broke out with the Pelicans and anchored down that shortstop spot.
At 6-2 and 185 pounds, Howard is the perfect size for the shortstop position, and there is no doubt that is his long-term fit. He has smooth and athletic actions to go with a strong and quick throwing motion that allows him to make throws across the infield. Not only that, his High Baseball IQ allows his tools to come full circle as the game seems to slow down for him once he gets comfortable.
The biggest key to his development will come from the hitting where he drew mixed reviews on the prep circuit. Those mixed reviews came full circle with Myrtle Beach, although that was a tough assignment for him after having a year off. Howard has an efficient swing that makes it easy for him to make contact, while his mature approach at the plate should generate consistent contact.
For whatever that, consistent contact was non-existent in Low-A last season, and he needs to improve on that. Given his frame, Howard will fill out a lot more, adding more strength. Add in his plus bat speed, and you will have someone capable of hitting 15-20 homers when it is all said and done. Although he didn't show it much last season, Howard is an asset on the bases and has a knack for stealing bases. He is just one of the many young guns the Cubs will look to in the next several seasons.