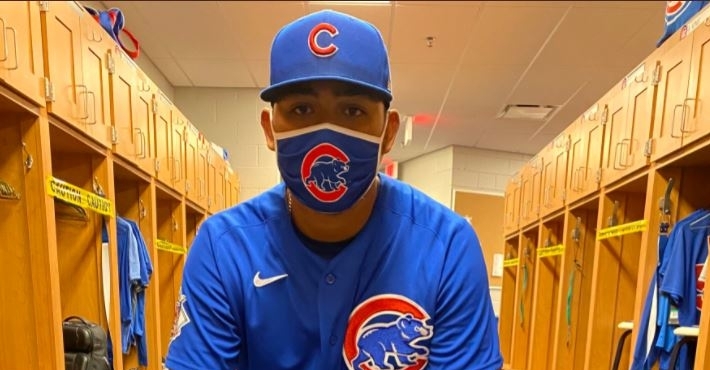 | | |
| --- | --- |
| Cubs Prospect Focus: Jeremiah Estrada | |
---
For the fans out there who are eagerly awaiting pitching help, patience is a virtue, and help is on the way. Sure, some arms in AAA could be ready this season, but for the most part, most of the talented arms in the Cubs system remain in AA or lower, with a bulk of them sitting in A-Level ball.
Usually, that wouldn't be an issue for team teetering on retooling or rebuilding, but the Cubs are not like most teams, and they have had problems
developing quality pitching. Another thing they had to deal with last season was a rash of injuries that some would argue stemmed from having no season in 2020 and putting an increased workload on a lot of players.
If you want to call that an excuse, fine, but the Cubs dealt with an unusual amount of injuries last season, especially when it comes to the pitching side of things, as a lot of promising arm talent took a hit in 2021. Jeremiah Estrada is one of those guys who saw an injury affect his 2021 season after getting off to a great start with Myrtle Beach.
A sixth-round pick for the Cubs in 2017, the 6-1 185 pound Indigo California native was off to an incredible start last season before an injury shut him down in late July and forced him to miss the remainder of the season.
He was off to a great start last season, and many felt he would have made the jump to South Bend or perhaps Tennessee by season's end had he stayed healthy all season.
Following the 2017 draft, Estrada was sent to Mesa, Arizona, where he spent some time in the ACL to end the season. Although limited action, Estrada gave the Cubs 6 1/3 innings of work across four games posting a 1.42 ERA with 6BB/6K. Not bad for a young arm that was just drafted, but things went south for him in a hurry.
Looking to build off that season in 2018, Estrada was placed on the ACL reserve list and never threw a pitch in 2018. This was not due to an injury, but for other reasons, so that was a shock to him and the entire Cubs organization. One season later, the Cubs wanted to see what he could do yet again and thus sent him north to Eugene to pitch for the Emeralds in Short-Season ball.
Again, Estrada was limited to just three games, making one start and delivering 10 2/3 innings of work. Although the 0-1 record with a 5.91 ERA wasn't too appealing, his 6BB/15K was as he showed a significant increase in strikeout rate, which was a good thing. However, just like in 2018, there was a pattern for Estrada as he didn't have a chance to pitch in 2020. This time it was due to COVID wiping away the minor league season, but regardless that made two out of four seasons that he wasn't able to develop a bit further.
Not knowing what to expect out of him in 2021, the Cubs sent him to full-season ball, where he landed with Low-A Myrtle Beach. Expected to monitor his innings, the Cubs wanted to see him start some games to see what they had in him. Over two months, Estrada was used sparingly, seeing action in 11 games, with two of those games coming as starts. Limited or not, he was impressive, which is why his injury was a bigger blow than most.
Estrada gave the Cubs 23 innings for the season, which were more combined innings than his first two seasons. He posted a 1-1 record with a stellar 1.57 ERA as hitters had a tough time doing anything off him. For further proof, look at their .214 average against him and the walk to strikeout rate where he walked six hitters and punched out 38. That comes out to nearly two strikeouts per inning, so Estrada showed considerable time potential to be a strikeout pitcher this season which was a pleasant surprise.
Since day one, Estrada has been a steady developer with a 93-96 MPH heater, which is his go-to pitch. He did touch 97 a few times last season, but he is comfortable in the 93-94 range, and that is good when you look at how easy he can get hitters out. To pair with that fastball comes his changeup that is nearly 15 MPH slower than his heater. Talk about offsetting a hitter's timing. Estrada needs to develop another secondary pitch and will continue to work on his slider as that offering.
Given the track record of Estrada, 2022 would be another season where he wouldn't pitch, as that is the pattern. Knock on wood that he will throw this season, the injury in 2021 is a concern, but not enough where the Cubs expect him to miss time this season. Look for him to start the year with Myrtle Beach again, where they can stretch him out as a starter. He could jump to AA Tennessee this season and set his sights on the MLB shortly after.
https://www.youtube.com/watch?v=AhMAM_pRcQQ
https://www.youtube.com/watch?v=PmpJUrUnKyw