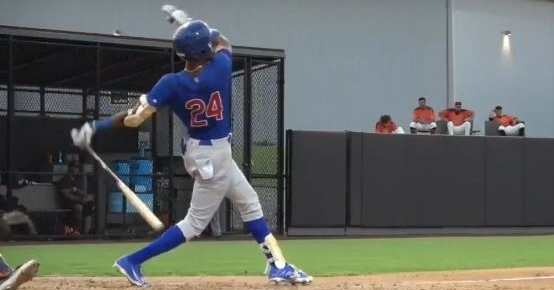 | | |
| --- | --- |
| Cubs Prospect Focus: Kevin Alcantara | |
---
| | | |
| --- | --- | --- |
| Friday, December 10, 2021, 10:00 AM | | |
Of all the Cubs' trades during their season, the Anthony Rizzo deal with the Yankees was the biggest shock of them all. I get that he was entering his free agency year and turned down an extension with the team, but after all, he has done for that franchise, I figured they would let him go out on his own terms instead of trading him away.
The only good that came out of that trade were two prospects that rank in the top 20 in the Cubs system. The keyword is prospects, as some of them don't pan out, but things look good so far in the early return stages of this trade. We touched on Alexander Vizcaino earlier in this series, but now it is time to touch on the best part of this trade in Kevin Alcantara.
Acquired via International Free Agency in 2018, Alcantara checks in as the Cubs No. 16 prospect, and it wouldn't shock me at all to see him climb near the top 10. For you who have not seen him play yet, Alcantara is a massive human who stands at 6-6 and weighs close to 200 pounds. From the body side of things, he reminds me of Jorge Soler while his swing has a lot of Alfonso Soriano in it.
Although he was one of the younger international prospects in 2018, Alcantara may possess the highest ceiling out of all of them. Because of that, the Yankees inked the 16-year-old to a one million dollar deal on July 12, 2018. Most felt he would land in the Dominican league to begin his professional career, but instead, Alcantara landed stateside and was the lone 16-year old to play on a US-based team.
Things didn't go smoothly as you would expect, but his real development came during New York's Instructional League program in the Dominican Republic. Right, when he started to get in his groove, Rizzo was traded to the Yankees in exchange for Alcantara and Vizcaino, and the Cubs couldn't be happier with the results they have seen thus far.
Across 41 games in 2019, which was his first season as a pro, Alcantara held his own, hitting .255 with one homer and 19 RBIs. His eight walks and 36 strikeouts weren't the greatest ratio in the world, but many expected that to improve with more experience at the pro level. After spending the 2020 season working on some things in the Instructional League, Alcantara came back with a vengeance in 2021 and put on quite a show.
He may have only played 34 games this season, but the results were miles better than what he delivered in 2019. Not only did he hit .345, but he belted five homers to go with 24 RBIs as the power is starting to come more natural. He struck out 36 times once again, but his 17 walks showed a dramatic increase in pitch recognition and plate discipline. With the Cubs, Alcantara hit .337 across 25 games and connected for four of his five homers to go with 21 RBIs, so there is plenty to like.
Although his height resembles a Soler while his swing resembles Soriano, Alcantara is built like a younger version of Dexter Fowler, which wouldn't be a bad thing. His size not only allows him to get great leverage on his swing, but produces excellent bat speed and some of the best exit velocities in the system. Once he fills out and adds more strength, you will see that power start to increase, and he should have plus tools across the board.
Those exit velocities also allow him to produce plenty of natural power as he has some of the best power in the system. Despite making reasonable contact in 2019, Alcantara still needs to get better at recognizing more advanced pitching, although significant strides were made last season.
Another thing that scouts and the Cubs love about him is his speed, as Alcantara is a plus runner. His 6-6 frame gives him long strides, which allows him to cover plenty of ground in center field to track down balls. Surprisingly, he isn't much of a threat to steal bases, but that may be a bit of an anomaly as he hasn't needed to use that aspect of his game a whole lot to this point.
While his center field defense is good, that may not be where his future lies at this point. Should he continue to add strength, which is almost a given when you look at his frame, Alcantara may lose or step or two, which would force a move to one of the corner outfield spots. That wouldn't be a bad thing either, as he has an excellent arm for a center fielder, and that arm would translate well in right field.
Alcantara also possesses some of the system's best knowledge and baseball IQ, which is often overlooked. That is a credit to how hard he works and how much he is willing to improve. 2021 was excellent in terms of overall improvement, but the next step is for him to get through an entire season. Hopefully, 2022 is that season, and the Cubs can see what he can do.