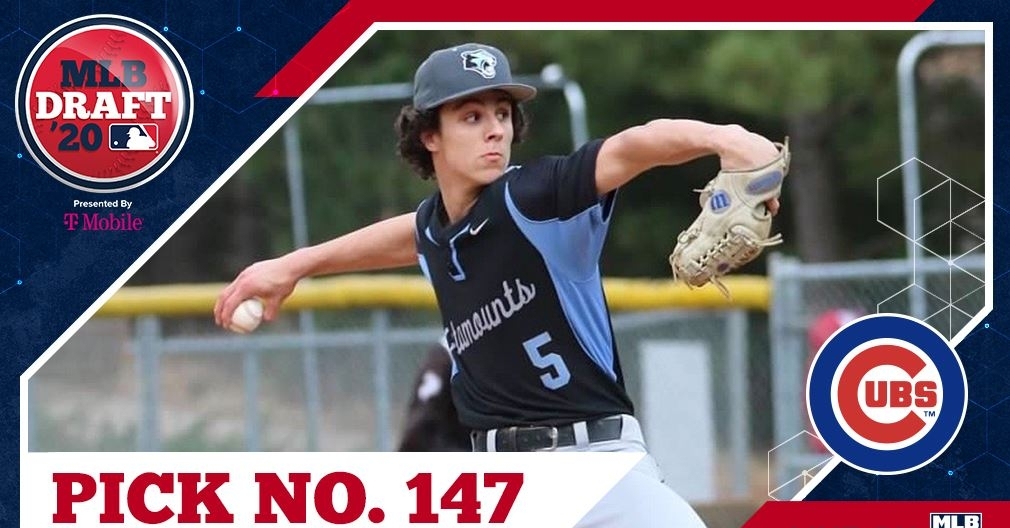 | | |
| --- | --- |
| Cubs Prospect Focus: Koen Moreno | |
---
| | | |
| --- | --- | --- |
| Friday, January 14, 2022, 8:59 AM | | |
The toughest part of the 2020 MLB draft was not only finding the correct talent, but only having five rounds to do so. Throw in the COVID 19 wrench that wiped away the remainder of the College season and most high school seasons, and it made things that much more difficult. Instead of having months of film leading up to the draft, teams had to bank on what they saw in 2019 or perhaps even earlier if a player was dealing with specific injuries.
That meant that unless you were 100% certain with the selection you were making, it was more of a pick based on potential over anything. That is exactly what the Cubs are hoping their fifth-round pick can turn out to be, as the 2020 5th round pick is not only an unknown in the system at this point, but has a long way to go to even know what he is.
I am talking about RHP Koen Moreno, who was selected 147th overall from Panther Creek High School in Cary, North Carolina. When it comes to taking prep arms, there is always risk involved as you don't know what you will get or how long it will take for them to develop. Add in that most high school pitchers have either had Tommy John or will require it in the near future, and they become more of a project over a prospect.
Moreno is the true definition of a prospect, and he is someone the Cubs are going to take a chance on when things fall into place. Unlike most high school pitchers who are still physically maturing, Moreno is 6-2 176 pounds and has a solid build at this stage in his career. Expect him to put on an additional 10-15 pounds of muscle, which will help him fill out his frame.
Another thing that immediately attracted the Cubs is his athletic ability on the mound, as he always seems to be in the right place at the right time. The biggest key when it comes to prep arms is throwing consistent strikes, and Moreno has done that for the better part of his entire prep career. Not only is he a strike-thrower, but he throws quality strikes with his fastball by using a glove side-breaking ball to keep hitters off balance and guessing from one pitch to the next.
Generally, when teams take high school arms, it is because they are high-velocity throwers who are expected to gain velocity over time. Moreno was the exact opposite of that spectrum and had one of the worst overall fastball velocities in the draft class. Not only did he average just 86 MPH with his heater, but his curveball sits around 82, which doesn't create much difference between his fastball and off-speed stuff.
For any pitcher to be elite, they need to have a nice gap in velocity between their heater and off-speed stuff to keep a hitters timing off balance. Moreno knew that he needed to improve his fastball and spend the entire summer getting his average velocity into the 90 MPH range, which was a significant surprise. Moreno also saw his fastball touch 94 MPH in the fall of 2020, so credit his work ethic for doing what he needed to do to increase that velocity.
The biggest concern for Moreno is his elbow right now, as he was placed on the 60-day IL following his selection with a stress reaction in his elbow. That forced him to sit and do nothing until the Fall instructional league, where he only threw one inning all season. Looking for big things out of him in 2021 or at least enough to have a plan of attack for him, Moreno was again slowed with an injury during spring training that saw him miss the start of the regular season.
Things went from bad to worse for Moreno as his extended time away from the mound forced the Cubs to once again place him on the 60-day IL effective July 21. He stayed on that list through early November, and he has finally been medically clear to resume throwing. That is excellent news for the Cubs and their minor league affiliates, as they still don't know what they have in him.
I never want to write anyone off before getting a chance, but Moreno needs to see the mound this year for him to have any future with the Cubs. Look for him to land with the ACL Cubs this summer so the Cubs can monitor his innings and make sure he is ready for a full-season role. Once that time comes, they will need to decide his fate, whether as a starter or reliever.