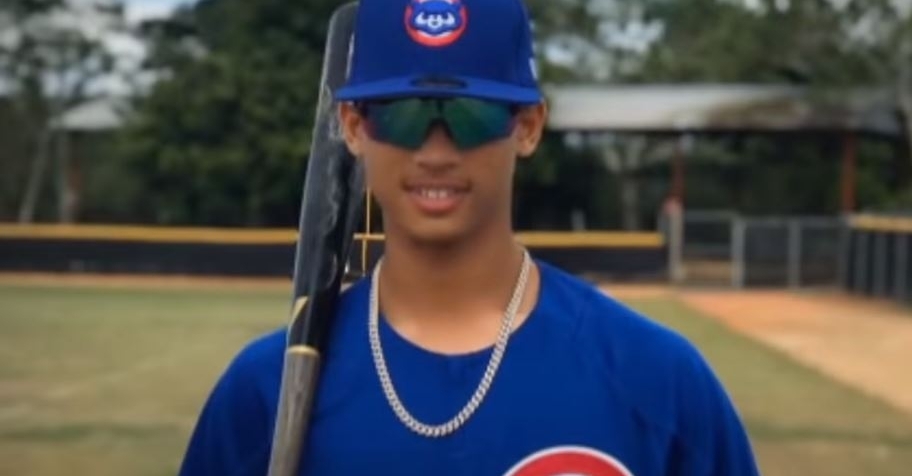 | | |
| --- | --- |
| Cubs Prospect Profile: Cristian Hernandez | |
---
We continue to move down the Cubs top prospect list as we are about to crack the top 20. In this spot lands a player still a highly coveted prospect but has tumbled down the ratings over the past season. That has nothing to do with his overall performance, but instead, the general state of the Cubs organization is much better than it once was.
Formally the No. 1 prospect in the system, SS Cristian Hernandez just finished his first season of full season and now lands at No. 20 in the organization's top 30. That is a far cry from where he once was, but given his upside and overall potential, he could reach the top 10 again.
Signed as an International Free Agent in 2021, Hernandez was one of the more highly coveted International products that summer and was the top signing by the Cubs during that free-agent period. Considering the age and the Manny Machado/Alex Rodriguez comparisons, the Cubs didn't hesitate to make him one of the higher paid International free agents and inked him to a three million dollar entry-level contract.
Only 17 years old at his signing, the Dominican-born Hernandez was seen as the next big International product and expected to make an instant impact as soon as he touched the field. The Cubs felt the same way, and they believed he had more upside than any other International prospect in the system, which is why they wanted him to get game action as soon as possible.
Given his age, the Cubs knew they would have to take a patient approach with him, and they have done that so far throughout his first three professional seasons. As a 17-year-old, Hernandez made his professional debut in the Dominican Republic and played one summer in the Dominican Complex League. During that time, he impressed, hitting a .285 across 47 games with five homers, 22 RBIs, and 21 stolen bases. He also had nearly as many walks (30) as strikeouts (39), which was impressive at such a young age.
One summer later, Hernandez was brought stateside, where he spent the season with the Arizona Cubs in the ACL. Expected to take some bumps along the way, Hernandez held his own, slashing .261/.320/.357 with a 30 percent strikeout rate. His power numbers went down with three homers and 17 RBIs, but that is all part of the learning process, as he is still trying to figure out his type of player.
It is rare to see a 19-year-old succeed in full-season ball, but it is even rare when a 19-year-old starts the year in full-season ball, which is what Hernandez did this past season, getting an opportunity to shine with Myrtle Beach. Sure, the .223 average isn't great, but that is to be expected, given his age and inexperience. He did play in 106 games and showed the Cubs he has plenty of durability in him and connected for four homers and a career-high 40 RBIs. The 39BB/118K rate needs to improve, but with 27 stolen bases this past season, Hernandez displayed a bit more speed than he showed in the past.
While his offensive numbers aren't eye-popping at this point in his career, Hernandez has elite bat speed and has 25-30 homer potential. A lot needs to change for him to reach that potential, but most of that will come with more playing time on the diamond. A big reason for his low power numbers is that he has yet to tap into his strength as a player and is more of a line-drive hitter.
He has yet to learn to let his pop come naturally rather than pulling too many pitches and chasing too many out of the strike zone. Once he adds more strength and lets that power come to him naturally, you will start seeing the numbers everyone expects from him, which could be a massive thing for the Cubs.
A shortstop by trade, Hernandez spent a ton of time at second base last season and will get looks at both third and the outfield this season. The more positions he can play, the better he will be, as that will be the quickest way to get him moving up through the system. He possesses the solid arm strength and quickness you look for in a shortstop, but he also has the reaction time that gold glove outfielders own.
With Jefferson Rojas looking very good at SS this season, Hernandez may be willing to switch positions if it helps the team win. If Hernandez slows down more than expected as he matures physically, he could wind up at third base or the outfield corners. 2024 will be a huge developmental season for him as the Cubs will challenge him to see what he can do as a player.
https://www.youtube.com/watch?v=dmoLfI67E7Q