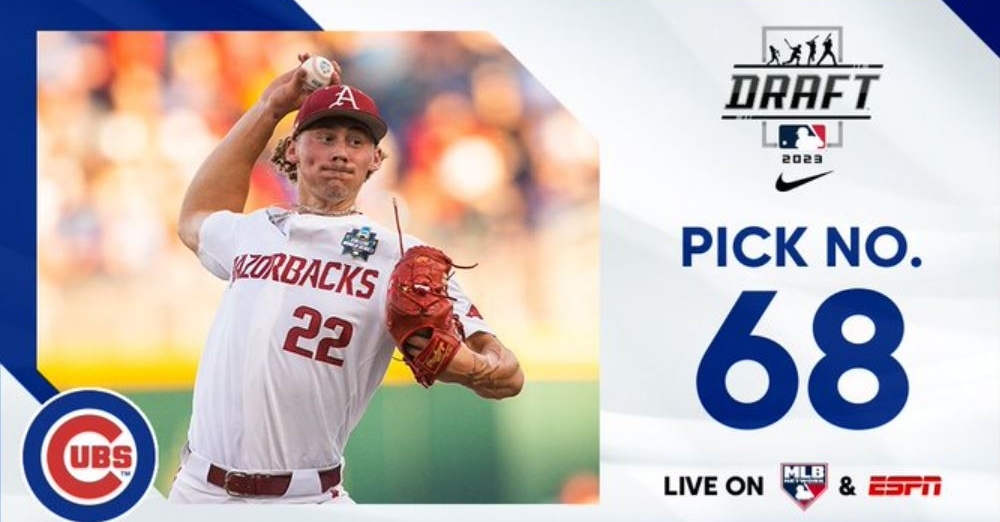 | | |
| --- | --- |
| Cubs Prospect Profile: Jaxon Wiggins | |
---
As the Cubs embark on a new era of Cubs baseball with Craig Counsell as their manager, the way the minor leagues are handled will also see a significant change. During the past three seasons, as the Cubs were restocking their farm system, Jed Hoyer made it a point to bring these kids along slowly to ensure they are ready.
That is a significant change compared how things were done when Theo Epstein and Joe Maddon were here, but it has worked out in the Cubs favor. With Counsell running the show, there will be a mix of the slow development process the Cubs are currently on, paired with the fast-tracking he used in Milwaukee. The pitching side of things is where Counsell did the fastest tracking, and the Cubs have several intriguing arm options as potential fast-track options.
The No. 24 prospect in Jaxon Wiggins is one of those intriguing options, as the Cubs still have no idea what they have in the right-hander. A second-round pick in the 2023 MLB Draft, the former Arkansas Razorback is another massive pitcher, standing 6-6 and weighing nearly 230 pounds. Wiggins flashed first-round potential as a prep start in Oklahoma, but after posting an ERA of 6.19 during his first two seasons at Arkansas, he nearly pitched his way off the map.
Then can the fall practices of his junior season where Wiggins not only looked like the pitcher of old but was pitching like a front-line starter. Unfortunately, his elbow began to bother him as the season got closer, and he chose to have Tommy John surgery to take him out of the 2023 season. Still, the Cubs loved what they saw from him before the injury and not only drafted him in the second round, but gave him a $1.4 million dollar contract in July.
Although he has yet to pitch in the Cubs system, Wiggins will begin the 2024 season with the ACL Cubs, where he should be ready to go without any restrictions on that arm. If he is back to 100%, Wiggins hopes to get back to displaying that 94-97 MPH heat that was one of the best in last year's draft class. He has gotten up to 99 sometimes, but when he does, there isn't much movement, and that pitch would get hit harder than you would think.
Along with that heater comes his secondary pitches, including his 89 MPH slider that continues to get a ton of swings and misses. Wiggings also adds an 86 MPH fading change that acts like a splitter and upper 70s curveball that he rarely throws, but is expected to throw much more once he gets back on the mound. A starter most of his college career, look for Wiggins to begin 2024 as a reliever as the Cubs will look to protect his arm as long as possible.
Should Wiggins get back to the velocity he is hoping for while still missing bats, he may be one of those guys who stays in relief and could be one of those players fast-tracked to the majors. You can never have enough power arms in the bullpen, and Wiggins would undoubtedly be a power arm if that is the decision the Cubs make for him.
Like most young and unproven pitches, for Wiggens to succeed, it will all come down to his control in the strike zone, which he has had problems with in the past. He has a history of falling behind in the count, and when that happens, hitters hit near .300 against him. When he gets ahead in the count, they hit closer to .200 against him, so you can see how crucial having excellent command is.
Not having the trust to land his secondary pitches and overthrowing his fastball has been the significant issue to his control problems, and that is something the Cubs will work with him on once he lands in Arizona. His encouraging progress last fall had scouts hoping he was on the upswing before his elbow gave out, and now the Cubs are hoping his progress is only the beginning of what could be a great career.