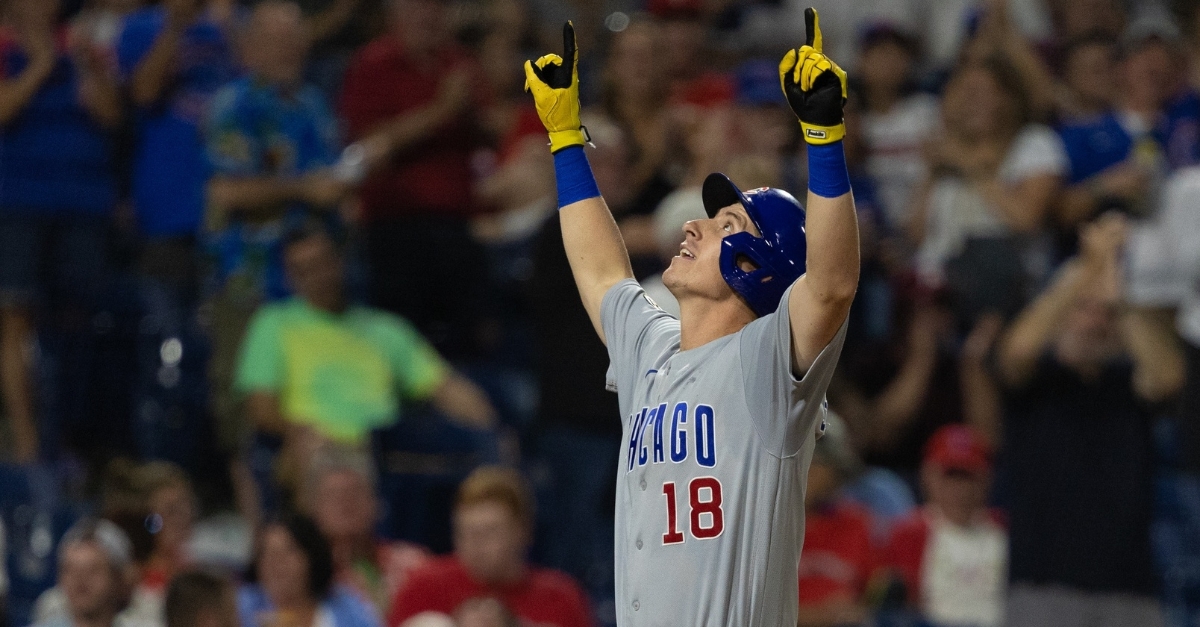 | | |
| --- | --- |
| Cubs rally twice but lose on walk-off passed ball | |
---
| | | |
| --- | --- | --- |
| Thursday, September 16, 2021, 9:37 AM | | |
PHILADELPHIA – Say what you want about the Chicago Cubs (66-80) and their record, but manager David Ross deserves a ton of credit for keeping this team together. When the trades were made at the deadline, and this team lost 12 straight games, it could have continued to get worse from there. Instead, Ross found ways to rally these men and have them playing some decent ball at the moment going 14-11 since that season-long skid.
Wednesday was another example of Ross's impact on this new group of players as they took on the Philadelphia Phillies (73-72) at Citizens Bank Park. Despite digging themselves an early three-run hole, the Cubs never quit and continued to battle until the ninth inning when Matt Duffy tied things up with his fourth homer of the season. Unfortunately, the Phillies are playing for their playoff lives, and they were able to walk the Cubs off 6-5 when Robinson Chirinos was charged with a passed ball.
Taking the ball for the Cubs was Alec Mills as he continues to go about his business in the rotation. Across his 4 2/3 innings of work, Mills wasn't at his best as he was charged with four earned runs while giving up six hits. Mills also walked two and struck out four before giving way to Scott Effross and the Cubs pen.
Looking at his line, Mills was doing what the Cubs have seen out of him for the better part of the last month, keeping the Phillies off the board through three innings. Unfortunately for the Cubs, Ranger Suarez was impressive on the mound matching Mills through those first three innings while giving the Phillies six strong innings. Suarez was charged with two earned runs in six innings while striking out eight in the process.
With the game tied 0-0 in the bottom of the fourth, Mills started to run into some trouble as the Phillies had plenty of traffic on the bases. With
Bryce Harper leading off the inning with a double, he would advance to third as JT Realmuto connected for a single to put runners on the corners and no outs. Mills bounced back with a crucial pitch getting Didi Gregorius to groundout out into a double play, but Harper scored on the play putting the Phillies up 1-0.
After walking Andrew McCutchen to extend the inning, Freddie Galvis got into one and crushed it over the right-field fence, putting the Phillies up 3-0 after four. In the top of the fifth, the Cubs began to rally as the top of the order did the damage. Much like Philadelphia, the Cubs led off their half of the fifth with a double as Matt Duffy got the party going. Shortly after, it was time for Frank, the Tank Schwindel to make his presence felt as he went the opposite way off Suarez to pull the Cubs within 3-2 following his 12th homer of the season.
To be Frank. pic.twitter.com/o60VRsQGvG

— Chicago Cubs (@Cubs) September 16, 2021
Philadelphia continued to keep the pressure on in the bottom of the fifth, with Suarez leading off the inning with a double before sitting on second with two down. After intentionally walking Harper to face Realmuto, Effross was called on to pitch and abruptly allowed an RBI single, which had the Phillies in front 4-2.
That score would hold until the eighth inning when the Cubs started to get to the struggling Phillies bullpen. With Ian Happ getting hit to start the inning, the tying run came to the plate in Patrick Wisdom. Although he made solid contact, he didn't get the job done lining out to center for the first out. Chirinos, however, did get the job done as he took one over the left-field fence for his fifth homer of the season, and just like that, the Cubs battled back to tie things up 4-4.
A game-tying blast for @robinson28ch! pic.twitter.com/0UZPBMV1oe

— Chicago Cubs (@Cubs) September 16, 2021
Momentum quickly went back in the Phillies favor as Realmuto led off the bottom of the eighth by taking a Codi Heuer pitch over the right-field fence giving the Phillies a 5-4 lead after eight.
With just three outs remaining and the Cubs down to their final at-bats, Joe Girardi called on his close Ian Kennedy to finish the job. I'm pretty sure Girardi didn't have allowing a home run in his notes which was precisely what happened as Duffy led off the Cubs half of the ninth inning with his fourth homer of the season and third in the last 20 games.
Matt Duffy's turn for a game-tying homer! pic.twitter.com/ny7JAdXQ4S

— Chicago Cubs (@Cubs) September 16, 2021
That was the only hit for the Cubs in the ninth, but it was a big one as it was time for the Phillies to bat with Trevor Megill slated to pitch.
After allowing a leadoff single to Andrew Knapp, Megill was on the verge of keeping things scoreless as a pair of groundouts moved Knapp to third, but with two outs. Facing a tough hitter in Jean Segura, Megill fell behind 2-0 and had first base open. Instead of walking him to get to the next hitter, Megill went with a knuckle-curve only to see Chirinos mishandle it behind the plate. It got away, and Knapp hustled home to give the Phillies a walk-off 6-5 win.
Leave Alec Mills as a starter
Although Wednesday was not one of Mills better starts this season, he has done more than enough to prove he is a starter in this league. Even though he has a 4.50 ERA this season, his ERA since joining the rotation is 4.14, which follows a similar career trend.
In 178 innings as a starter, Mills has done a great job going 14-13 and posting a 3.75 ERA. Compare that to his work out of the bullpen, where his ERA is 5.25, and you can see a drastic difference. Mills is not going to wow you on the mound, but he knows how to pitch, and a lot of times, that is what works in this league. Mills should lock down one of those spots with openings in the rotation for next season, as he has done more than enough to earn a spot.
Alec Mills' curveball is a thing of beauty. ??

(??: @WatchMarquee) @ATMills37 pic.twitter.com/A2B11XwJLt

— Cubs Zone ™? (@CubsZone) September 15, 2021
When all the dust settled from the trade deadline, Contreras was the last remaining piece from the core group that won the world series. With one year left on his contract, it made a ton of sense to keep him around, and it wouldn't surprise me at all to see the Cubs work on an extension for him.
However, this season has been a struggle for Contreras offensively as he hasn't been the hitter the Cubs hoped he would be. Despite hitting close to 20 homers so far, his .226 average is by far the lowest of his career, while his hard-hit rate is low too. He has done a better job on pitch framing, but his caught stealing percentage is around 23%, also a career-low for him.
Now back behind the dish, Contreras doesn't appear to be 100% as the brace on his knee should tell you. A big reason for that could be his injuries this season, especially the recent knee injury that saw him miss almost a month of action. Tuesday saw the Cubs get in a big scare as he came up limping after trying to tag Harper out on a close play at home.
I get how vital he is to this lineup, but you have Chirinos, who has done a great job filling in, and Austin Romine, who you signed as a free agent this offseason.
Fluid sequenced, right to left, left to on target throw by Robison Chirinos - Chicago Cubs. Catches it backhanded, turns the ball up immediately. pic.twitter.com/JOTZpqbavW

— Goodro Catching (@goodrocatching) September 16, 2021
With the Cubs eliminated from the division and most likely the wild card, it is time to sit Contreras the rest of the way and ride with Chirinos and Romine the final three weeks. It will give him the time he needs to get healthy and regroup for hopefully a better 2022.
Willson Contreras hit by pitch in the hip. He needs an Advil sponsorship. He's now been plunked 15 times this season. #Cubs

— Russell Dorsey (@Russ_Dorsey1) September 16, 2021
The Cub Killer
There was a time a few years ago before Contreras became the catcher he is when the Cubs tried to trade for Realmuto. After failing to send the Marlins a good enough package, the Cubs also could have nabbed him free agency, but he chose to resign with the Phillies.
Realmuto has been a Cub killer since the moment he arrived in Philly and is hitting north of .333 against them. Now that he will be there for quite some time, the Cubs have to face him twice a year, spanning six or seven games, and thankfully that is all they see him. That continued Wednesday, picking up three hits to go with his go-ahead eighth-inning homer.
Realmuto would have looked great in a Cubs uniform, but that would have meant that Contreras needed to be traded. Ironically, that could still happen, but this time Realmuto won't be walking through those doors anytime soon.
179) J.T. Realmuto - (15) Solo pic.twitter.com/2Us7B2PumK

— Phillies HR Tracker (@PHI_HR_Tracker) September 16, 2021