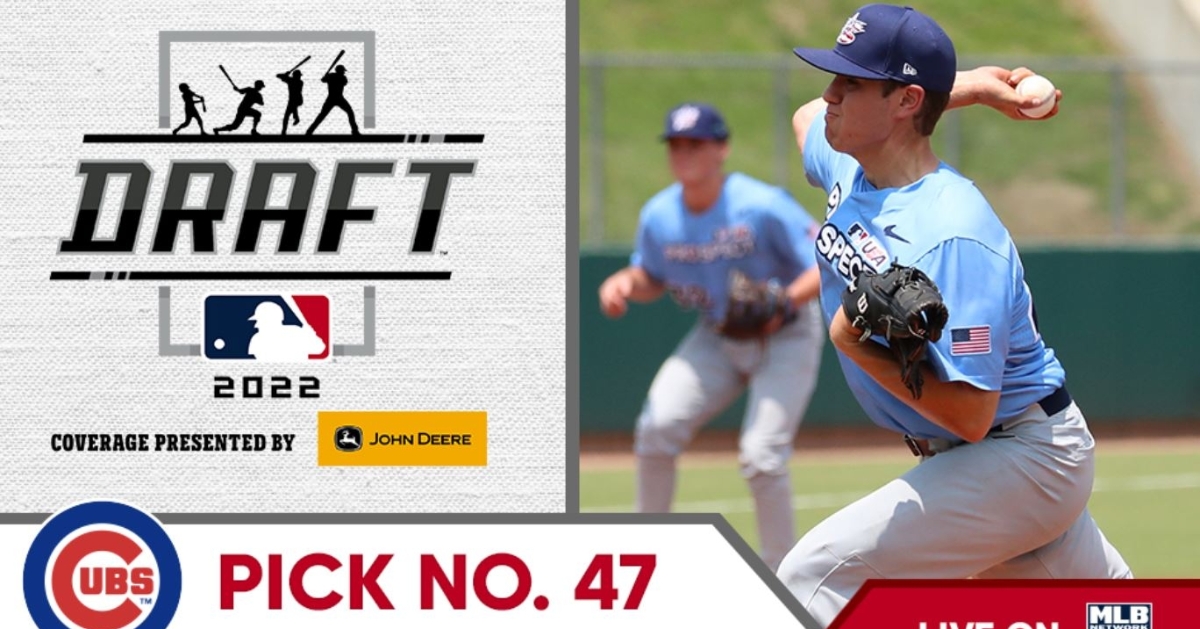 | | |
| --- | --- |
| Cubs sign 11 more selections including 2nd rounder Jackson Ferris | |
---
| | | |
| --- | --- | --- |
| Saturday, July 30, 2022, 12:23 PM | | |
CHICAGO – The Chicago Cubs today announced they have signed 11 more selections in the 2022 First-Year Player Draft, including their second-round selection, left-handed pitcher Jackson Ferris, and their fourth-round pick, right-handed pitcher Nazier Mulé.
Ferris was recommended by area scout Tom Clark and Mulé was recommended by area scout John Pedrotty.
Ferris, 18, was 8-0 with a 1.33 ERA (8 ER/54.1 IP) in 10 outings for IMG Academy in his senior season. He struck out 103 batters for an average of 17.1 strikeouts per 9.0 innings while walking 15 hitters. Ferris held opponents to a .142 batting average (28-for-197) and a .203 on-base percentage.
Ferris transferred from Mount Airy High School in North Carolina to IMG Academy prior to his junior season and went on to post a 0.55 ERA in 50.2 innings, striking out 86 batters.
Mulé, 17, a two-way player at Passaic Valley High School (N.J.), pitched and appeared at shortstop and designated hitter during his high school career. Both a right-handed pitcher and a right-handed hitter, Mulé in two seasons as a pitcher went 9-2 with a 2.18 ERA and 163 strikeouts. He was named was named to the All-State Second Team for the second-straight season in 2022 after he led Passaic Tech with 41 hits, with a New Jersey-leading eight home runs and 34 RBI.
Cubs announced they're up to 19 of their 20 draftees signed, including 2nd-round pick LHP Jackson Ferris and 4th-round pick RHP Nazier Mulé.

Source confirmed Ferris signed for 3,005,000, Mulé for $1 million, both over slot as expected. @jimcallisMLB, @JonathanMayo 1st on $

— Maddie Lee (@maddie_m_lee) July 30, 2022
The Cubs have signed 19 of their 20 selections from the First-Year Player Draft.
Here is a look at Chicago's 20 selections from the 2022 First-Year Player Draft (players in bold have been signed by the club):
Rd. (Pick) Player Pos. School Birthday B T Ht. Wt.
1 (7) Cade Horton RHP University of Oklahoma 8/20/01 R R 6-1 211
2 (47) Jackson Ferris LHP IMG Academy (Fla.) 1/15/04 L L 6-4 195
3 (86) Christopher Paciolla SS Temecula Valley High School (Calif.) 3/16/04 R R 6-2 185
4 (113) Nazier Mulé RHP Passaic Tech High School (N.J.) 10/15/04 R R 6-3 210
5 (143) Brandon Birdsell RHP Texas Tech University 3/23/00 R R 6-2 240
6 (173) Will Frisch RHP Oregon State University 7/14/00 R R 6-0 222
7 (203) Nick Hull RHP Grand Canyon University (Ariz.) 8/21/99 R R 6-0 205
8 (233) Mason McGwire RHP Capistrano Valley High School (Calif.) 1/5/04 R R 6-4 190
9 (263) Connor Noland RHP University of Arkansas 7/20/99 R R 6-2 215
10 (293) Brody McCullough RHP Wingate University (N.C.) 6/30/00 R R 6-4 205
11 (323) Branden Noriega LHP No School 7/9/01 L L 6-2 180
12 (353) Mathew Peters RHP Ivy Tech Fort Wayne (Ind.) 12/28/00 R R 6-4 215
13 (383) Luis Rujano RHP Sunshine State Elite Academy (Fla.) 4/22/03 R R 6-4 200
14 (413) Shane Marshall RHP University of Georgia 3/15/00 R R 6-4 210
15 (443) Haydn McGeary C Colorado Mesa University 10/9/99 R R 6-5 235
16 (473) JonPaul Wheat RHP Next Level Academy (Ala.) 8/3/02 R R 6-5 185
17 (503) Andy Garriola OF Old Dominion University 12/15/99 R R 6-5 235
18 (533) Garrett Brown RHP University of Georgia 11/6/99 L R 6-7 218
19 (563) Brock Blatter RHP Billings Central Catholic High School (Mont.) 7/10/04 R R 6-6 215
20 (593) KeShun Collier OF Meridian Community College (Miss.) 12/21/00 L R 5-8 160