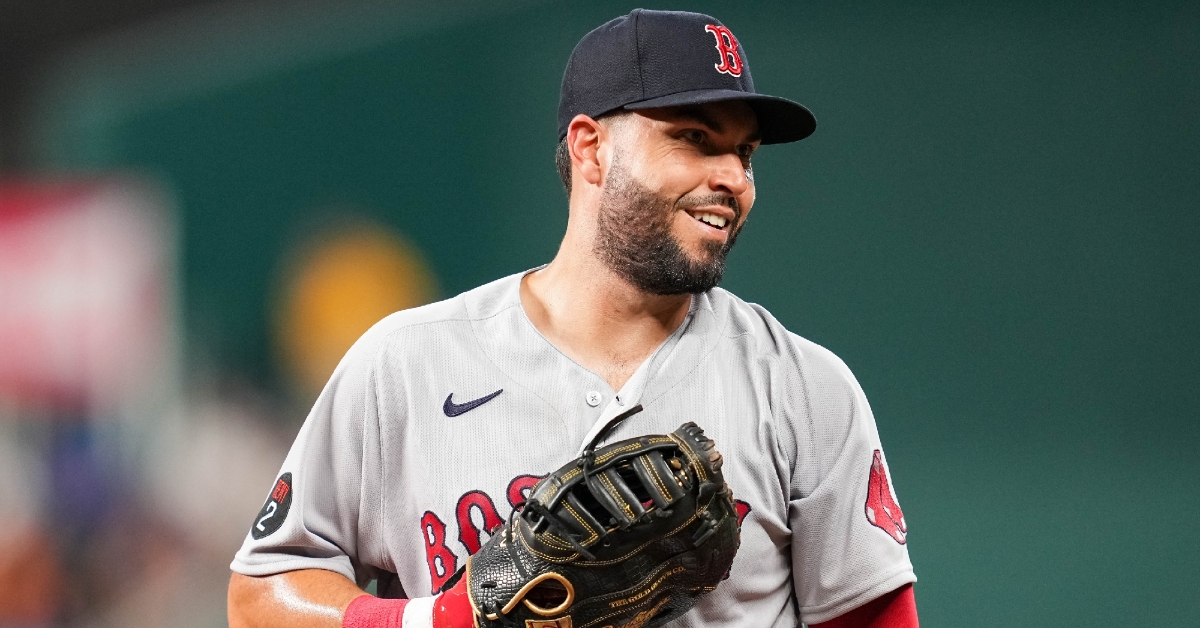 | | |
| --- | --- |
| Cubs signing four-time Gold Glove winner Eric Hosmer | |
---
| | | |
| --- | --- | --- |
| Tuesday, January 3, 2023, 7:53 PM | | |
It has been long expected that the Cubs would not only add left-handed bats this season, but also look for corner outfield help. After picking up Cody Bellinger very early in the free-agent period, the Cubs addressed an immediate need for left-handed help while also filling their void in center field. The Cubs also have Ian Happ (Switch), Tucker Barnhardt (Switch), and Matt Mervis as potential left-handed options, so they have more options this season than last.
Even at that, the Cubs feel they need to do more work on their roster, starting with improving their corner infield spots. According to reports, the Cubs are about to sign a new first baseman as, Eric Hosmer and the Cubs are close to reaching a deal. What this means for Mervis remains to be seen, but I expect Mervis to see time at first base or hold down the DH role this season.
When it comes to Hosmer, this is a name that has been thrown around the Cubs organization for the last several years. The Cubs came close to trading for him in 2020 when he was a Padre, but a deal never came to fruition. Following his release from the Red Sox earlier this winter, Hosmer was immediately linked to the Cubs, and the feeling was mutual as the two sides have been talking for weeks.
Looking at the first base market right now, Trey Mancini and Hosmer are the two best options, but you can see why the Cubs are focussing on Hosmer. He may be older than Mancini, but he will come much cheaper and can be had on a shorter deal. He is also a left-handed hitter, which the Cubs wanted, so you can see why this is a perfect fit.
When you look at the Cubs lineup right now, you immediately notice that they focussed on getting rid of so many ground ball hitters in exchange for fly ball hitters. Hosmer had a career-worst ground ball rate last season, but he has the reputation of being a fly ball hitter, so a change in scenery will do him good.
What makes this potential deal that much more appetizing is that the Padres are paying Hosmer's contract for the season. That means the Cubs only have to give him the veterans minimum of 720K.
Considering the type of production the Cubs have gotten at first since Anthony Rizzo was traded, Hosmer can at least offer them league-average offense, which they will gladly take.
The problem with him is something the Cubs tried to get away from as he does have a very high ground ball rate in recent years, needs to play a better defensive first base, and is also a left-handed hitter to go with Mervis. That sounds like a negative signing, but the Cubs are just looking for someone to hold the fort down until Mervis is fully ready, so in that aspect, this is okay.
Ideally, you would have liked to see a lefty/righty first base platoon, but the Cubs still have that option if they want Patrick Wisdom to fill that void. You could move Mervis or Hosmer to the DH spot to get the most offense you can get. He may not be the favorite or the top choice among the first base options left, but outside of Mancini is the one that makes a ton of sense.
From an offensive side, Hosmer was once a 25-30 home run hitter, but those days are long gone. Still, he has an above-average bat and should still be able to give you close to 20 homers with ample plate appearances. Hosmer also hits .287 off righties, making this signing clear, cut and dry if it happens. Worst case scenario, you plug him against righties and get the most out of him you can.
Keep in mind the Padres are still paying him the next three seasons, so if things work out this year, you could bring him back again for less than Mancini, who is looking for 11 million a year. Oh, another thing. Eric Hosmer's projection for 2023 at ZiPS is .286/.340/.431/107 OPS+, which, yeah, sounds about right. An upgrade for what the Cubs figured to have at first base (non-Mervis edition), but not an impact bat.
Those numbers also won't block Mervis either, should he prove to be the real deal, and that opens up even more possibilities for this team. Regardless of what Cubs fans feel about this deal, it is an excellent one for the Cubs, making a ton of sense for the team this year.