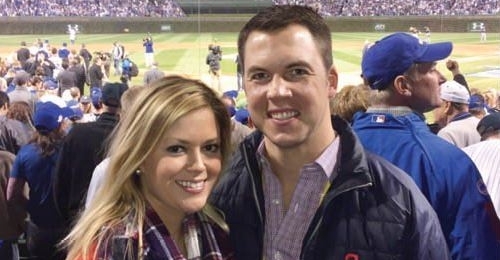 | | |
| --- | --- |
| Cubs targeting Carter Hawkins as their next general manager | |
---
| | | |
| --- | --- | --- |
| Thursday, October 14, 2021, 9:50 AM | | |
There are a lot of important decisions for the Cubs to make this offseason, but none are as important as finding a new GM to take over. After Theo Epstein left with one year remaining on his contract, Jed Hoyer was promoted from GM to President of baseball operations. In the process, it left a vacancy at GM, which was never filled during the season.
With the offseason in full force for the Cubs, Hoyer knows this offseason will be crucial and that all starts with hiring a new GM. About two weeks ago, a report broke, which indicated four people Hoyer was going after for the new GM position. Well, that list appears to be shrinking to one as Hoyer seems to have found his man for the job.
Although nothing has been announced officially to this point, it does appear that Cleveland Indians assistant GM Carter Hawkins could be the new GM for the Cubs. The 37-year-old Hawkins is a decorated front office executive who has spent 14 years with the Indians organization, rising the ranks in the process. Not only does he come with some GM experience acting as the assistant GM recently, but he has filled scouting roles and other crucial front office roles, giving the Cubs a broad experience.
The thing that stands out the most when looking at Hawkins has been his overall success in scouting and player development. That is something that Hoyer preached during his offseason presser last year, and it is something the Cubs wanted to focus on and get better with. When you look at how good the team has been over the past 14 years, especially since 2012, you can see that not only have the Indians been good at scouting and player development and extremely good at developing pitchers. That has been the Achilles heel for the Cubs, so maybe Hawkins can help change that.
Hawkins began his career on the scouting side after playing collegiately for Vanderbilt University. After spending several years in scouting, Hawkins was promoted to the player development side of things before becoming the director of player development in 2014. Two years later, he continued to rise through the front office ranks, earning the assistant GM job in 2016, where he has spent the last six seasons.
This was a name that I was not particularly familiar with at the time, but after digging more into his background, I like the decision, and Hawkins fits exactly what the Cubs are trying to do at this point. Not only is he a young and brilliant baseball mind, but he has years of experience filling a variety of roles. Not to mention he has been performing at a high level for a great organization that consistently turned out winning seasons and postseason berths, and that is something to look into.
Cleveland had to go through some lean and rebuilding years, but nothing like the Cubs went through from 2011 to 2013. Not only did Cleveland find success in a hurry, but they eventually became an AL powerhouse making it to the World Series in 2016 before losing to the Cubs in seven games. Hawkins played a significant role in that turnaround, given his efforts in the scouting and player development department, as those players are the ones that contributed.
Going through another rebuild, although hopefully not as long this time around, the Cubs want to create a new culture focused on scouting and player development. Despite the Cubs' run from 2015-2018, the lack of overall player development was evident as this team crashed and burned much faster than anyone expected. After reaching the top of the mountain in 2016, the team followed that up with an NLCS loss in 2017, but has failed to record a playoff win since. In fact, they have missed the playoffs twice in the last three years as their once-dominant core has now been traded to different organizations.
Whether those players were brought up too soon, or the team developed them in a specific way, will never be known, but the bottom line is the players didn't adjust the way fans had hoped, which goes back to a lack of development throughout the minor leagues.
The Cubs can't afford to go through another lengthy rebuild, and they can't afford to make the same mistakes again when it comes to developing their top prospects. That is why Hawkins could be such a crucial get for this organization. You wanted Hoyer to go outside the organization to find the next GM, and he certainly did that.
Both are needed for this Cubs team, so boxes were checked at that point. Hawkins was not only part of a winning culture with Cleveland, but he was part of an organization that excelled at player scouting and development. After watching what he helped put together in his 14 years in Cleveland, the Cubs have complete confidence in him doing the same thing here. It may take two years for the Cubs to make the postseason again, but the state of the organization will be in good hands once he gets his development and scouting side of things in play.