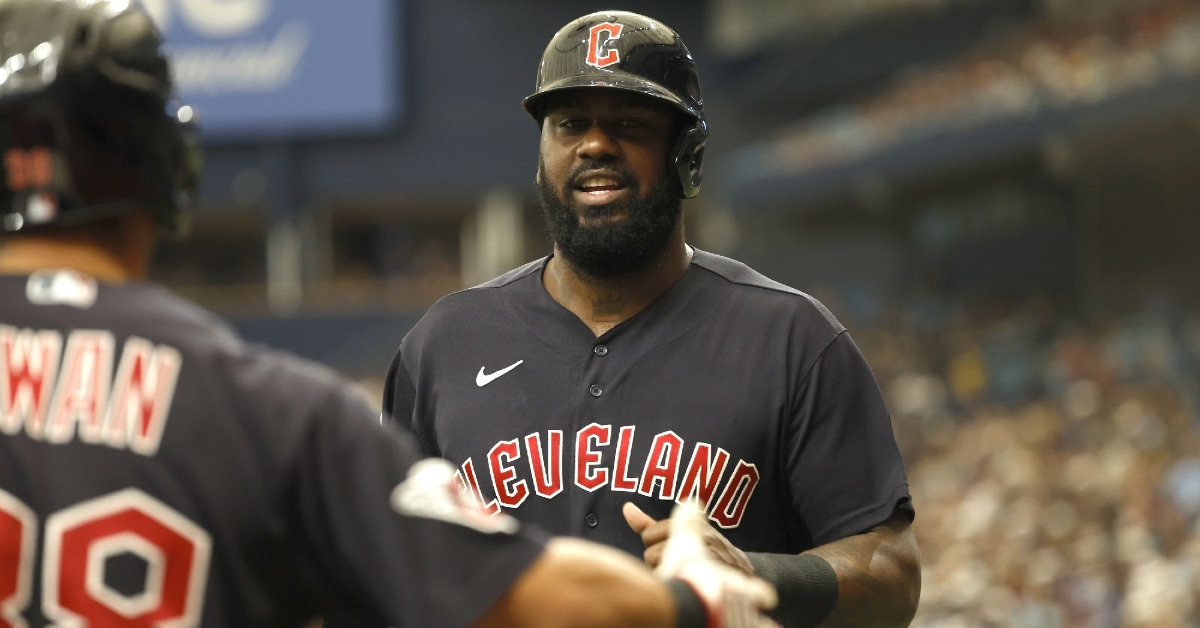 | | |
| --- | --- |
| Cubs trade for outfielder Franmil Reyes with Guardians | |
---
| | | |
| --- | --- | --- |
| Monday, August 8, 2022, 3:37 PM | | |
Just when you thought all of the Cubs deadline deals were over, they swoop in and make a move that is full of intrigue. According to multiple reports, the Chicago Cubs have elected to take a flyer out on Franmil Reyes and have signed him to their roster.
Reyes was designated for assignment by the Guardians last week and now has a new home to finish out the season and possibly beyond. Reyes is owed 1.5 million dollars for the rest of this season and is arbitration eligible this winter, so you can see why the Cubs were intrigued to bring him in.
Not to mention he is a terrific clubhouse guy, which will go a long way with the young roster this Cubs team has. While we don't know the corresponding move at this point, I think it is safe to say that Jason Heyward may be done as a Cub, and Reyes could be brought in to take his place.
Another thing you immediately notice about this signing is the history of Reyes, who, up until this season, was known for his power numbers until this season. We have seen it the last two seasons when talking about the Cubs outfield, where they have lacked the power that most outfields have. Perhaps Reyes will rediscover his form and provide the Cubs with a nice outfield power bat.
For his career, Reyes is a .253 hitter who has slugged 101 career homers. That includes his dismal 2022, where he is hitting just .213 this season with nine homers. This is coming off a season where Reyes ripped 30 homers and drove in 85, as that was his best season since 2019.
Going back to that 2019 season where he split time with both San Diego and Cleveland, Reyes mashed 37 homers while driving in 81 RBIs. Besides this season and the COVID-shortened 2020, Reyes has always hit at least 16 homers a season, so the power potential is there.
While I question why this move was made, you can see why the Cubs are taking a flyer on him now instead of a few years from now. For starters, at just 27 years old, Reyes is still young and could play his way into a more profound role next season.
Secondly, not only does he come cheap this season, but given his terrible 2022 showing so far, he could very easily come cheap in arbitration giving the Cubs another outfield option to plug in. You also have to look at where the Cubs are this year and know they are not going anywhere. This is the perfect time to bring in players like Reyes to give them a fresh start without putting them in the middle of a pennant race.
The final thing this move does for the Cubs is that it gives them more flexibility on this team. Should Reyes land on the big league roster, you can put him in left field and move Ian Happ to center field. When Seiya Suzuki needs days off, Reyes can swing to right field and lock that position down.
Having a DH will also help Reyes as he can very quickly come in there and be an everyday DH, and that may not be a bad thing if you are the Cubs. No one is expecting this guy to come in and play at his 2019 and 2021 levels, but he still has plenty of talent where he can make some noise.
This is one of those pickups that is not being made for this season, but solely a flyer to see if he can potentially rekindle the magic to land on the roster next year. With Jackson, Frazier wasn't given much of a look this season and, after being released, is now a minor league player at best. Heyward remains injured, so his outfield spot is active, but the one player to watch with this pickup is Frank Schwindel.
After exploding during the second half of 2021, many thought Schwindel could emerge as the everyday first basemen this season. However, it has been a season plagued with struggles and injuries as his days with the Cubs could be numbered. Should the Cubs give Reyes that roster spot, look for PJ Higgins and Patrick Wisdom to handle the first base duties the rest of the season while Reyes will be your DH.