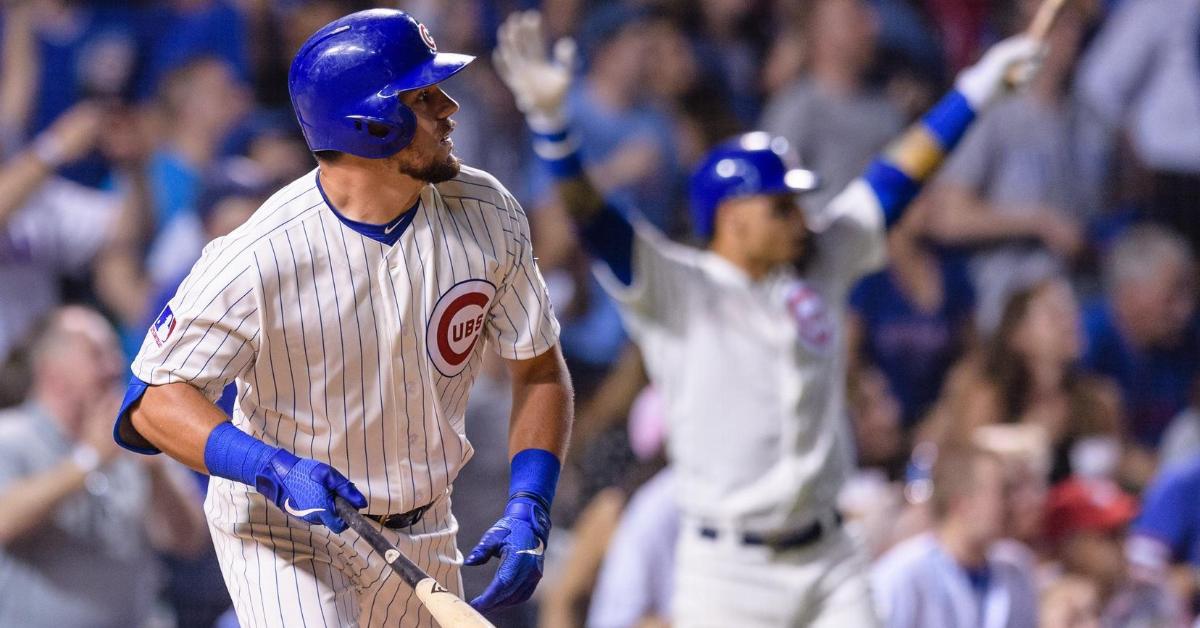 | | |
| --- | --- |
| Cubs vs. Padres Series Preview: TV times, Starting pitchers, Predictions, more | |
---
| | | |
| --- | --- | --- |
| Monday, September 9, 2019, 5:01 PM | | |
Injury Report:
CUBS: Kris Bryant (day-to-day- knee); Javier Baez (thumb); Yu Darvish (limited pitch counts- forearm tightness); Craig Kimbrel (elbow- though he is expected to be activated during this series); Addison Russell (questionable-struck in the head with a pitch on Sunday).
PADRES: Jose Castillo (finger); Franchy Cordero (elbow); Miguel Diaz (knee); Brett Kennedy (arm); Ian Kinsler (neck); Aaron Loup (elbow); Francisco Meija (oblique); Adrian Morejon (shoulder); Jacob Nix (elbow); Garrett Richards (elbow); Adam Warren (forearm).
Series Overview:
Now down 40% of their starting infield, the Cubs are trying to cling to life in both the NL Central standings and the NL wildcard picture.
Somehow, the Cubs' season has gotten flipped around, as they've begun losing at home while winning on the road- well, at least more than they were. Their offense remains sporadic, and the bullpen remains untrustworthy. So far as the starters are concerned, Kyle Hendricks, Yu Darvish, and Jose Quintana remain solid, but Cole Hamels continues to falter, creating deficits that the Cubs have been unable to overcome.
The Padres haven't been very lucky (or very good) - that's been the case for several seasons. At this point, the only reason that they're even in fourth place in the NL West is that the Rockies season has suffered a major avalanche.
The Padres are closing on their ninth consecutive losing season, which would match the franchise

record, set in the first nine seasons of the team's existence— 1969-77.

— Buster Olney (@Buster_ESPN) September 5, 2019
The Padres never had a chance to win the division this year, as the Dodgers seemed to have clinched somewhere around April 15th, but despite Los Angeles continuing their domination of the West, the Padres were certainly expected to do a little better than this. At this point, they have nothing to lose, so they now assume the role of "spoiler" for whomever they play, from now until the end of the month.
Mound Matchups
Monday: Kyle Hendricks (9-9, 3.47 ERA) vs RHP Cal Quantrill (6-6, 4.57 ERA). Game information: 9:10 PM CDT; Televised on WGN.
Kyle last faced the Padres on July 21 at Wrigley Field, in a game that didn't end well for the Cubs. Although the Professor went seven solid innings, allowing just two runs, the Cubs' offense failed to provide any run support, and the bullpen (Carl Edwards Jr. and Kyle Ryan) gave up three runs in the ninth inning. During that outing, Hendricks fanned five, walked a pair and gave up a total of four hits, one of them being a home run.
After Adrian Morejon started that game (2.1 innings), Cal Quantrill came in as a delayed starter and ended up cleaning house. For the next 5.2 innings, Quantrill fanned six, while giving up just two hits in a scoreless outing.
Quantrill has been smoked in his last three outings, giving up a total of 19 runs in just 15.1 innings, with back-to-back outings (vs. the Dodgers and D-Backs) resulting in eight runs each. Those three outings saw Quantrill's ERA go from a respectable 3.32 up to 4.57.
Tuesday: LHP Jose Quintana (13-8, 4.00 ERA) vs RHP Ronald Bolaños (0-1, 3.00) Game information: 9:10 PM CDT; Televised on NBC Sports Chicago+, MLB Network (out of market only).
Who'd have thought back in March, that Quintana would be the Cubs' winningest pitcher of 2019? Indeed not many, as Q was considered the Cubs #4 starter. In Q's last dozen starts (dating back to 6/29), the Cubs have gone 10-2, while outscoring their opponents 86-36. Thinks the Cubs will exercise their team option over the winter?
Q faced the friars on July 20, a game that resulted in a 6-5 win by the Cubs. Quintana did allow all five runs that day (three earned runs) in five innings of work, but on the bright side, he fanned seven and walked only one.
Rookie righty, Ronald Bolanos, has just one start under his belt and has never faced the Cubs. Bolanos was effective in his inaugural outing, lasting 6.0 innings while allowing only a pair of earned runs on five hits and a pair of walks (four strikeouts).
The Cubs should have no problem clobbering this kid, so long as the offense shows up to play and they quit chasing bad pitches.
Wednesday: LHP Cole Hamels (7-6, 3.95 ERA) vs RHP Chris Paddack (8-7, 3.54 ERA). Game information: 9:10 PM CDT; Televised on ESPN, ABC-7, ESPN (out of market only).
Cole Hamels has started to worry me. Period. Although he joked a couple of weeks back about how he and Jon Lester were "competing to see who could suck the most," Hamels is, unfortunately, starting to emerge as the winner of that competition. Since his oblique injury on June 28 (vs. the Reds), the Cubs have gone just 3-5, losing in Hamels last three starts and four of his previous five.
Over his past six outings, Hamels has given up a total of 25 runs (24 ER) in just 25.1 innings of work. Although Cole has fanned thirteen over his last three starts, he's given up a total of 21 hits, including three home runs, and has issued a half-dozen walks. Hamels not seen the Padres this season.
Hamels counterpart for this series will be Chris Paddack, who' also not seen the Cubs this season. The Friars have lost four in of Paddack's last six starts, and much like Hamels, he's taken a bit of a beating lately.
Despite coming off a six-inning, scoreless outing against the D-Backs on Wednesday, in his last four starts, Paddack is averaging less than five innings per outing. He's allowed a total of 12 runs (11 earned runs) over those starts while giving up 25 hits (four homers) and has issued four walks while striking out 22.
Thursday: RHP Yu Darvish (5-6, 4.12 ERA) vs RHP Dinelson Lamet (2-4, 3.95 ERA). Game information: 2:40 PM CDT; Televised on NBC Sports Chicago.
Darvish did well in his last outing against Milwaukee on Saturday, although he'd get no-decision in the Cubs' loss. Due to the forearm tightness that Darvish has been dealing with, Maddon kept him on a short leash and plans to do the same for the remainder of the season. Darvish hasn't seen the Padres this season.
Although San Diego has not yet officially announced Lamet as the starter for the finale, one source that I use has named him. Let's hope this is the case, as the Padres have gone 3-8 in Lamet's 11 starts this season. Lamet has also not faced the Cubs this year, although one outing against Chicago last year yielded a win for him (5.0 IP, 5 H, 2ER, 1 HR, 1 BB, 8 K).
*** The Padres have not officially announced a starter for the finale.
Series Prediction:
I like all but one matchup in this series- Hamels vs. Paddack, but still, the Cubs road record needs to be figured into the equation. While I'd love nothing more than to forecast a sweep, I think the Cubs end up with another 2-2 split- maybe a 3-1 series win if the offense can produce five or more runs a game.
Next up: A three-game set with Pittsburgh at Wrigley Field, which sadly (or maybe mercifully), will start the Cubs' final homestand (10 games) for 2019.

Tags: Cubs Baseball
,
,
,
Yu Darvish
,
Addison Russell
,
Adam Warren
,
Kyle Hendricks
,
Jose Quintana
,
Cole Hamels
,
Kyle Ryan
,