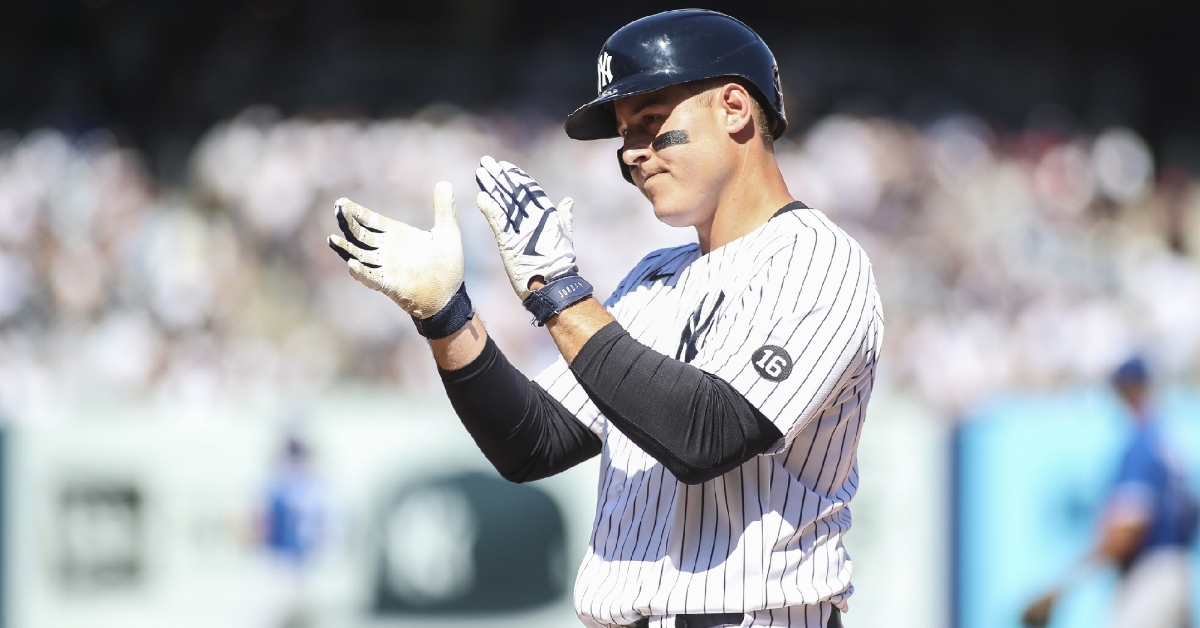 | | |
| --- | --- |
| Cubs well represented by former players in 2021 MLB Playoffs | |
---
Now that the Chicago Cubs 2021 season has come to a close, fans remember the good times of the past and what could have been for this organization. After all, it was just five years ago when the Cubs took home a World Series title on a Rainy Night in Cleveland and had all the makings of becoming the next great dynasty.
That is why baseball is such a cruel game and why it is so challenging to play. In a matter of five years, the Cubs went being the best team in baseball to back in a rebuild mode. It was a decline that was surely to come at some point, just not as quickly as it did. A big reason for the sudden takedown was a core group of players who underachieved and the constant losing of players that contributed to that World Series run.
Of the 25 players who were on the roster that night, only four remain with the Cubs. Those players are Jason Heyward, Kyle Hendricks, Willson Contreras, and of course, manager David Ross. Yes, the Cubs still have some coaches with the team from back then, but for the most part, this is an entirely different looking team as 21 players have come and gone.
Look at the postseason this year, as the Cubs are very well represented across the board to show you how successful this team could and should have been. Not only do they have several fan favorites in the postseason, but there is a large chunk of World Series heroes who get to play in the postseason. This goes to show you how fast things fell for this organization.
AL EAST:
New York Yankees: Coaches Phil Nevin: A guy who was pre-world series days, Nevin spent 2006 with the Cubs and was part of the last team before Lou Piniella took over. Not a star by any means, Nevin was a valuable that did what he needed to do to stick with an organization.
Players: Aroldis Chapman, DJ LeMahieu, Gleyber Torres, and Anthony Rizzo: The Yankees are very well represented by former Cubs as four former players are part of that roster. Three of them played a significant role in the World Series title, with Chapman and Rizzo earning rings, with Torres being part of the trade that brought Chapman over.
LeMahieu follows a much different track as he was traded to the Rockies long before reaching the Yankees. One of the better hitters in the Cubs system, LaMahieu had a cup of coffee with the Cubs major league roster, but the team didn't elect to keep him. Had they known he would have turned into the hitter he is, I doubt they would let him go.
RED SOX: Coaches: Will Venable: Both a first and third base coach in recent years with the Cubs, Venable sought out different opportunities this season as he had intentions of becoming a manager. While no job came calling this season, he did earn a promotion from Alex Cora and became the Red Sox bench coach, where he will learn valuable lessons on the bench.
Players: Kyle Schwarber: One of the many heroes of the 2016 world Series, Schwarber's story is perhaps one of the best. The young left fielder blew out his ACL colliding with Dexter Fowler just four games into the season and was deemed done for the year. Instead, Schwarber worked his way back for the World Series and came away with seven hits in four games.
His remarkable comeback was something Cubs fans never expected and one that will go down in history. While his production was not always the greatest, Schwarber emerged as a true home run hitter in 2019, which has continued this season.
Tampa Bay Rays: Chris Archer: One of the least-represented teams is Tampa Bay, which only has Chris Archer on their roster. In case fans forgot, Archer was once a first-round pick by the Cubs before being dealt to Tampa in exchange for Matt Garza. Archer was the ace of the Rays for several seasons while Garza had an up and down career before being traded to Texas in 2011. This was another what-if move that may have set the Cubs up for more long-term success.
AL CENTRAL
CHICAGO WHITE SOX: Coaches Miguel Cairo: Not a famous name, but Cairo did play a few years in the early 2000s with the Cubs under Don Baylor before ultimately retiring shortly after.
Players: Dylan Cease, Ryan Tepera, Craig Kimbrel, Billy Hamilton, and Eloy Jimenez: Another well-represented team is the Chicago White Sox, and this team hurts the most. Not only did they receive Tepera and Kimbrel to bolster their pen around the trade deadline, but they acquired Jimenez and Cease in 2017 in exchange for Jose Quintana.
Although it took Cease a few years to figure things out, he has quickly turned the corner to become one of the best strikeout pitchers in the game. He would look great in Cubs uniform near the top of their rotation. Jimenez may be the one move that stings the most. Traded in the middle having a breakout minor league campaign, everyone knew the type of player he had the potential to become. Now that he has reached that level, it is a gut punch to this organization as the White Sox won that trade.
AL WEST
HOUSTON ASTROS: Coaches: Dusty Baker: The infamous manager during the Cubs 2003 NLCS run, Baker had a nice three-year run of success with the Cubs from 2003-2005 before fizzling out in 2006. Since then, Baker has taken several other teams to the postseason, including the Washington Nationals and now Houston Astros, as he continues to be one of the best managers in the game.
Players: Kendall Graveman, Brooks Raley, and Martin Maldonado: Of the players on the Houston roster who were former Cubs, Maldonado and Graveman ring the most familiarity. Maldonado was acquired midseason during 2019 and gave the Cubs an excellent backup catcher to help with injuries. He didn't last long and was then traded once again.
Graveman was acquired himself in 2019 from the Oakland Athletics and was recovering from Tommy John during his time with the Cubs. Although he never appeared in a game, he did work his way back and played a significant role in South Bend winning the Midwest League title that season. Raley, much like Graveman, was a former pitching prospect in the Cubs system who appeared in a handful of games in 2011. As nice as it would be for any former player to get a ring, it is hard to root for the Astros.
NL EAST
ATLANTA BRAVES: Eric Young Sr: Another player that many people forget about, Young was part of the Cubs in 2000 and 2001 while batting leadoff and playing second base. During that 2000 season, Young hit .297 with six home runs, 98 runs, and 54 steals. 2001 brought similar results. Young was the true definition of a leadoff hitter that brought a high contact rate with him along with blazing speed.
Players: Jesse Chavez, Drew Smyly, Joc Pederson, and Jorge Soler: Another one that got away, Soler was traded to the Kansas City Royals for Wade Davis in 2017. Drafter out of Cuba in 2013, Soler signed a nine-year contract with the Cubs. Despite dealing with many injuries during his three seasons on the North Side, Soler produced, especially in the postseason.
After his trade, he became one of the more consistent power hitters in the game. That didn't come as a shock to anyone, as that is what the Cubs expected from him. It would have been nice to see him stay in Chicago a bit longer. On the other hand, Pederson was brought to the Cubs in free agency this year and produced at times and didn't produce at times. He did, however, bring in Bryce Ball, who could be the future at first base for the Cubs.
Smyly and Chavez were two players who were looked at as crucial pieces at a time for the Cubs. Smyly dealt with injuries his entire tenure in Chicago, while Chavez had one of the best second halves with a team in recent memory. Neither one of them has done much since, but the Cubs enjoyed their time with both.
NL CENTRAL
MILWAUKEE BREWERS: Brett Anderson, Colin Rea, and Dan Vogelbach: For a team desperate for pitching, the Cubs certainly have tried to fill that void. They signed Anderson in 2017 to a one-year deal and got six starts out of him before he got hurt. Ironically, he has been a consistent innings eater since he left, which is someone the Cubs could have used.
Rea was the 2019 PCL pitcher of the year posting a 14-5 mark with a 3.95 ERA with Iowa. With the 2020 minor league season canceled, Rea worked his way onto the major league roster and gave the Cubs a few outings on the bump. Outside that, his time was short and sweet.
Vogelbach is an intriguing name as he was once a top 10 prospect in the Cubs system. Around the same time as Rizzo was, the only way he would play was if Rizzo was traded or hurt. Not only did that not happen until this season, but Rizzo was very durable. At just 30 years old, Vogelbach is on a one-year deal and could be brought back to Chicago to platoon with Frank Schwindel next season.
ST. LOUIS CARDINALS: Jon Lester: Perhaps the most beloved Cub on this list, along with Rizzo, would be the southpaw, Jon Lester. His free-agent signing in 2015 signaled the end of the rebuild as the Cubs went on to advance to three consecutive NLCS after. Now with the Cardinals, it is hard to root for him, but you kind of have to at this point.
Lester recently notched his 200th career win, with 77 of those wins coming as a member of the Chicago Cubs. Not only that, but he has also been one of the best pitchers in postseason history and was a big reason the Cubs won the world series. While the end of his career hasn't gone as planned, he wouldn't trade anything for it, and the Cubs fans were privileged to have him for six seasons.
NL WEST
LOS ANGELES DODGERS: Coaches: Brant Brown and Mark Prior: Perhaps the best pitching prospect to ever don a Cubs uniform was Mark Prior in 2002. Drafted in the first round out of USC, Prior burst onto the scene in 2002, before going 18-6 with a 2.43 ERA in 2003. The hard-throwing control freak had all the makings of being a legitimate ace for years to come, but injuries to his shoulder halted his career and forced him out of baseball sooner than he would have liked. For his career, Prior logged a 42-29 record with a 3.24 ERA.
On the other hand, Brown is lesser-known than Prior but had two stints with the Cubs organization from 1996-98 and then again in 2000. Not much of a hitter in his day, hitting .247 with just 45 homers in his career, he knows how to coach hitters as the Dodgers offense is lethal. 1998 was his best season as a pro with the Cubs as he put together a .291 average with 14 homers and 48 RBIs to help the Cubs reach the Wild Card round of the postseason.
Players: Cole Hamels and Billy McKinney: As much as you want to hate on the Dodgers for consistently winning, you must give them credit as they will do what they need to do to win. Much like Torres mentioned in the Yankees portion above, McKinney was part of the deal that landed Chapman with the Cubs. He was a promising outfield prospect in the Cubs system that didn't seem to have a path to the majors at that point. Trading him aside was easy.
Hamels deserves to have one more ring, even if it comes with the Dodgers. Much like Lester, Hamels was a fan favorite in his short time with the Cubs, going 14-10 with a 3.76 ERA across two seasons. Not the pitcher he once was, Hamels had an impressive postseason run with the Phillies in 2008-10 and earned his lone ring there. With this most likely being his last season in baseball, winning a ring would put the icing on the cake.
SAN FRANCISCO GIANTS: Tyler Chatwood, Jose Quintana, Tommy La Stella, and Kris Bryant: The most prominent name on this list is Bryant, who was dealt his tearful goodbye from the Cubs on July 31, 2021. Since arriving in San Francisco, Bryant has enjoyed a fair amount of success while enjoying his time with his new teammates. Now is the time for him to use his postseason experience and put the team on his back.
La Stella, Chatwood, and Quintana all had moments of greatness with the Cubs, but also moments of struggle. Quintana saw some success during the 2017 and 18 seasons, but he didn't do much for the Cubs outside of that. La Stella emerged as the game's best pinch hitters in 2016, while Chatwood saved his career in 2020 by moving to the pen.
As disappointing as it is not to have the Cubs in the postseason this year, there are several fan favorites to root for as they are going for another ring. This will be one epic postseason, and there is a 100% chance that a former Cub will get a ring this season.

Tags: Cubs Baseball
,
Jason Heyward
,
Kyle Hendricks
,
Willson Contreras
,
David Ross
,
Aroldis Chapman
,
Anthony Rizzo
,
Kyle Schwarber
,
Dexter Fowler
,
Ryan Tepera
,
Craig Kimbrel
,
Jose Quintana
,
Joc Pederson
,
Jorge Soler
,
Wade Davis
,
Brett Anderson
,
Colin Rea
,
Jon Lester
,
Cole Hamels
,
Tyler Chatwood
,
Tommy La Stella
,
Kris Bryant
,
Will Venable