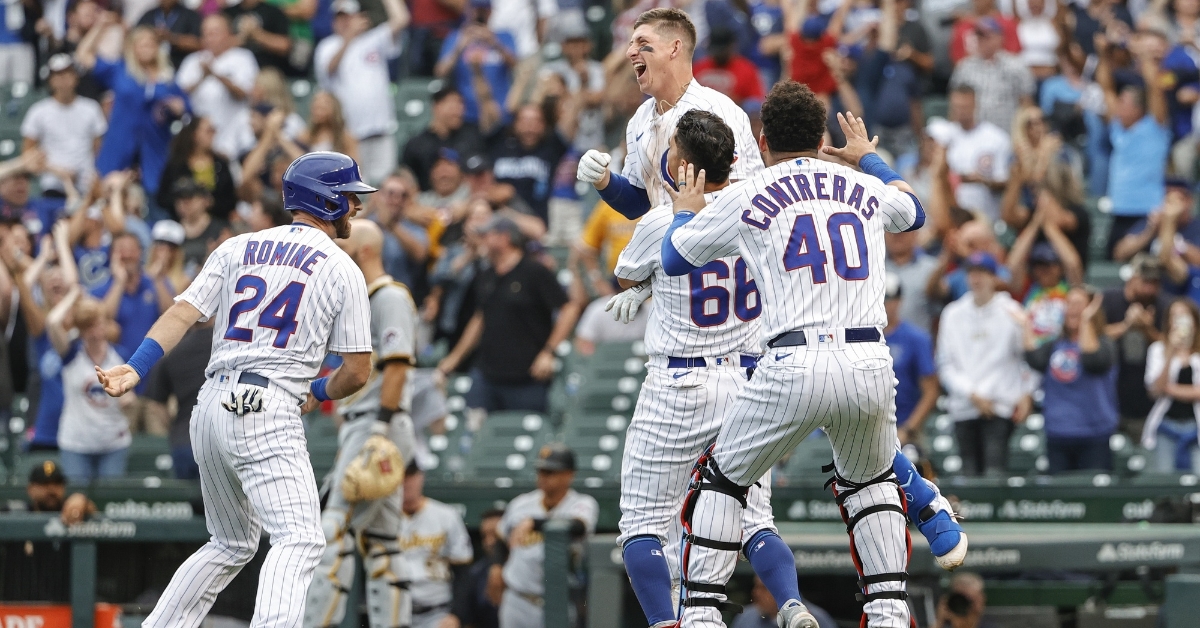 | | |
| --- | --- |
| Cubs win fifth straight with Schwindel's clutch walk-off slide | |
---
| | | |
| --- | --- | --- |
| Saturday, September 4, 2021, 7:47 PM | | |
CHICAGO – One thing fans have learned about this new look Chicago Cubs (62-75) team is that they play with heart and show no quit. That was again on display Saturday afternoon at Wrigley against the lowly Pittsburgh Pirates (48-88).
Despite their record and where they land in the standings, this Pirates team continues to five the Cubs fits and have played them tough all season long. This series has been no exception, as all three games have been decided by one run so far. Today saw the Cubs rally from two runs down in the bottom of the ninth, to pick up a walk-off 7-6 win on a controversial call at first base that went the Cubs way.
Looking to redeem himself from his last start was the Professor Kyle Hendricks as he continues to be stuck on 14 wins. Despite being close to the major league lead since the all-star break, Hendricks can't seem to get over the 14-win hump, and how his career-high 16 wins is becoming harder and harder to reach. One of the biggest issues Hendricks has had this season has been the first inning, where his ERA is more than four runs higher than the rest of the game.
Hendricks did a great job limiting the damage this time around, but still allowed a Yoshi Tsutsugo solo homer to give the Pirates an early 1-0 lead. Despite his 5.26 ERA this season, J.T. Brubaker has always pitched well against the Cubs, and through three innings, he was at it again. Not only did he keep the Cubs off the board through three, but he was doing it with relative ease.
That was until the fourth inning when the Cubs started to get to him and chased him before he could record an out in the fourth. Matt Duffy got the party started with an RBI single before Jason Heyward, and Sergio Alcantara recorded RBI groundouts to take a 3-1 lead. You would think that would be plenty for Hendricks, but something has been off with him this season, and once again, he struggled.
Hendricks struggled yet again, but his command was off, and the result was a 4 1/3 inning start where he allowed six earned runs. Five of those runs came in the fifth before he was pulled as his ERA rose to 4.65 in the process. Colin Moran worked a bases-loaded walk to open the scoring in that inning before Anthony Alford tied things up after getting hit by a pitch.
With Trevor Megill now called on to pitch, the Pirates took the lead on a wild pitch ahead of the Wilmer Difo single that capped off the five-run frame, with the Pirates now leading 6-3. After a scoreless frame by Sam Howard, former Cubs reliever Duane Underwood Jr took the mound in the sixth and was greeted by a long Frank Schwindel homer that had the Cubs within 6-4. That was all Underwood would allow as Chasen Shreve and Chris Stratton were called on to finish the game.
Despite trailing on the scoreboard, Andy Green turned to many of his young guys, with Michael Rucker and Scott Effross sandwiching Rex Brothers to keep things close. Those three combined for four innings of work out of the pen surrendering just three hits to go with one walk and six punchouts.
Still trailing by a pair in the ninth, Stratton took the ball for another inning of work while the Cubs had come back on their mind.
With one out, Duffy ripped a single down the first baseline to bring the winning run to the plate. A two-out walk by Sergio Alcantara brought the winning run to bat with Alfonso Rivas called upon for the pinch-hit spot. All he did was put the bat on the ball and drop a single to right as the Cubs were within 6-5 with the top of the order coming up.
That meant that Rafael Ortega had a chance to bat against a right-hander, and that paid off as he picked up his third hit of the ball game with a sharp single to right, bringing home the tying run and sending the winning run to third. With Schwindel coming to bat, Stratton got him to ground into what looked to be an inning-ending play. Instead, a bad throw by Pirates SS Kevin Newman pulled Moran off the base given Schwindel a chance to make something happen. All he did was pull off his best El Mago impression sliding into first and avoiding the tag as he brought home the game-winning run for his first-ever walk-off hit.
Concern for the Professor
Hendricks is fortunate to have the wins he has this season, especially when you look at the body of work behind it. His 4.65 ERA is a career-worst, and his first-inning ERA of 9.00 is one of the worst in baseball. Yet despite all that, the right-hander has gone about his business and has continued to put together another quality season.
However, as the end of August arrived, Hendricks has not been himself, and the results are starting to show. Not only is he giving up homers and getting hit hard yet again, but he hasn't gotten past five innings in his last three outings. That is not something you would expect from your ace, who has been so consistent with the Cubs.
Maybe it is a case of him starting to wear down towards the end of the season. Whatever the reason is, expect the Cubs to look at some other options this offseason as Hendricks needs to get back to his old self for this team to have any shot at winning next season.
Welcome Back Willson
It took longer than the Cubs initially thought, but Contreras returned to the lineup on Saturday after missing about a month with a knee injury. Even though his return was a quiet one going hitless with a walk, just having his passion and intensity back in this lineup will be a massive boost for the final push.
Contreras' return may mean less playing time for Robinson Chirinos and Austin Romine, but both could be used in pinch-hit roles as the Cubs now have three catchers. His return meant someone had to be sent down or sent to the IL, and that player was RHP Keegan Thompson, who has been placed on the IL with shoulder discomfort.
Shoulder discomfort is never an easy thing to hear for a pitcher, but when you look at the body of work he has done this season, it could be a dead arm fatigue issue, so the Cubs are just giving him an extended break. His last two starts haven't been pretty, and this could be a reason why. Hopefully, he can return before the season ends and give the Cubs at least two or three more starts.
Why can't the Cubs play the Pirates the rest of the season?
According to MLB reference, the Cubs have the second easiest schedule in September, and a big reason for that is 11 games with both Minnesota and Pittsburgh. That makes just under half of their September games, and through five games with those teams, the Cubs are 5-0.
Granted, none of the games have come easy, and all have been decided by three runs or less. A win is a win, and that is not something that has been said a lot since late June. The final month of the season is about the younger guys gaining confidence and experience going forward as they try to earn their spot in the Cubs' future plans.
Playing the Pirates and Twins the rest of the way would certainly help translate more wins, but it can also hurt the Cubs in terms of draft pick status. All things considered, this team has now won five games in a row for the first time since June, and for the first time in a long time, this team is having fun playing baseball again.

Tags: Cubs Baseball
,
Kyle Hendricks
,
Jason Heyward
,
Trevor Megill
,
Duane Underwood
,
Michael Rucker
,
Scott Effross
,
Rex Brothers
,
Alfonso Rivas
,
Rafael Ortega
,
Austin Romine
,
Keegan Thompson