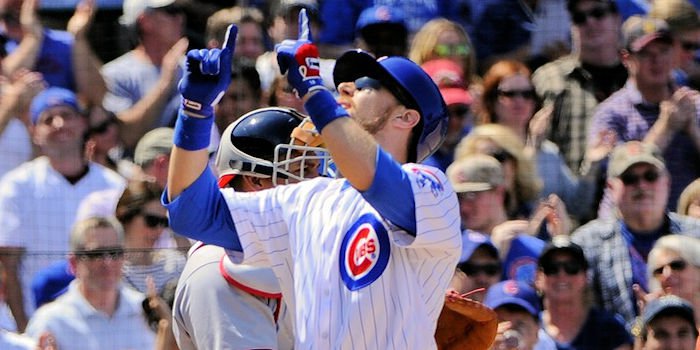 | | |
| --- | --- |
| Down on Cubs Farm: Ben Zobrist in AA, Swarmer shines, Roederer with two dingers, more | |
---
| | | |
| --- | --- | --- |
| Friday, August 23, 2019, 10:43 AM | | |
Thursday was a great night on the farm as the Cubs went 4-1 on the evening. They came one inning away from a clean sweep as Eugene was bitten late in extra innings. One thing is for sure after last night's games and that is that no one wants to see South Bend come playoff time given the roll they have been on of late.
IOWA CUBS 1 – San Antonio Missions 0: With home runs and runs piling up at a record rate in AAA this season, pitching has gone by the wayside. That wasn't the case on Thursday however as both the Cubs and the Missions combining for just five hits in the ball game with the Cubs coming out on top 1-0. Not only that, the Iowa staff allowed just one-hit total as they are now 69-60 for the year.
Matt Swarmer (9-10) got the ball as his strong second half continued. Ignore the 5.58 ERA as that is the norm in the Pacific Coast league as Swarmer delivered his best outing of the season. In six innings, Swarmer allowed the Cubs only hit to go with six strikeouts as Iowa only needed one run of support to pick up the win.
Matt Swarmer led the charge in Iowa's one-hitter and is our @EMCInsurance Player of the Game! Swarmer is 4-0 with a 2.76 ERA (9ER/29.1IP) through his last five starts. pic.twitter.com/mRJvVHJ7rM

— Iowa Cubs (@IowaCubs) August 22, 2019
That run came in the fourth inning when Robel Garcia came to bat. With Phillip Evans on base, Garcia lofted a perfectly placed line drive to left field to bring home the lone games run in the 1-0 win. Garcia had the hot hand all game long as he picked up two of his teams four hits. Johnny Field and Evans tallied the final two hits for Iowa as they too struggled to get much going. Albert Almora, David Bote, and Mark Zagunis combined to go 0-10 while Dillon Maples earned his fifth save.
Albert Almora Jr. patrolling the outfield ?? pic.twitter.com/MBvzD4XWb6

— Iowa Cubs (@IowaCubs) August 22, 2019
Matt Swarmer (6.0), Brad Wieck (0.2), James Norwood (1.1) and Dillon Maples (1.0) combine for Iowa's first one-hitter since 2015 as the I-Cubs take the series! pic.twitter.com/DZKicifrwd

— IowaCubsGameDay (@IowaCubsGameDay) August 22, 2019
Tennessee Smokies 8 – Jackson Generals 2: Looking to avoid the sweep, Tennessee received a considerable boost as Ben Zobrist was in the house on Thursday and in the starting lineup. Anchored by a pair of big innings, the Smokies pitching set the tone as they managed to take down the Generals 8-2 moving to 52-77 on the season.
Erick Leal (3-4) continues to pitch better at AA after he struggled to begin his promotion. Leal was once again on top of his game, firing six strong innings of one-run four-hit ball to go with no walks and four strikeouts as he secured the win for his team. The run that he allowed came in the fourth inning when Ramon Hernandez broke through with a single putting Jackson up 1-0.
Not only was that the lone Generals lead, but that lead didn't last long as the Smokies struck back in the sixth. Nico Hoerner put an end to the Generals shutout bid with a single to tie things up 1-1. Vimael Machin followed that up with his team-best 26th double putting Tennessee in front for good 2-1. Jared Young capped off that inning be delivering an RBI triple to plate the eventual winning run with Tennessee now up 3-1.
A seventh-inning Galli Cribbs Jr double brought the Generals within one at 3-2, but it was the ninth inning when the Smokies put the game away. Aided by a wild pitch that brought home the Smokies fourth run, Tennessee received RBI's from four different players as Charcer Burks and Hoerner pushed the lead to 6-2 with RBI doubles. Following a Machin sacrifice fly to extend things to 7-2, Oscar De La Cruz showed that pitchers can hit as his RBI single capped off the scoring in an 8-2 Smokies win.
Tennessee received a trio of multi-hit games with Hoerner, Zack Short and Tyler Payne recording those games. Hoerner was also tied with Machin for the team lead in RBI's as they both managed to bring home two runs. In his first AA game of the season, Zobrist was on base early and often going 1-2 with three walks in the game. Along with his RBI single, De La Cruz struck out three of the four batters he faced in relief.
Ben Zobrist played with us today. You may have heard of him? Here's what happenedhttps://t.co/CRwfYbkKVu

— Tennessee Smokies (@smokiesbaseball) August 23, 2019
MYRTLE BEACH PELICANS 5 – Carolina Mudcats 2: There is a new sense of energy going around TicketReturn.com Field as the Pelicans capped off their 2019 home schedule with the first-ever sold-out finale. That attendance can be primarily attributed to the way the Pelicans have played during their second-half playoff push as they continue to keep pace for a wildcard berth following another 5-2 win.
Brendon Little (2-1) continues to figure things out at the next level as he has gotten better with each start. Thursday continued that trend as he picked up his second win with the Pelicans by giving them his best outing of the season with six innings of two-run ball to help Myrtle Beach move to 53-73 and 32-27 in the second half. They are now just a half-game behind Fayetteville for that wildcard spot.
Offensively speaking, it was Carolina striking first as they broke the scoreless tie in the third. Mario Feliciano opened things up with an RBI triple setting the Mudcats up for more. Peyton Harry made sure to capitalize on that with a sacrifice fly and just like that we had a 2-0 Carolina lead. That lead didn't hold up very long as the Pelicans responded with a pair in the bottom half of the fourth courtesy of a Luke Reynolds double making it a 2-2 game.
Reynolds big night continued at the plate in the sixth inning as he gave Myrtle Beach the lead for good with his first triple of the season to make it a 3-2 game.
LUKE DO THAT THANG@LukeReynolds_11 drives in 3 for the Birds, and is tonight's @panerabread Bread Winner of the Game! pic.twitter.com/ErwanCCK6M

— Myrtle Beach Pelicans (@Pelicanbaseball) August 23, 2019
With the bullpen now in control of the game, the Pelicans were looking for any insurance run that would better their chances at winning. Look no further than the eighth inning when a throwing error not only allowed Cam Balego to reach but brought home two more runs giving the Pelicans a 5-2 victory.
Despite five runs of offense, the Pelicans were held to just four hits with Reynolds making the most of that by collecting two hits and all three RBI's. Miguel Amaya got in on the action picking up the teams other two hits as the Pelicans certainly made the hits count. Carlos Sepulveda earned two walks from the leadoff spot and came home to score twice. Jesus Camargo earned his fourth save of the season, coming in to pitch the games final three innings and allowing just one hit bringing his ERA to 3.06.
BALLGAME!!!!

FIVE IN A ROW FOR THE BIRDS!!!

Pelicans win 5-2 in front of a sellout crowd of 6,599 in Myrtle Beach!!

It is the first time in the club's 21-year history that the Pelicans played in front of a capacity crowd in the final regular season home game of the year!! pic.twitter.com/7NCfHVN6pT

— Myrtle Beach Pelicans (@Pelicanbaseball) August 23, 2019
What a night.

Thank You. Thank You. Thank You.

We're not done yet. #LetsGoBirds pic.twitter.com/g4eS1M70u0

— Myrtle Beach Pelicans (@Pelicanbaseball) August 23, 2019
SOUTH BEND CUBS 8 – Lansing Lugnuts 1: South Bend continues to roll through the Midwest League schedule as of late bettering their postseason chances by the day. After their five-run first inning got things started on Thursday, the Cubs were able to cruise to another victory, improving to 71-56 with an 8-1 win. What makes this win even that more important is that South Bend is now 34-25 in the second half, two games out of first and now four games ahead of Lansing who is chasing them for the wild card position.
Riley Thompson (8-5) was on the hill for this one, and although he delivered a strong start, he was backed by plenty of support. Thompson picked up his eighth win of the season by tossing five innings three-hit shutout ball. The all-star now has a 2.87 ERA for the season as he continues to impress.
Most of the South Bend damage came in the first inning as they threw the Lugnuts a haymaker early on. With a wild pitch pushing the games first run across, Nelson Maldonado delivered what proved to be the winning RBI as his groundout made things 2-0 Cubs. Another error extended the lead to 3-0 before
Cole Roederer got ahold of one for his eighth of the season capping off the first with a 5-0 lead.
That score held up until the fourth inning when Andy Weber extended the lead to 6-0 with his team-high 34th double. One inning later saw Jake Slaughter connect for his first South Bend homer of the season as South Bend was rolling 7-0. Already with a two-run shot in hand, Roederer capped off the Cubs scoring in the seventh with his second homer of the game as South Bend took the 8-0 lead into the ninth.
Lansing managed to avoid the shutout on the Johnny Aiello homer, but that didn't take away from the pure dominance in what was an 8-1 Cubs rout. Roederer was part of a trio of multi-hit games as Slaughter, and Darius Hill joined him in that category. Roederer tallied three RBI's on the night to lead the team. Fauris Guerrero followed up Thompson on the mound by delivering three scoreless frames of relief. Riley McCauley finished things up in the ninth yielding that homer as the Lugnuts lone run.
CUBS WIN! pic.twitter.com/lzEJqxXkO4

— South Bend Cubs (@SBCubs) August 23, 2019
EUGENE EMERALDS 2 – Hillsboro Hops 3 (10 innings): It only took three tries, but the Emeralds were finally able to score against Hillsboro pitching. Unfortunately, the results remained the same as the Emeralds fell to 30-36 as they were swept away by the Hops 3-2 in extra innings. This loss may be the dagger in terms of playoff chances as Hillsboro was the team Eugene was chasing.
With a plethora of arms getting time on the field, the focus was on starter Josh Burgmann who allowed just one hit in three innings of work to go with three strikeouts. Despite not recording a win thus far in 2019, Burgmann has been sharp pitching to a 3.24 ERA.
After getting shutout in the teams first two contests of this series, it was Eugene grabbing the lead first in the second manufacturing a run on the Luis Vazquez RBI grounder for the 1-0 advantage. Hillsboro managed to tie things up in the top of the fifth as Daniel Wasinger picked up the sacrifice fly to make things 1-1.
Two innings later saw the Emeralds retake the lead as the red-hot Alexander Guerra made things 2-1 in favor of Eugene following an RBI single. Down to their final at-bats, the Hops managed to extend the game as Andy Yerzy tied things up 2-2 with a one-out single sending the game to extra innings. That appeared to be the game's significant momentum shift as Jorge Barrosa came through in the 10th with an RBI single to not only give the Hops their first lead but picked up the game-winning hit as Hillsboro tallies the sweep 3-2.
Edmond Americaan was a huge part of the offense in this one, collecting three of the teams six total hits. Pedro Martinez, Ryan Reynolds, and Guerra added the other three with Vazquez and Guerra grabbing one RBI each. Matteo Bochi lowered his season ERA to 0.87, as he tossed 2 2/3 scoreless frames out of the pen.
Bummer. #GoEms | #ItAllStartsHere pic.twitter.com/Z7dn2v6hbW

— Eugene Emeralds (@EugeneEmeralds) August 23, 2019
Cubs offseason acquisition Kendall Graveman made his season debut in Arizona on Thursday as he continues to recover from Tommy John Surgery. Graveman signed for a league minimum this off season allowed one run in three innings of work while striking out six batters in the process.

Tags: Cubs Baseball
,
Robel Garcia
,
Phillip Evans
,
David Bote
,
Mark Zagunis
,
Dillon Maples
,
Ben Zobrist
,
Vimael Machin
,
Jared Young
,
Charcer Burks
,
Oscar De La Cruz
,
Luke Reynolds
,
Cam Balego
,
Miguel Amaya
,
Carlos Sepulveda
,
Jesus Camargo
,
Cole Roederer
,
Andy Weber
,
Fauris Guerrero
,
Riley McCauley
,
Luis Vazquez
,
Alexander Guerra