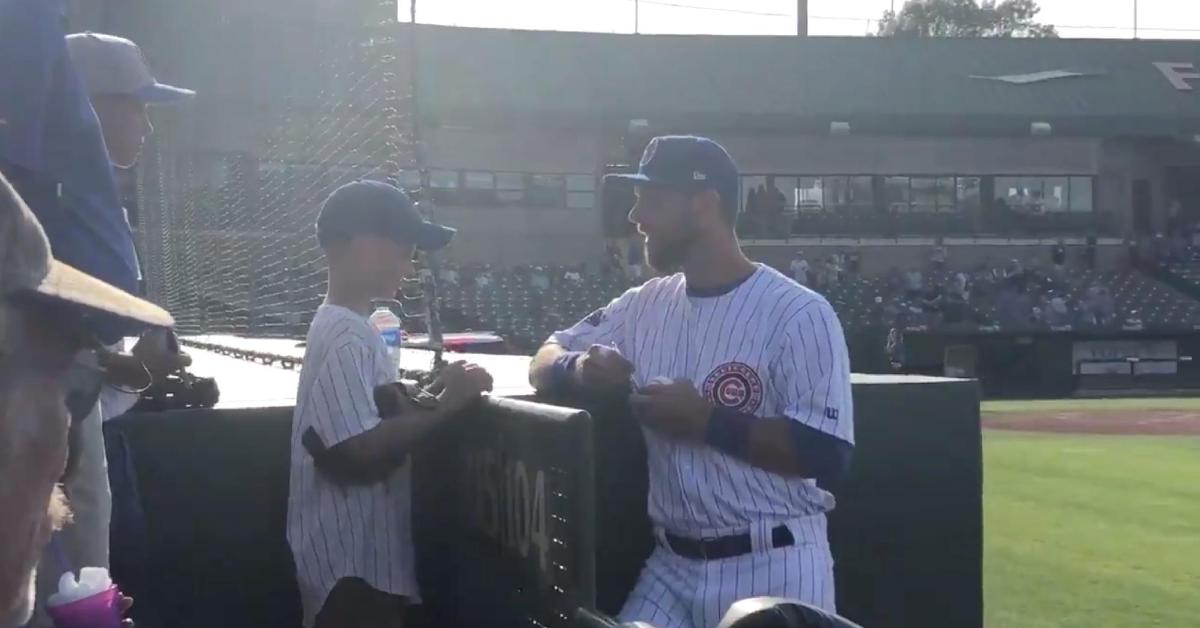 | | |
| --- | --- |
| Down on Cubs Farm: Ben Zobrist's comeback, Russell hitless, Eugene sweeps, more | |
---
| | | |
| --- | --- | --- |
| Monday, August 5, 2019, 12:11 PM | | |
Sunday was a good day for the Cubs organization in more ways than one. With the MLB Cubs sweeping away the Brewers to extend their lead in the division, it was the farm system adding the excitement late as they went 2-2 on the day with one game getting suspended in the second. They also had both of their AZL squads duke it out for fans to see everyone on the AZL roster.
IOWA CUBS 0 – Tacoma Rainiers 5: The Cubs certainly didn't have a lot to cheer about on Sunday as they were shutout 5-0 to fall to 60-53 on the year. To make matters worse, Donnie Dewees provided the teams only hit in the game as they managed just two total baserunners.
Tyson Miller continues to struggle to adjust to the AAA game but did show plenty of encouraging signs in this outing. Not only did he allow a season-low 5ER since getting promoted but he made it into the seventh inning going 6 2/3 innings for the day. The long ball continued to be his big issue as he allowed three more home runs in the loss.
Down 1-0 after one inning of play, Jose Lobaton delivered the first of three Tacoma homers as his solo shot doubled the lead to 2-0. Three innings later Ian Miller decided it was his turn to get in on the fun connecting for his 11th bomb of the season and 3-0 lead. Chris Mariscal delivered the final of the three homers in the seventh as his two-run shot capped off the scoring for the 5-0 Tacoma win.
Outside of the Dewees single, Johnny Field was the only other Cub to reach base as managed to earn the teams lone walk. Addison Russell had a rough 0-3 day with a 1K, while Danny Hultzen continues his comeback attempt with 1 1/3 scoreless frames of relief to bring his ERA to 1.74.
Tyson Miller went 6.2 innings in his longest Triple-A start but the I-Cubs' bats couldn't catch up as Tacoma took the victory.

??>>https://t.co/bGue62qmlO pic.twitter.com/HzpgqjXI3N

— Iowa Cubs (@IowaCubs) August 4, 2019
Sunday scaries. pic.twitter.com/Mi3BvAmShU

— IowaCubsGameDay (@IowaCubsGameDay) August 4, 2019
TENNESSEE SMOKIES 0 – Mississippi Braves 2 (Suspended in second): The Smokies and Braves will have to wait to decide who the winner of the Sunday contest will be, as they were suspended in the second inning due to weather. The Braves held a 2-0 lead after pushing across two first-inning runs.
MYRTLE BEACH PELICANS 4 – Down East Woodpeckers 13: If there was ever a team that the Pelicans want to avoid, it has to be Down East as they have had their number all season. After starting the season 7-0 against the Pelicans, Myrtle Beach finally appeared to solve them before the woodpeckers flexed their muscles again.
Sunday was a prime example of just how dominant Down East has been against Myrtle Beach as they pummeled the Pelicans 13-4 to drop them to 43-68 for the year. Alexander Vargas had a start to forget in this one, lasting just two innings while giving up 6ER in the process.
Wasting no time in the first, Chandler Taylor gave Down East the lead for good with a two-run shot as the Woodpeckers jumped in front 2-0. For the next two innings, Down East not only build on their lead but put the Pelicans in a massive hole as six more runs crossed home plate to make things an 8-0 game through three. Scott Schreiber was responsible for three of those runs as he reached on an error and connected for a two-run double.
It took the Pelicans offense a while to get going, but in the fifth, they began to make some headway. With a pair of runners on base, Cam Balego traded an out for a run as his RBI groundout ended the shutout bid to make things 8-1. Miguel Amaya followed that up with a two-run shot for his ninth of the season to cut the deficit to 9-3. That would be as close as the Pelicans would get as the Woodpeckers added a pair of runs in both the sixth and eighth innings to cruise 13-4.
Amaya had the hot bat in this one, picking up a pair of hits to go with his two-run shot as his average is creeping up to 236. Carlos Sepulveda, D.J. Artis, Balego and Wladimir Galindo added the final four hits in what was otherwise a quiet day.
We want to change up our header photo, but we need your help deciding which one... four options, tell us your favorite and we'll see which one wins!

A) #EverybodyIn
B) ??
C) "OHHH MY GOODNESS!" ??
D) Bat Doggo Slider ?? pic.twitter.com/vGbPGUX5C1

— Myrtle Beach Pelicans (@Pelicanbaseball) August 2, 2019
SOUTH BEND CUBS 8 – Great Lakes Loons 6: In a game that could have serious playoff implications in the next few weeks, the Cubs were able to outlast the Loons 8-6 to improve to 61-49 for the season. The win also moved them into a tie for second with Great Lakes as they are just .5 games behind Bowling Green for the second-half championship.
Some fans getting some au-Zo-graphs! ?? Ben Zobrist surprised @Cubs fans and joined SB players for pre-game autographs! #SundaeFunday #ThatsCub pic.twitter.com/RlW3GOeWa7

— South Bend Cubs (@SBCubs) August 4, 2019
Things were gruesome early however for South Bend as starter Riley Thompson lasted just 1/3 of an inning before being pulled after allowing 3ER. His replacement Fauris Guerrero was not much better going 2 2/3 innings and allowing 3ER as all six of the Loons runs came in the first three innings before the Cubs could even settle in.
Recently promoted Jake Slaughter continued to make hard contact in the second putting the Cubs on the board with an RBI single to make things a 6-1 game. The South Bend comeback continued in the fourth inning as they now seemed to have the momentum in their favor. Marcus Mastrobuoni singled home the games next run to make things a 6-2 with another run coming home on an error. Another new face in Zac Taylor picked up where he left off at Eugene with an RBI single himself and just like that, and we had a 6-4 game.
It was in the sixth inning when the Cubs comeback came full circle putting the Loons behind in the process. With a wild pitch making it a one-run game, Slaughter grounded into a double play to end a potentially big inning but got the tying run across in the process. South Bend was not fazed by that double play as both Mastrobuoni and Taylor added RBI singles later in the frame to give the Cubs an 8-6 lead.
That would be all they would need offensively, as the work from both Carlos Vega and Brian Glowicki over the final six frames wouldn't go unnoticed, as they two of them allowed just one baserunner in those last six frames to give the Cubs an important 8-6 win.
It was undoubtedly the Eugene show in this one as Taylor and Slaughter combined for three hits and three RBI's in the win. Mastrobuoni added a pair of hits and RBI's with Andy Weber and Nelson Velazquez each recording two hits of their own. Ben Zobrist continues to get into baseball shape, going 0-3 on the night as he is hitting .222 during step one of his rehab phase.
Comeback complete! #FlyTheW pic.twitter.com/F18VuQclVm

— South Bend Cubs (@SBCubs) August 4, 2019
EUGENE EMERALDS 3 – Boise Hawks 1: With tons of roster movement happening in the past few days, the Emeralds haven't seemed to mind as they took down the Hawks 3-1 on Sunday to move to 24-27 for the season. Earning his first win of the season was Didier Vargas who tossed five innings of 1ER 3H ball for his best start of the year.
Vargas exits after what was his longest (and best) start of the season thus far. His line ??

5.0 IP, 3 H, 1 R, 0 BB, 1 K#GoEms | #ItAllStartsHere pic.twitter.com/ADsO7Q6A6d

— Eugene Emeralds (@EugeneEmeralds) August 4, 2019
The Emeralds got all the offense they needed in the bottom of the second when Jonathan Soto delivered a bases-loaded single to plate a pair for the quick 2-0 Eugene lead. Two innings later saw the Hawks cut that deficit in half when Ezequiel Tovar picked up his third double of the season making things a 2-1 game.
With the bullpen now in control of things and the Emeralds clinging to a 2-1 lead any insurance would be great at this point. Look no further than the seventh inning when Pedro Martinez used his wheels to steal third for his sixth stolen base of the season. Martinez also induced a throwing error on that same play, which allowed him to score to make things a 3-1 game. That would be all the Emeralds would need as a trio of relievers kept the Hawks off the board with Zach Wagner earning his first save of 2019.
With several of their offensive leaders now at South Bend, the Emeralds are going to have to rediscover their offense on the fly as they managed just four hits in the win. Darius Hill, Chase Strumpf, Luis Vazquez, and Soto had those four hits. Greyson Byrd and Edmond Americaan combined to go 0-6 with a walk and three strikeouts in the loss.
??? SWEEEEEEEEEEP!!!

Eugene busts out the brooms against Boise and we'll head into the NWL All-Star Break on a four-game win streak. #GoEms | #ItAllStartsHere pic.twitter.com/04gKGh2JTX

— Eugene Emeralds (@EugeneEmeralds) August 4, 2019
AZL CUBS (1) 7 – AZL CUBS (2) 4: In the only game in which Cubs fans can be a happy win or lose, the AZL Cubs 1 knocked off AZL Cubs 2 7-4. With AZL clinging to a 3-2 lead after seven innings of play, it was the four-run eighth inning that proved to be the difference for AZL 1.
Down 1-0 in the bottom of the fourth, AZL 2 got on the board with an Abraham Rodriguez single to make things 1-1. AZL 1 responded in the fifth with a Yovanny Cuevas RBI single, but a wild pitch in the bottom of the fifth once again had things even at 2-2.
Now up 3-2 in the top of the eight, AZL 1 was able to bust things open as they were about to break free for a large frame. With the bases juiced, Ervis Marchan came through with a clutch single as the lead grew from 3-2 to 6-2 as a throwing error on that hit allowed for more runs to score. Ezequiel Pagan added to that lead with an RBI single, and just like that, we had a 7-2 game.
AZL 2 wouldn't go down without a fight as they began to rally in their final at-bats. With a pair of runners on base, Reivaj Garcia connected for an RBI single to make things 7-3 and kept the line moving. A few pitches later saw Brandon Vicens bring home another run with a groundout, but that was all the AZL 2 Cubs could do as AZL 1 won 7-4.

Tags: Cubs Baseball
,
Tyson Miller
,
Addison Russell
,
Alexander Vargas
,
Cam Balego
,
Miguel Amaya
,
Carlos Sepulveda
,
Wladimir Galindo
,
Fauris Guerrero
,
Brian Glowicki
,
Andy Weber
,
Nelson Velazquez
,
Ben Zobrist
,
Luis Vazquez