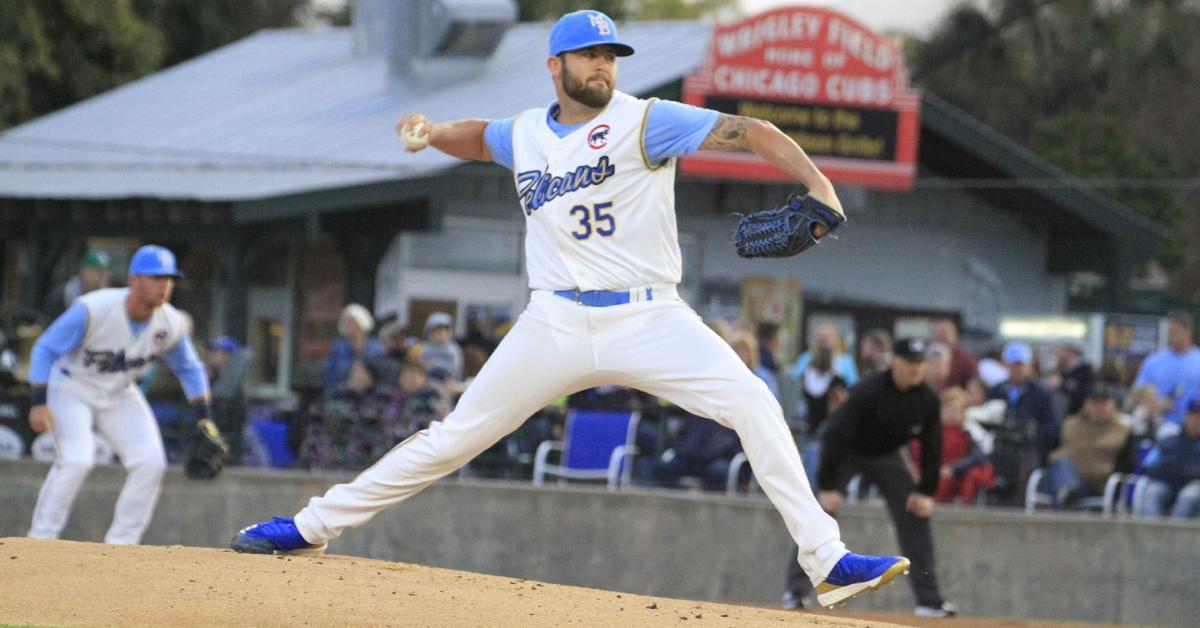 | | |
| --- | --- |
| Down on Cubs Farm: Passantino mystifies, Lange impressive, Emerald back to winning, more | |
---
| | | |
| --- | --- | --- |
| Wednesday, July 3, 2019, 2:24 PM | | |
Once again, the Cubs found themselves in a competitive night on the farm with four of the five games being decided by two runs or less. In the end, the farm managed to go 3-2 on the night as pitching stole the show.
IOWA CUBS 1 – San Antonio Missions 2: Tuesday was a rare night for both San Antonio and Iowa as the offense was nowhere to be found with the Missions pulling out a 2-1 victory. Recently promoted Jeffrey Passantino is starting to make a name for himself delivering an impressive performance for Iowa.
After pitching mostly in relief for South Bend to start the season, Iowa called upon him to start in place of Adbert Alzolay, and he showed he has a very bright future in this league. Passantino not only went five innings but allowed just 1ER on 3H to go with 0BB and 5K in the no-decision. His ERA is 2.00 since making the two-league jump to Iowa.
With just three runs total between the two teams, it was imperative that pitching take over the game, and that is precisely what happened. The lone run for Iowa came in the first inning when they took a 1-0 lead on a Phillip Evans double. San Antonio responded with a run in the fourth when David Freitas picked up a sacrifice fly to knot things up 1-1 as the bullpens were now in control.
Following another impressive relief appearance from Duane Underwood Jr, Tim Collins was on the hill in the eighth hoping to keep things deadlocked 1-1. With Iowa wasting a bases-loaded chance in the top of the first, it was the Missions capitalizing on that situation when Jake Hager connected for an RBI double to give the Missions a 2-1 lead late. That would be all San Antonio would need as they managed to work around a ninth-inning rally from Iowa to hold on 2-1.
Iowa continues to lead their division by a lengthy margin as they sit at 48-37 for the year. Iowa got multi-hit performances from both Evans and Trent Giambrone to lead the way. Taylor Davis and Ian Happ each had one hit on the evening, while Mark Zagunis and Jim Adduci had rare hitless nights.
TENNESSEE SMOKIES 6 – Birmingham Barons 3: Since moving to AA, Alex Lange has been a completely different pitcher as he has done a 180 since a dismal start for Myrtle Beach. Lange continued to do his thing on the mound Tuesday as he went six innings of 2ER ball to bring his ERA to 2.50 and improve to 2-0 as the Smokies doubled up the Barons 6-3.
Tennessee jumped out in front in the second inning when Christian Donahue picked up an RBI groundout ahead of a Wynton Bernard single as his impressive series continued. Nate Nolan was able to bring things even at 2-2 in the fifth on his fourth homer of the season as that was the lone blemish on Lange's line for the day. It was in the bottom of the fifth when Tennessee took control for good using a big inning to jump in front.
Already with the bases full to Smokies, P.J. Higgins kept the line moving rolling a ground ball through the third base hole to plate a pair for a 4-2 Tennessee lead. The machine Vimael Machin added a single of his own later that inning to bring another run around to score as the Smokies were now in front 5-2. With the bullpen now in the game, Gavin Sheets was able to close things within 5-3 picking up an RBI single in the eighth. That was as close as Birmingham would get as Connor Myers picked up a sacrifice fly later that inning before the bullpen sealed the deal for a 6-3 win.
The Smokies are 39-43 on the season but are starting to play much better as of late. Both Machin and Higgins played a considerable role in this one, collecting a pair of hits each and combining for three RBI's. Every other player in the lineup had at least one hit except for Zack Short who went 0-3 with a BB. Bailey Clark earned his third save of the season with a scoreless ninth.
MYRTLE BEACH PELICANS 1 – Carolina Mudcats 0: Cub fans are going to like this story as pitching continued to be the theme for Myrtle Beach. With Ryan Kellogg (2-5) looking to get back on track, he gave the Pelicans just what he needed to do going five scoreless frames allowing only two hits before handing things over to the bullpen. Enrique De Los Rios and Jesus Camargo held down the fort from there as the Pelicans needed just one to pick up a 1-0 victory.
The lone run came in the fifth inning as Kellogg was in line for a no-decision at this point in the game. Given how well he pitched, the Pelicans certainly wanted to send him off with a shot at the win, so the offense looked to pick him up as he did for them.
The newest member of the Pelicans, Tyler Durna, picked up where he left off at South Bend starting the inning off with a single. With two down in the inning, Wladimir Galindo extended the inning with a single ahead of surging D.J. Wilson. Wilson continued to swing a hot bat ripping a liner to the left for a single to give the Pelicans a 1-0 lead. That score managed to hold up as the bullpen managed to shut the door the final four frames to get Myrtle Beach another win.
The Pelicans continue to improve as they move to 28-52 with some new faces joining them in the process. Aramis Ademan was the lone Pelican to notch multiple hits as Myrtle Beach connected for eight hits in the game. Miguel Amaya went 1-3 along with newcomer Durna. Another recently promoted player in Delvin Zinn began his Myrtle Beach career with a 0-3 effort.
SOUTH BEND CUBS 3 – West Michigan White Caps 5: The Cubs have one of the best home records in all of A and were looking to keep that rolling Tuesday with 2017 first round pick Brandon Little making his season debut. Although shaky at times, Little pitched well going five innings and allowing 3ER in the process. However, a new look offense with some new pieces struggled to get things going as they fell 5-3 to the White Caps.
One of the toughest things about minor league baseball is the fact that everyone wants to get promoted through the system. Yes, it is nice to win games, but development is often more important as South Bend sent a few critical parts of their lineup to Myrtle Beach ahead of Tuesday's game. Early on, the Cubs didn't seem to miss a beat as Brennan Davis went deep for his fourth homer of the season to give the Cubs a 2-0 lead in the first.
That lead didn't last long as West Michigan tied things up with a pair runs in the third before scoring four unanswered runs in the process. With the score tied 2-2 in the fifth, Zach Malis gave the White Caps their first lead with an RBI single for his second RBI in as many at-bats. Nick Quintana padded that lead in the sixth with another single ahead of ninth inning Parker Meadows sacrifice fly to give the White Caps a 5-2 lead.
Quiet after the first inning, South Bend looked to rally late as Levi Jordan reached on a single with two outs in the ninth. Three pitches later saw Andy Weber bring him home with a double to make things 5-3 with the tying run coming to the plate. Already with one homer in the game, Davis had one thing in mind, and that was to tie the game, but a groundout off his bat sealed their fate with the Cubs falling 5-3.
South Bend is 43-37 for the season as they may have to do some tweaking shortly. In his first game as the leadoff hitter, Jordan certainly thrived as he went 4-5 to set the table for the offense. Fidel Mejia arrived after spending two weeks in rookie ball to pick up three hits of his own as those two accounted for more than half of the team's total hits. Davis was 1-5 with two RBI's while Cole Roederer was hitless on the day.
EUGENE EMERALDS 3 – Tri-City Dust Devils 2: Sometimes one win is all it takes to get on a roll. That is precisely what the Emeralds are hoping for as they defeated the Dust Devils 3-2 ending their seven-game losing streak.
Once again it was Zach Mort toeing the rubber as he was his old self. Mort continues to be the ace of the Emeralds staff, tossing six more innings allowing 2ER on 5H to go with 6K. His ERA is at 3.60 for the season, but he may be on the verge of returning to South Bend soon.
The Emeralds found themselves playing catchup once again as Tre Carter belted a second-inning triple for a 2-0 Tri-City lead. Fortunately for Eugene, that would be all the runs allowed from Mort as he settled in nicely after that. Fernando Kelli got the Emeralds on the board with a double in the third to make it a 2-1 game but after seven innings of play that score remained intact with both offenses at a standstill.
That was until the eighth when the Eugene bats came to life at the perfect time. With runners on the corners, Luis Diaz brought things back to even 2-2 picking up a clutch RBI single to keep the inning moving. Two pitches later saw Yonathan Perlaza give the Emeralds the lead as his single made things a 3-2 game with just six outs to go.
After Maikel Aguiar tossed two perfect innings of relief with a pair of K's, Riley McCauley was called upon to finish things off in the ninth. McCauley did allow a hit but nothing more as he earned his third save of the season in the Emeralds 3-2 win.
Eugene is finally back on the winning track as they have improved to 8-11 for the season. Kelli stayed hot at the top of the lineup, picking up two more hits to lead the way. Luis Vazquez was also a key to the offense with a pair of hits himself, but it was Perlaza having the best day of them all with three hits and a game-winning RBI in the win.

Tags: Cubs Baseball
,
Jeffrey Passantino
,
Adbert Alzolay
,
Phillip Evans
,
Duane Underwood
,
Trent Giambrone
,
Taylor Davis
,
,
Mark Zagunis
,
Jim Adduci
,
Christian Donahue
,
Wynton Bernard
,
Vimael Machin
,
Connor Myers
,
Bailey Clark
,
Ryan Kellogg
,
Jesus Camargo
,
Tyler Durna
,
Wladimir Galindo
,
Aramis Ademan
,
Miguel Amaya
,
Delvin Zinn
,
Levi Jordan
,
Andy Weber
,
Fidel Mejia
,
Cole Roederer
,
Fernando Kelli
,
Yonathan Perlaza
,
Maikel Aguiar
,
Riley McCauley
,
Luis Vazquez