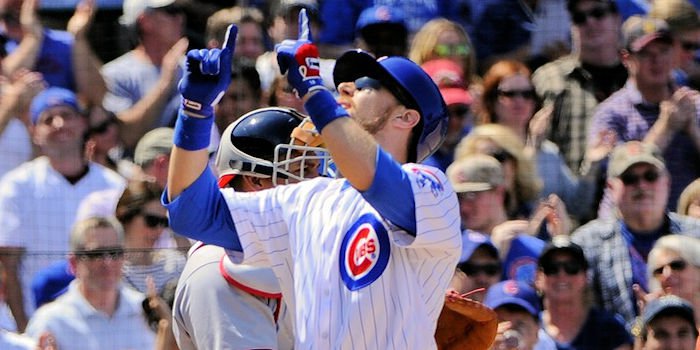 | | |
| --- | --- |
| Down on Cubs Farm: Zobrist and Almora in Iowa, SB wins again, Eugene sweep, more | |
---
The Cubs continued to be busy down on the farm as the season is winding down to the final two weeks before postseason play begins. With just two teams fighting for playoffs spots, every win is vital as the Cubs went 2-3 on the evening.
IOWA CUBS 2 – Memphis Red Birds 8: With their magic number sitting at 10 to clinch the division, it is only a matter of time until Iowa reaches their goal. Don't tell that to Memphis however, as the second-place Red Birds picked up another game in the standings knocking off Iowa 8-2. The win moves Memphis to 57-66 a full nine games behind Iowa 66-57.
After picking up two straight wins, Tyson Miller did not have his best stuff in this one, lasting just 4 1/3 innings and allowing six earned runs on ten hits. Rangel Ravelo not only gave Memphis the lead in the third but they never trailed as his single put them in front 2-0. Two innings later saw the Red Birds bats explode in a big way as the Andrew Knizer homer stretched the lead to 5-0 ahead of Jose Martinez single to make it 6-0.
Memphis kept their feet on the gas just one inning later as Knizer pushed across the games seventh with a double play. Justin Williams picked up a sacrifice fly later in the sixth as the Cubs were down 8-0 through six. Iowa was able to put an end to the shutout bid in the seventh when Jim Adduci picked up an RBI groundout. Add in a wild pitch later in that inning and Iowa was within 8-2 but that is as close as they would get.
Iowa was held to just four hits in the ball game as their offense struggled for the second straight night. Trent Giambrone had the best day on offense collecting a pair of hits. Johnny Field and Ben Zobrist added the teams final two hits. Albert Almora did not play as he is getting adjusted to the Iowa franchise.
Trent Giambrone carried the I-Cubs offense tonight and earns @EMCInsurance Player of the Game honors! pic.twitter.com/QtBXUKuYHJ

— Iowa Cubs (@IowaCubs) August 17, 2019
Not how we drew it up tonight. Iowa and Memphis clash again tomorrow at 6:35! pic.twitter.com/BFRNQ13HZH

— IowaCubsGameDay (@IowaCubsGameDay) August 17, 2019
TENNESSEE SMOKIES 3 – Jacksonville Jumbo Shrimp 5: The Smokies continue to find that second half consistency as they fell to the Jumbo Shrimp 5-3 to put them at 51-72 for the season. That all but eliminates them from playoff contention as they are just looking to finish the season with some pride.
In just his third start with the Smokies, Erich Uelmen continues to struggle as his ERA rose to 7.31 following a four-inning start of 5 earned run, six-hit ball. He is now 0-2 with the Smokies after posting strong numbers for Myrtle Beach.
Uelmen found himself in some trouble early on as the Lewin Diaz first-inning homer gave Jacksonville a 2-0 advantage as they refused to let up. One inning later saw the Jumbo Shrimp double their lead as Brian Miller brought home a pair with a single. Looking to advance to second on the play, Miller was gunned down, preventing more damage from happening.
Two innings later saw Miller come through again with a double as the Jacksonville lead grew to 5-0 before the Smokies even knew what hit them. Finally, in the bottom of the fourth, the Smokies were able to break through as the Tyler Payne single, and Ian Rice sacrifice made things a 5-2 game. With the Tennessee bullpen keeping the Jumbo Shrimp offense in check, it was up to the offense to do their part if they wanted to come back. Unfortunately, the Nico Hoerner eighth-inning single was the final run of the game as they fell yet again 5-3.
Moved down toward the middle of the order, Hoerner delivered with a two-hit night while recording an RBI also. Charcer Burks, Vimael Machin, and Payne added the teams final three hits. The Tennessee bullpen is what stole the show in this one as a trio of arms managed to pitch five scoreless frames on the night. One of those arms was Allen Webster as he continues to work his way back from an early-season injury.
MYRTLE BEACH PELICANS 0 – Salem Red Sox 1: The Pelicans are quickly becoming a team no one wants to play in the second half as they have turned into a much more competitive group. That continued Friday with Ryan Kellogg getting the start as he lasted five innings allowing just one run in the contest. Unfortunately for Kellogg, that run was all the Red Sox would need as the Pelicans managed only three hits in a 1-0 defeat to fall to 48-73.
The lone run for Salem came in the fifth inning as Kellogg had them guessing early. With a man on third and less than two outs, Delvin Granberg lifted one deep enough to right field for a sacrifice fly and 1-0 Red Sox lead. At that time, no one thought that would be enough offense, but, in the end, it proved to stand up as the Pelicans couldn't get much going.
The second and sixth innings were the Pelicans best chances to push runs across as they had the first two men on base in both innings and couldn't get it done. A Grant Fennell double, and singles from Delvin Zinn and Zac Taylor provided the hits for Myrtle Beach in what was a quiet night. Ethan Roberts and Ryan Lawlor were part of a bullpen trio that tossed four scoreless frames as both are posting ERA's of 2.41 and 2.63 respectively.
The Mermen fell just a little short tonight...

READ ?? https://t.co/EiYl70WIso pic.twitter.com/utR5IFf5b7

— Myrtle Beach Pelicans (@Pelicanbaseball) August 17, 2019
SOUTH BEND CUBS 8 – Lake County Captains 1: Looking to keep their playoff hopes alive, South Bend turned to Derek Casey (5-7) who may have delivered his best outing of the season. In seven innings of work, Casey allowed just one run on four hits while punching out five hitters. The offense took care of the rest rolling 8-1 to improve the Cubs to 66-55.
Already up 1-0 after the first inning Nelson Velazquez sacrifice fly, the Cubs opened things up in the third with a big inning. With a pair of runners on base, Andy Weber doubled the lead to 2-0 with an RBI single as the line continued to move. With Nelson Maldonado picking up an RBI groundout, Cole Roederer capped off that inning with an RBI single to put the Cubs up 4-0 through three.
Roederer was just getting started on the night as he added an RBI single in the fifth to push the lead to 5-0. The lone run not just off Casey but in the game for the Captains came in the bottom of the fifth when Clark Scolamiero got ahold of one for his third homer of the year and 5-1 game. That score held up until the later innings of the game as the Cubs looked to tack on late.
Rafelin Lorenzo traded an out for a run in the eighth with a groundout pushing the lead to 6-1. One inning later saw Jake Slaughter pick up an RBI single before Fidel Mejia reached on an error extending the lead to 8-1. That ended up being the final score as Eugenio Palma tossed the final two innings of the game to bring his ERA to 3.64.
Weber was the table-setter on offense in this one leading the way with three hits to go with his run driven in. Both Slaughter and Roederer got in on the multi-hit fun, as each of them tallied two hits and combined for three RBI's. Mejia and Darius Hill added the last two hits for South Bend.
Big series win in Lake County! pic.twitter.com/1Eaz2W6tJK

— South Bend Cubs (@SBCubs) August 17, 2019
EUGENE EMERALDS 9 – Salem-Keizer Volcanos 2: Had the Emeralds been playing this kind of ball during the first half; they may have already guaranteed themselves a spot in the postseason. Despite that, hope is still alive as they topped the Volcanoes yet again 9-2 moving to 29-31 on the year.
This year's fifth-round selection Josh Burgmann made his seventh start of the season which happened to be his best outing of the year. In an abbreviated three innings, Burgmann allowed zero runs on just one hit and struck out five in the no-decision. With the offense putting up nine runs pitching didn't need to be at a premium as Alex Whitney picked up another win in relief dropping his ERA to 3.11.
Not only did Eugene score early but they did so often pushing across eight runs in the games first four innings. With Caleb Knight giving the Emeralds the lead for good with a two-run single in the first, the Emeralds took complete control busting out in the second inning. Josue Huma pushed the lead to 3-0 following his first double of the season.
With Fernando Kelli making it 4-0 with an RBI groundout, Edmond Americaan stayed hot at the plate adding an RBI single of his own to cap off the three-run inning making it 5-0 Eugene. The Emeralds continued to swing hot bats over the next two innings with Huma bringing home a pair in the third with a single before Grayson Byrd added an RBI groundout in the fourth pushing the lead to 8-0.
The 8-0 advantage held until the seventh when the Volcanoes brought home their only two runs of the game on a Hunter Bishop homer and the Jeff Houghtby single to make it 8-2. That was as close as Salem would get with Kelli legging out a seventh-inning fielders' choice to bring home the game's final run in what was a 9-2 Eugene win.
Both Americaan and Knight paced the offense in this one as each of them collected three hits to go with three total RBI's. Huma also had a big night of his own with three hits from the nine spot in the lineup, but it was his team-high three RBI's that stood out. Despite not recording a hit, Kelli did bring home two runs from the top spot as Eugene provided a balanced approach top to bottom. Tanner Dalton and Brandon Hughes were the other two pitchers who saw action as they allowed just one walk in three innings to go with six punchouts.
??????#GoEms | #ItAllStartsHere pic.twitter.com/0kAVEjGcRL

— Eugene Emeralds (@EugeneEmeralds) August 17, 2019

Tags: Cubs Baseball
,
Tyson Miller
,
Jim Adduci
,
Trent Giambrone
,
Ben Zobrist
,
Ian Rice
,
Charcer Burks
,
Vimael Machin
,
Ryan Kellogg
,
Delvin Zinn
,
Ethan Roberts
,
Ryan Lawlor
,
Derek Casey
,
Nelson Velazquez
,
Andy Weber
,
Cole Roederer
,
Rafelin Lorenzo
,
Fidel Mejia
,
Eugenio Palma
,
Caleb Knight
,
Fernando Kelli