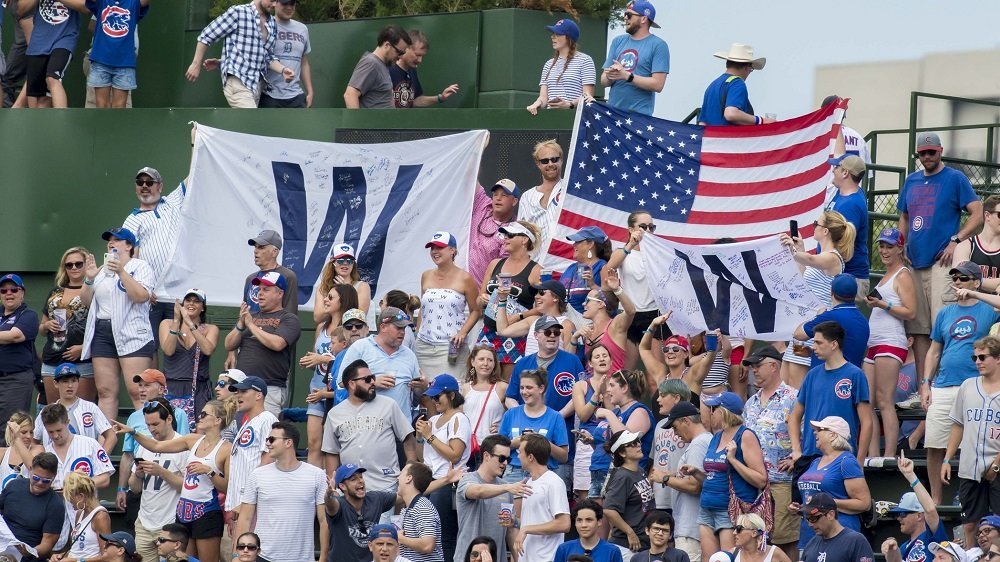 | | |
| --- | --- |
| Down on the Cubs Farm: Iowa wins Slugfest, Craig Kimbrel to Triple-A, more | |
---
| | | |
| --- | --- | --- |
| Tuesday, June 18, 2019, 11:32 AM | | |
With three all-star breaks taking place, the next few days will be a little bit quieter down on the farm as only Iowa and Eugene will be in action. The two teams managed a split last night, but the real news came from Iowa as Craig Kimbrel is on his way to AAA to continue his warmup phases to get to the Cubs.
IOWA CUBS 10 – Sacramento River Cats 8: The home run derby came early for both Iowa and Sacramento as the two teams combined to club eight homers over the fence in a high scoring affair. Fortunately for Iowa, they managed to come out on top with a 10-8 win guaranteeing them a series victory.
Despite an up and down outing from Trevor Clifton on the hill, Clifton (2-6) managed to pick up his first win in over a month allowing 4ER in five innings of work while the offense backed him with a fabulous performance. Sacramento drew first blood in the second on a Ryan Howard homer to go up 2-0 before the Iowa bats responded in the top of the third.
Erick Castillo walked to start the inning before Clifton moved him up 90 feet with a sacrifice bunt. Following a walk to Jacob Hannemann to put two runners on base, Ian Happ came through with a two-out single to put the Cubs on the board 2-1. A Mark Zagunis walk loaded the bases as Jim Adduci pushed his hitting streak to 14 games with a single giving Iowa 3-2 lead.
The Cubs lead was short lived as once again the River Cats played long ball in the fourth to retake the lead. Austin Slater went deep for his 11th of the season to tie things up 3-3. Three pitches later it was Chris Shaw's turn to go deep as the River Cats went back to back to take a 4-3 lead. Iowa Responded once again in the fifth inning as the hottest hitter in Iowa, Trent Giambrone went deep for the 14th time this season putting Iowa back in front for good 5-4. It was the fourth straight game in which Giambrone has homered.
We move to the sixth inning where the Cubs continued to build on their lead as they looked for some separation. After Castillo earned a one-out walk, it was Donnie Dewees getting in on the homer party, going deep for his ninth of the season to push the lead to 7-4. That homer came in handy as the River Cats connected for their fourth homer of the night off the bat of Francisco Pena in the bottom of the sixth to bring the lead to 7-5.
Iowa continued to make the Sacramento pitching staff pay for every mistake as they continued to build on their lead in the seventh. Following a pair of walks earlier in the game, Castillo was gifted some good luck in the seventh as a routine pop up turned into a bloop double to score a pair of runs to make it 9-5 Iowa. Castillo wasn't finished on the night as he took his third walk of the game in the ninth inning to bring home another run with Iowa now up 10-5.
With a five-run lead, it was time for Craig Brooks to make his Iowa debut as he looked to finish things off for the Cubs. After dominating in AA all season, Brooks found out the hard way that AAA is nothing like AA as he was greeted for 3ER in less than an inning of work in his debut. All three of those runs he allowed came on a pair of homers as Mike Gerber launched a solo shot ahead of Shaw's two-run shot as Sacramento closed within 10-8. That would be as close as things would get as Randy Rosario took over from there to pick up his fourth save of the season in the 10-8 win.
Iowa is getting back to playing their style of baseball once again as they improve to 39-32 on the season. Happ, Adduci and Phillip Evans all had two-hit games in the win as the Iowa bats were ready to go from the start. Castillo may have only had one hit, but with 3BB and 3RBI's he certainly played a huge role for the offense. Both Xavier Cedeno and Duane Underwood Jr. continue to pitch well in relief as they both threw a scoreless inning out of the pen. Cedeno has yet to allow an earned run at AAA this season.
The River Cats put up a fight in the ninth, but Iowa held on for the victory! pic.twitter.com/PuMXMZlYxj

— IowaCubsGameDay (@IowaCubsGameDay) June 18, 2019
TENNESSEE SMOKIES: All-Star Break
MYRTLE BEACH PELICANS: All-Star Break
With the first half in the books, Bat Doggo Slider was 97 for 100 in bats retrieved*

*we made this stat up because Slider is the best boy pic.twitter.com/aRItvZWGk0

— Myrtle Beach Pelicans (@Pelicanbaseball) June 17, 2019
SOUTH BEND CUBS: All-Star Break. Jonathan Sierra did participate in the A homerun Derby in South Bend in which he recorded four home runs for the derby.
EUGENE EMERALDS 3 – Vancouver Canadians 4: After being shutout for two straight games, the Emeralds were finally able to find home plate again pushing across three runs. Unfortunately, it was not quite enough as the big first inning from Vancouver helped them add the winning run in the fourth to pick up the 4-3 win.
The Emeralds got off to a strong start as they took the lead immediately in the top of the first inning. With one out, Luis Vazquez got on base with a sharply hit single to center. Standing on second with two outs, Vazquez was able to give Eugene a 1-0 lead as Jake Slaughter drove him home with a single. That lead was short lived as Vancouver came out firing in the bottom of the first.
One of the most significant differences in short-season A ball is that most starting pitchers pitch in a piggyback format not logging many innings. That was the case again on Monday as Didier Vargas got the call to open the game. Vargas was all over the place in the first inning as the Canadians made sure to capitalize on his lack of command.
A leadoff walk followed by a single put two runners on base with no outs. Now with runners on the corners following a flyout, Will Robertson tied the game up 1-1 with a single to right as the Canadians were still threatening with a pair of runners on base. Ronny Brito kept the pressure on with another single to load the bases, setting the stage for Mc Gregory Contreras, who despite grounding into a fielder's choice managed to put Vancouver up 3-1 as an error allowed a second run to score.
The Emeralds battled back in the third inning as they looked to recover from that rough first. Edmund Americaan took a one-out walk but was erased shortly after by getting picked off on the base paths. Luckily for the Emeralds, Vazquez was able to extend the inning with a walk, before Yonathan Perlaza hit the Emeralds first homer of 2019 to bring things even again 3-3.
After settling down for a pair of innings, control once again left Vargas in the fourth as he was in trouble again. With Contreras connecting for a one-out double before advancing to third on a wild pitch, Vancouver had a go-ahead run just 90 feet away. A four-pitch walk to Brett Wright right after ended the night for Vargas as a wild pitch on the fourth ball pushed the game-winning run across for the Canadians as they took the lead 4-3.
That score would end up holding up to be the final score as both teams struggled on the offensive end the final five innings of play. After winning their season opener, Eugene has now dropped three straight contests and sit at 1-3 this season.
Slaughter led the offense once again with a pair of hits as he is hitting .357 thus far. Vazquez, Perlaza, Brandon Vicens and Caleb Knight rounded out the hits for Eugene. After entering the game in the fourth inning for Vargas, Jesus Tejada kept things close, allowing just 2H in 2 2/3 innings of relief. Riley McCauley closed out the game with two perfect innings of relief after posting a 3.86 ERA during his time with South Bend this season.

Tags: Cubs Baseball
,
Trevor Clifton
,
Erick Castillo
,
Jacob Hannemann
,
,
Mark Zagunis
,
Jim Adduci
,
Trent Giambrone
,
Craig Brooks
,
Randy Rosario
,
Phillip Evans
,
Xavier Cedeno
,
Duane Underwood
,
Jonathan Sierra
,
Luis Vazquez
,
Yonathan Perlaza
,
Caleb Knight
,
Riley McCauley