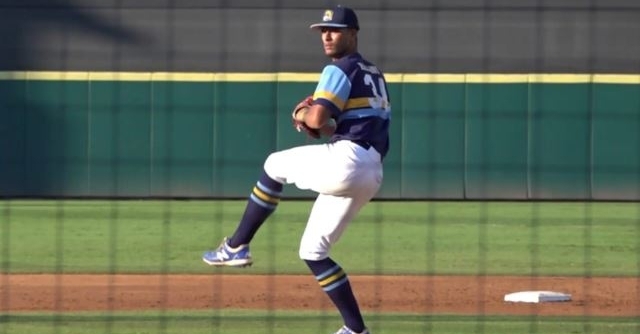 | | |
| --- | --- |
| Draft Breakdown: Cubs 11th rounder Brandon Noriega | |
---
| | | |
| --- | --- | --- |
| Saturday, July 30, 2022, 1:28 PM | | |
When you get to day three of the MLB draft, which is the later rounds, it becomes a crap shoot as to whether or not you will be able to sign those players. However, after signing eight of their first 10 picks in less than a week, the Cubs have to like their chances to sign some of these late-round picks.
On day three, the Cubs continued to follow their trend from the first two rounds and continued to focus on pitching. That is why they made the left-hander Brandon Noriega their first pick for day 3. Unlike most pitchers that hail from a school, Noriega announced without a school affiliation which is very weird.
A big reason for that was because he pitched in the Draft League this season as opposed to other leagues and saw some success in limited innings. Over the course of his 11 innings worked, Noriega walked 10 hitters and struck out 14.
Those numbers may not seem all that great, but there is a significant reason why the Cubs liked him and why they invested in him. That reason is the velocity that comes from his arm, as the Cubs made it a point to not only target pitching, but also a lot of high-velocity pitchers.
At 96.1 MPH, Noriega ranked in the top 10 among draft league arms in terms of average fastball velocity. Considering that he doesn't have a school affiliation, there isn't a ton of information out there on him.
However, what we know looks promising and could be the main reason the Cubs swung for the fences to grab him in the 11th round. Not only does he average 96 MPH with his heater, but he has touched 98 on plenty of occasions and has a projectable body with a low mileage arm.
Here's video of Branden Noriega throwing to new Cubs catching prospect Yoanis Aleksandrov from Noriega's IG. pic.twitter.com/yBnS7e0PJi

— Greg Zumach (@IvyFutures) July 19, 2022
With that low mileage comes excellent strength, which is a huge reason he can hit the numbers he is hitting right now. All that together is a big reason why he was ranked 24th in the league for pre-draft rankings, as he comes with a higher ceiling than most from that league.
While a lot of that sounds great, there are some things that the Cubs want him to clean up, which all starts with poor mechanics. Considering what his mechanics look like, it is hard to fathom that he can hit the numbers he hits consistently, so imagine the type of velocity numbers you would see if he had better throwing mechanics.
This is one of those signings that teams take a flyer on because the player is a huge unknown. Most expect him to commit to a college at some point to better help his draft stock over the next few years. However, should he remain with the Cubs and sign, you are looking at a long-term project with no developmental timetable.
I usually have a hard time criticizing anyone during the draft process as you never know what you will find and where you will find it. However, this is one of those selections that I question. Unless Jed Hoyer and Carter Hawkins are sure they can get this kid to sign, I'm not too fond of the pick.
You have a guy with tons of upside, but one who struggled with his command in a non-affiliated league. He also doesn't represent a team, which could come with lasting implications later down the road. Regardless, the Cubs like what they saw in him, and that is enough for me and most fans to give him a chance to see what he can do.