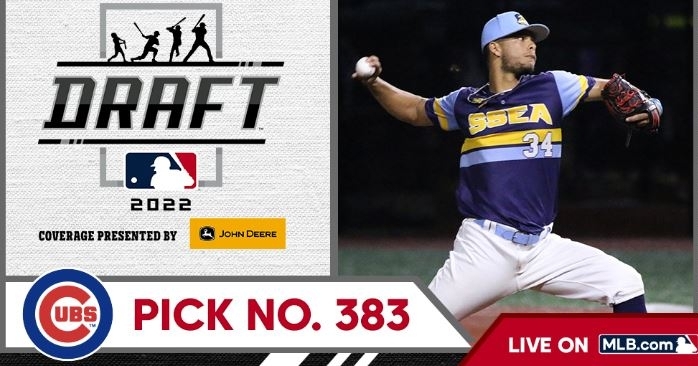 | | |
| --- | --- |
| Draft Breakdown: Cubs 13th-rounder Luis Rujano | |
---
| | | |
| --- | --- | --- |
| Sunday, August 7, 2022, 1:00 PM | | |
When you talk about potential late-round steals in the MLB draft, look no further than the Cubs 13th-round selection. Ranked 234th out of the top 250 MLB prospects, the Cubs selected Luis Rujano at 383rd overall, nearly 150 spots below his projected line.
Whether is a good thing, or a bad thing remains to be seen, but clearly, something forced Rujano to slip as far as he did. Let's hope it was a blip on the radar, and for the Cubs sake, he pans out to be a steal for a late-round pick.
A prep product from Sunshine State Elite Academy (FL), Rujano had committed to South Florida. The 6-4 200-pound righty is not only big for a high school arm, but gives the Cubs another ideal-sized pitcher who could develop into more velocity than they have now.
That size, paired with the strength he brings to the table, helped him stand out during last season's summer showcase. Not only that, but he pitched in plenty of big events, including the Perfect Game showcase, which only gives young players the experience they need heading into a draft.
Rujano has the raw tools on the mound that make him stand out, but after he hasn't taken too many strides forward in pitchability, some are beginning to wonder what the developmental stages for this guy can be.
When you see this kid in person, he physically checks off the boxes you look for in a pitcher. His 6-4 frame makes it easy to dream that more could come from that frame once he gets into a professional system, and if that is the case, the sky could be the limit for him.
Typically, someone who has been operating in the 91-92 MPH range with his fastball, Rujano, has been touching 96 this season, and some are wondering if that will be more of the norm once he fills out physically.
Luis Rujano ('22) 95-96 up to 97 twice in his first inning of work. Really easy gas, showed SL @ 77-80 for strikes. Flashed a firm CH at 87. #USF commit. #PGHS #FACA pic.twitter.com/JmbBPnMhxD

— Perfect Game Florida (@Florida_PG) June 6, 2022
While he does have a nice tight slider to go with that pitch, Rujano has had trouble spinning that pitch for strikes which doesn't help him in terms of control.
Rujano has also been working on a change-up for his third pitch, but a lack of feel for that right now has forced it to become a very inconsistent pitch. This should change with further development as he is still trying to figure out who he is as a pitcher outside of his fastball.
Rujano uses a methodical delivery with a big kick out of the windup and is still much more of a thrower than a pitcher. That means he tries to overpower hitters instead of just going out there to throw the pitches needed to make things happen.
The South Florida recruit is 19, and the Cubs will likely have to be patient on the development side for him to tap into his raw tools consistently on the mound. Yes, he does have to work on his command a lot, but the tools and overall potential are there for him to be an excellent addition to the farm system.
Sure, fans may have been looking for a better balance of pitching and bats in this year's draft, but you have to give the Cubs a ton of credit for sticking to the original draft plan. Many of these arms are high-upside project types of players, but those are the guys who can make or break a franchise for years to come.