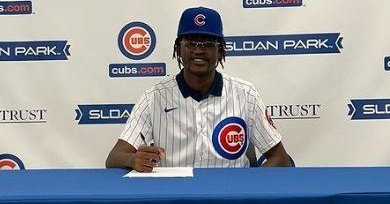 | | |
| --- | --- |
| Draft Breakdown: Cubs 16th-rounder JP Wheat | |
---
| | | |
| --- | --- | --- |
| Sunday, August 14, 2022, 12:00 PM | | |
The run of position players didn't last long for the Cubs as they went right back to pitching with their next pick in the 16th round. For that selection, they went with RHP JP Wheat, a high school arm from Alabama.
When it comes to drafting high school products, I am always leary going with pitchers because a lot of them have or have yet to have Tommy John, and their development is often slowed compared to a hitter. However, that is why I am not a GM, as the Cubs certainly made a killing on high school arms this season.
Wheat was just another one added to the mix, and at 19 years old, he is a little older than most high school products. His 6-5 frame makes him an imposing figure even if he didn't get the recognition some think he should have.
Although he was taken so late, you can see why the Cubs had a legitimate interest in him and that all starts with his big and projectable 6-5 frame. He is someone that has been showing great stuff since his sophomore year, with his fastball sitting in the 90-92 MPH range for now.
Don't let that velocity fool you. There is plenty more in that frame, and he has touched 95 on several occasions. He also brings an advanced slider for his age to the table that averages 78-80 MPH, while he has a changeup around 84 that he seldomly uses, but it continues to get better.
While his frame is ideal for being a pitcher, at just 185 pounds, he needs to put a lot of weight on to be a reliable pitcher capable of making most of his starts. JP stands for JonPaul may not be the highest ranked prospect in the nation, but at No. 34 in Alabama and ninth among RHP, you can see there is a ton of potential with him.
Wheat is extra large regarding his height, but he offers an athletic frame to go with it. His long limbs and lean build give him plenty of room to develop further, which I am sure he will do in time.
The right-handed pitcher begins on the first base side of the rubber with a simple delivery. He works to a mostly three-quarters release point, and occasionally gets to an over-the-top release. Wheat will continue to refine a consistent release point.
The fastball jumps out of hand, topped out at 94 mph with occasional late life when down in the zone, late effort at release, and projects for additional velocity moving forward. Curveball worked up to 78 mph, showing a feel to spin it with downer shape; flashed a changeup with some deception and occasional fade up to 84 mph. Good student. Verbal commitment to Georgia Tech.
One thing you can point to when it comes to Wheat is the fastball which has gained 22 MPH of velocity since his freshman season. Can you imagine what can happen if he adds 15 more pounds of muscle on.